Hi all,
First, I want to apologize for this very short activation… 11 QSO in 7 minutes !
Yet the day was promising, 21°C an ideal temperature at this altitude (1911m), great sun and no wind at all!


For those who know Mont Ventoux, they know that it is not like this every day.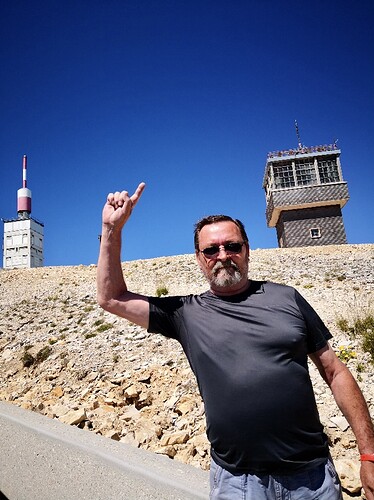 The problem was not there … I arrived at the summit stone around 08:45 UTC, I had crossed 1500 bikes

, 450 motorcycles

and 800 vehicles

, which is to say that the place was full of people.
I find a small place, trying not to bother anyone, but already many onlookers are asking me questions! I fix my mast on a rim and I extend my EFHW in inverted L, I install my FT-817nd at the bottom of the antenna on a concrete cube and I start my traffic on 40m - No luck there was a contest, I immediately go over 20m and the activation begins with very strong signals.
XYL Christine tells me that she is not well at all and asks me to cut it short!
So I stop my activity and I dismantle my equipment by responding to curious tourists

Here is my little Log, I couldn't even do a QSO on 2m FM my

Baofeng was deaf near the TV Tower.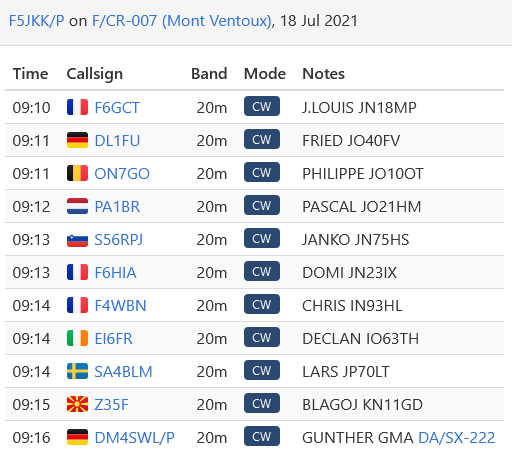 A tip for this summit, avoid coming during the summer period and prefer spring or autumn, there are fewer people but the weather will certainly be worse!
Merci
73, Éric
Edit : XYL Christine is doing much better now and this is the most important.