Continuing from the original post…
What a DAY!! My original intention was to be on The Wrekin (G/WB-010) for 3 hours, with some flexibility if I needed it. I ended up activating for 5 hours on the summit, gaining over 50 QSOs, including 33 S2Ss (24 unique summits) across 3 bands. As a bonus, I even got to qualify on 2m SSB

At the start of the walk
Approaching the summit with the recognisable mast in the foreground
At the top!
My hope was to attain a SOTA Complete with G4OBK on G/TW-004, but it was not to be. However, this was consolidated with a Complete courtesy of MW1HAX/P on GW/SW-016. I was also thrilled to get 9 S2S contacts with activators in Romania. I don't seem to get into the association a lot, so I got a huge buzz to hear and work so many!
To make things even more enjoyable, I had at least a dozen different people come up to me during the activation and ask what I was doing, which gave me occasional breaks from the mic and the chance to promote the hobby. The most intrigued was a 9 year old girl who kept coming back with questions, so I made sure the parent knew where to go online, should they want to take things further!
All set up for 2m SSB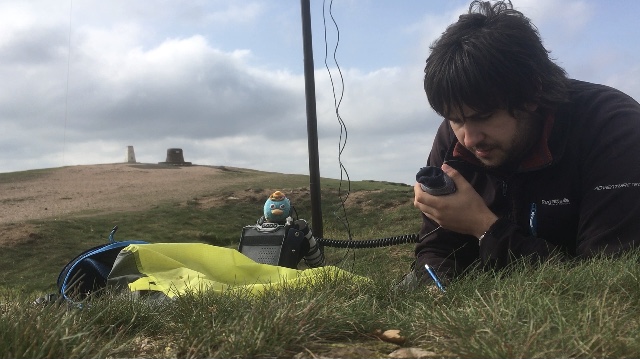 Snapshot from a video of me activating at the top
All in all, it was cracking day out. A MASSIVE thanks has to go to the organisers and to all the activators who made this day possible. I don't tend to chase a lot these days, so getting over 100 points from 1 activation was simply brilliant and I can't wait to do it again!
Cracking views as always!
Heading down after 5 hours…
73s and here's to the next one!

Jordan M3TMX