At the moment high temperature is spreading all over Europe, not seldom beyond 30°C.
Maybe it would be a good idea at the moment to look for some cool lakes, to have a refreshing bath.
An alternative is to visit higher altitudes in the mountains, where the temperature drops to a more comfortable level. At least for summits above 2000m ASL the weather forecast predicts temperatures around 20°C.
That was one of the reason, beside the many encouraging hiking reports that I read, to visit the "Saalfeldener Höhenweg". A great hiking tour near the Austrian town "Saalfelden am Steinernen Meer". This tour is a nice crossing over three summit at a hight of 2300 to 2500m ASL and with a beautiful view to the so called "Steinerne Meer" (translated: Sea made of stone).
I started my tour at abt. 7:00 in the morning in Saalfelden, passed the "Steiner Alm" and hiked along a nice and interesting path: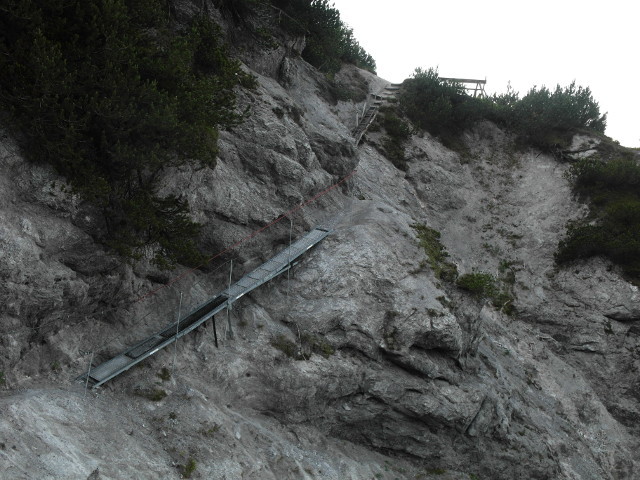 In order to save more time for activation, I did not visit the nicely located Peter-Wiechenthaler Hut" for a coffee, but headed directly to the starting point of the "Saalfeldener Höhenweg", which started at a height of abt. 2000m ASL.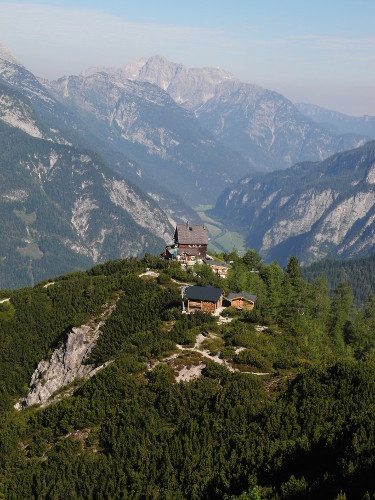 Surprisingly the "Saalfeldener Höhenweg" started as a good equipped via-ferrata safeguarded with the typical steel wire rope: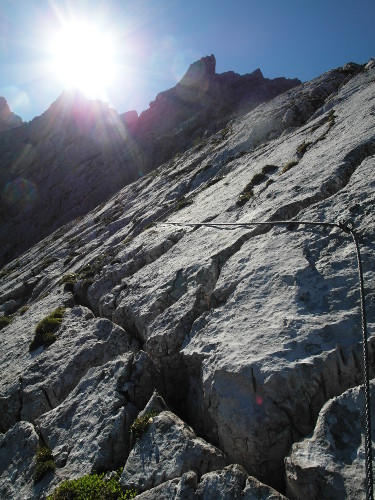 But soon the safeguarding steel wire ropes disappeared and most of the way up to the first summit was a nice scrambling with solid rocks.
After about 3.5 hours hiking and scrambling I arrived at the first summit the "PersailHorn" (OE/SB-315) with its statue carved out of wood at the top.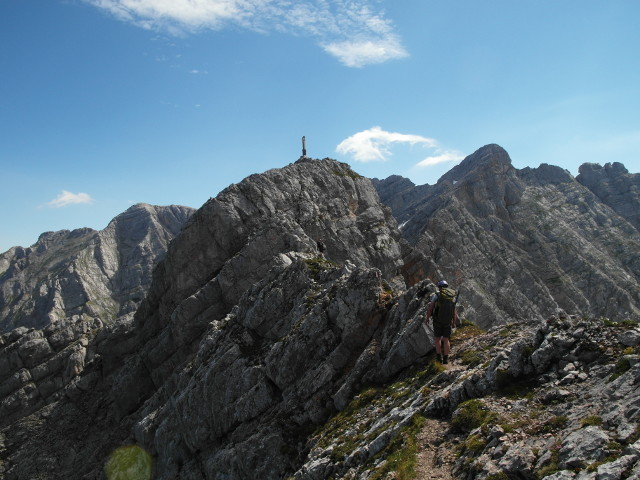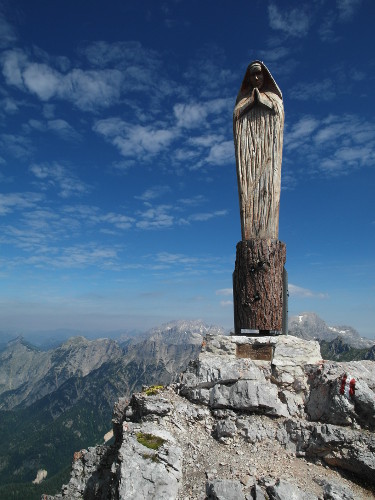 On the 30m band 25 contacts found their way into my log before I headed to the second summit.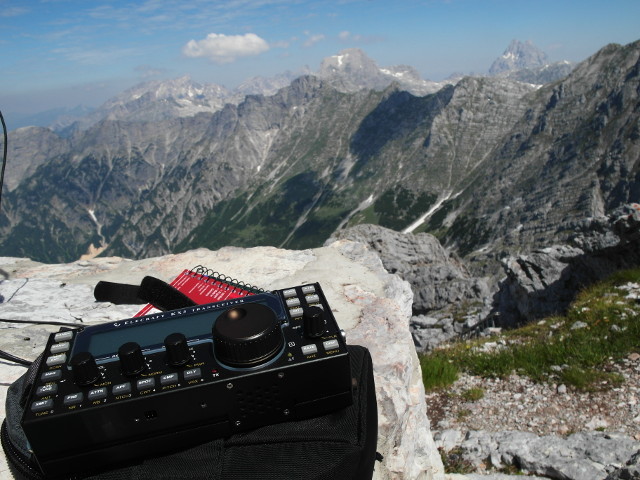 The route went now along the ridge to my next summit, the "Mitterhorn" (OE/SB-312) at a height of abt. 2500m ASL.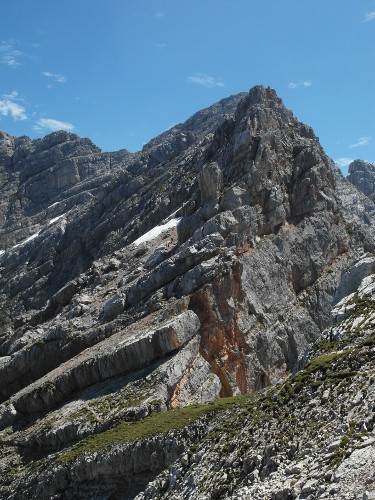 Looking back to the summit of "Parseilhorn":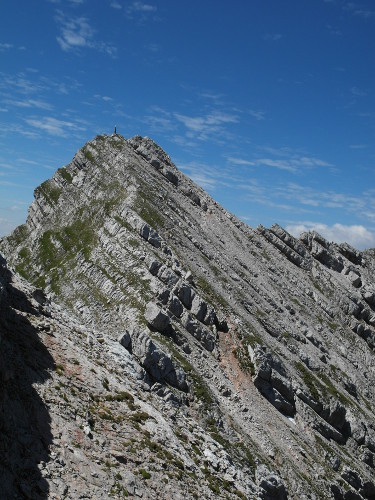 At abt. noon, I arrived at the "Mitterhorn" where 16 contacts on the 30m band could be established.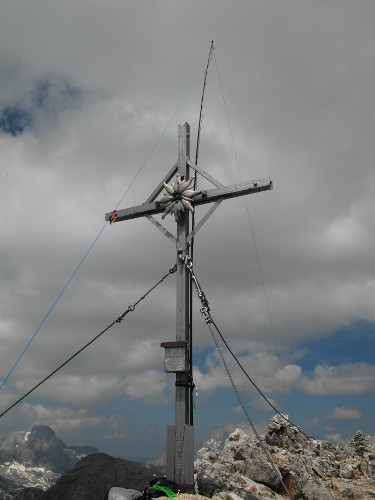 Now the last summit for today, the "Breithorn" (OE/SB-036) waited. Again the route lead along the ridge high above Saalfelden.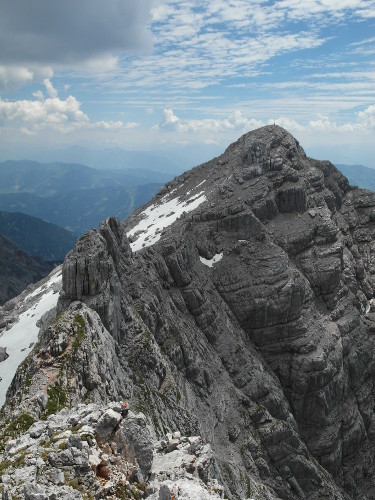 On the summit a nice view to the "Steinerne Meer", which is at the moment still partly covered with snow, can be enjoyed.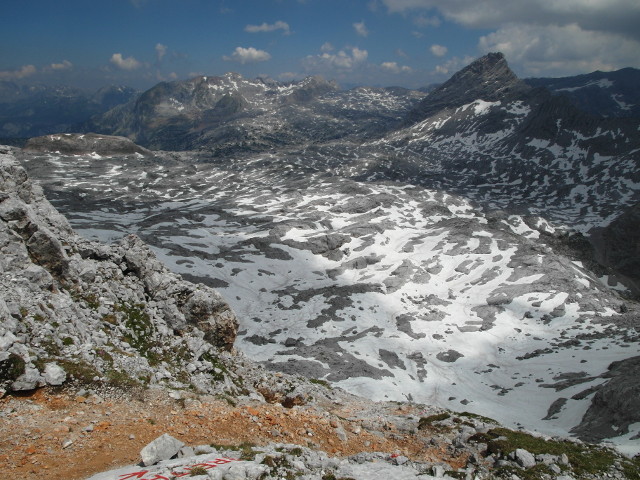 Again nearly 30 contacts on the 30m band were a nice compensation for the effort of carrying my HF equipment along this ridge.
Finally looking back to the todays route reveals the great scenery of this mountainous region.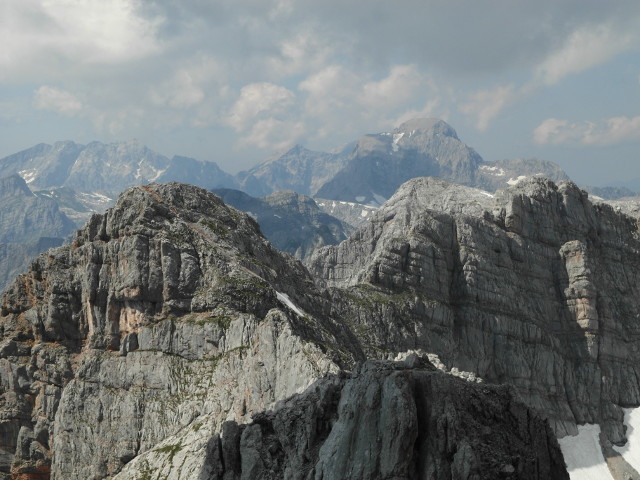 All in all a very beautiful day in the mountains with a very fine view to the nearby scenery at comfortable temperature.
Thanks to all chasers for contacting me.
–
73 Stephan, OE/DM1LE/P