"An 80/10m SSB/CW/Data station that fits in your pocket."
But only if you have poacher's pockets!

Nothing on the factory website. If it's real, one would assume it's an all band KX1 upgraded to 10 watts with SSB and 2 meters as an option? Could someone at Dayton take a pic and share details tomorrow? Apparently, they are taking orders immediately at 750 USD. Not available in kit form.
Elliott, K6EL
Sota MT
32-bit DSP with less than 135mA overall current draw, impressive.
The LCD display looks out of proportion with the rest of the radio. They use the same custom display unit on the KX3 the K3 and now the KX2 !
More like a downgraded KX3 to me

Or one with the fat trimmed off, perhaps. It does most of what the KX3 does (minus IQ out, FM, 160m, 6m and an optional transverter, and possibly some other things like the high efficiency low power TX mode) in a package that's nearly half the weight and volume. Whilst it would be nice if it were half the price as well, it seems like quite a reasonable bit of kit as it is.
It will need to cost a lot so that your pockets are sufficiently empty for it to fit in.
Depends on how you define 'reasonable'. Good enough, so far with the KX3.
Hi Everyone-
Have you ever wished you could have many of the features of an Elecraft KX3 in a trail friendly radio the size of a KX1? If so, you might want to take a look at the KX2 announced today!
I've been very privileged to field test #00005, and posted my review. That's the radio I was using on Devil's Knob a few weeks ago. It's not only the ultimate SOTA radio, it's a pretty neat grab and go rig for a vacation or business trip.
You can see a photo and lots of details on EHam:
http://www.eham.net/reviews/detail/12852#141590
73,
Rob, W3DX
Seems legit!
Great job keeping this rig under wraps fellas!
The machining of the enclosure looks much better compared with the KX3. I like the recessed 3.5mm jack sockets

They have also seemingly got ridden of those horrible mild steel case screws that they used on the KX3. I retaped mine for stainless M3's

"To charge the battery, you must first remove it as described in the KX2 owner's manual. It cannot be charged while inside the radio."
This is ridiculously rudimentary in 2016.
Overall, Elecraft seems to have learned nothing from the KX3 - the same fragile design with buttons and connectors sticking out everywhere, unfit for field work.
Interesting radio,the internal batteries with low rx drain would give enough capacity for a activation at low power.
At the price think I will stay with my KX3 even though it is a bit weighty for long treks with a pack.
There are plenty of small sized kit radios about for overnight campouts.
Hi-
I field tested #0005. My typical activations are about 30 minutes. So I ran a test transmitting into a dummy load with a full "CQ CQ SOTA DE W3DX W3DX K" with a full repeat every 15 seconds. That's a pretty heavy duty-cycle.
I performed three consecutive 30-minute tests, and consumed about 10% of the 2.6 AH internal battery power each 30-minute time. So I think you could run three activations in one day, with plenty of battery capacity left over.
I also installed a lightweight .85 AH LIPO inside the case. That would be plenty of battery for a nice activation, and is much lighter than the 2.6 AH battery.
The new Elecraft paddle is tiny. The radio has an internal mic and speaker, and works very well with an iPhone earbud mic. I'll try to post a photo of the station in the tiny LowePro CS60 case.
My normal SOTA flight deck (clipboard) with my KX1 has a clock and a battery attached. Those are built into the KX2, so it's a really nice package in the field.
73,
Rob, W3DX
Here's the radio packed in the tiny LowePro case. It has everything including the antenna system (less a fishing pole). Also shown are my KX1 flight deck (with battery and clock compared to the KX2. W3DX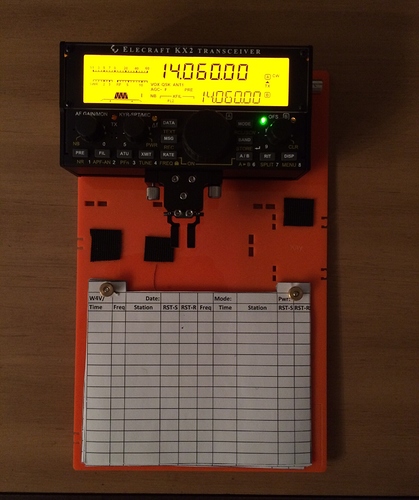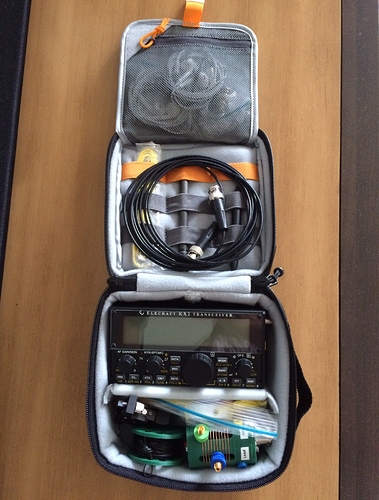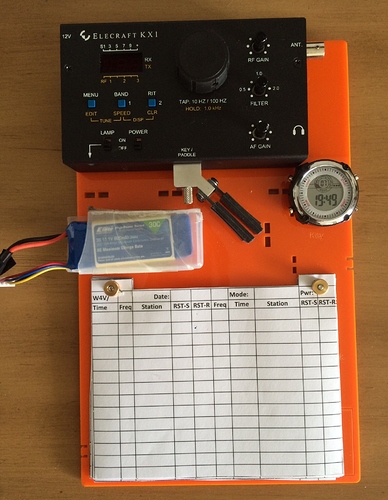 Here's another shot of the inside of the LowePro soft case (with the flap closed). Also shown is the KX2 packed in the tiny Pelican 1120 hard case. That's a great case if you're traveling and want something indestructible.
This is the most fun radio I've ever owned.
73,
Rob, W3DX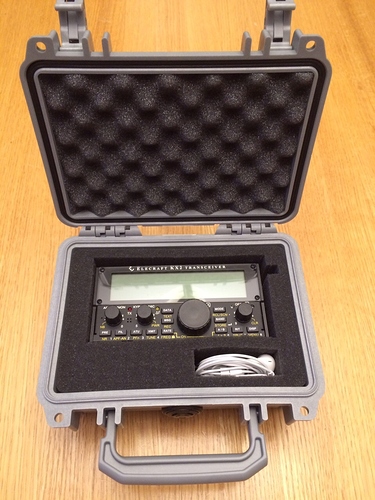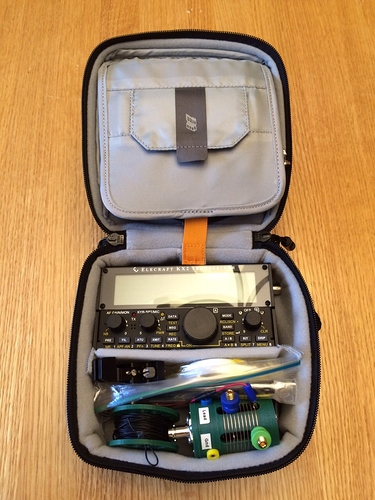 Nice, but the Aussie Dollar having dropped from 1.06 USD to 0.72 USD makes it very painful on the hip nerve. The 817 still looks good value inspite of the light weight etc of the new rig.
Maybe if I sell the house …
73
Ron
VK3AFW.
I'm really torn when I look at the updated product line of elecraft.
At the one hand this KX2 looks really neat and I would expect absolute flawless RF qualities of its transceiver components, as already demonstrated by its predecessor KX3.
At the other hand, five years after bringing the KX3 to the market, I see no true innovation of this KX2 which would bring really an additional value for SOTA, especially when looking at its price tag.
In my eyes the KX3 was really innovative, because with this radio elecraft managed it to bring an excellent transceiver into a portable radio, which up to now no other big vendor did follow.
Of course this new KX2 is smaller and more lightweight than the KX3, but more or less at the cost of reduced functionalities compared to its older brother. In my eyes it demonstrates more the result of an engineering exercise, i.e. the outcome of the challenge of building yet another smaller radio.
With the intended market for this new radio, elecraft mentions here amongst others SOTA, I would have expected more innovations, especially concerning robustness and usability under unfriendly environmental conditions.
When I'm searching for KX3 videos at e.g. youtube, I soon get the impression that the KX3 is another picnic-table radio and if I look at photos of the KX2 I would expect that this KX2 radio will not help elecraft to distance themselves from being a "picnic-table radio vendor". Sorry for this (maybe overly) harsh critique.
Another thing is, that now elecraft finally understood the importance of an efficient power supply by providing a LiIon battery. At the other hand KX3 owners felt to be left out in the rain because for their radio still no adequate built-in battery solution is provided. Is it really a technical challenge for elecraft to provide finally a LiIon-based built-in solution for the KX3? For my understanding the housing of this radio contains still a lot of air.
Again sorry for my harsh critique. Of course I would be glad to do a test drive of this new radio, but looking at the price, a trial purchase is completely out of question, at least for me.
All in all I cannot complain, because since I purchased my KX3 its price at the European reseller increased by nearly 30% (mainly driven by the € exchange rate). And I would expect the European resellers price of a new KX2 will be now in the same range as the price of my KX3 when I bought it a couple of years ago. And the 11 ounces more weight of my old radio gives me just a little bit more efficient training

Of course I wish elecraft great success and I'm convinced that this radio will find many buyers.
73 Stephan, DM1LE
Hmm flawless you say, how about the LO noise on 10m