Me and my XYL spent last two weeks in November on Tenerife in Canary islands, as we usualy do for last few years. This time I packed my FT-817 with Windcamp battery kit and original NiMH as a spare, and a few antennas: 20m dipole, 40-10m linked EFHW with Ilertenna tuner and telescopic for V/UHF. At home I identified a few not that difficult summits that I wanted to activate, but everything really depended on the weather and my XYL. She is surprisingly supportive and as long as the hike is not too difficult, she's with me. Even better if there are geocaches along the way and internet signal on the summit, to keep her busy with her e-books while I play radio. She even helps me set up and tear down the antennas! Yes, I'm lucky, I know.
In the first week the weather was not that great: clouds, showers and a bit chilly, we even had some snow up in the mountains. In the second week the weather improved. It stopped raining and temperatures rose to the levels that we are used to. But that's the winter weather there, nothing unusual.
First summit that I activated was Cruz de Gala (EA8/TF-007), a 10-pointer that is very easy to reach. There is a paved road that leads to the top, but is "Solo vehiculos autorizados". We left our car on a small parking just off the main road and hiked to the top, which took us about half an hour. On the top there is a large communications tower, but I didn't experience any QRM. There's more than enough space for setting up the wire antenna and even a convenient post to hold the antenna support.
The timing and conditions were right. I set up dipole for 14MHz and started with S2S QSO to HB9. After self-spot I made a lot of SOTA QSOs to both sides of Atlantic and even a couple non-SOTA to US. When pile-up cleared, I switched to EFHW for 18MHz, but nobody came back to my calls even after a spot. I was very happy with the results of this activation. On the way back we hiked around the mountain to collect some geocaches.
On the parking, summit is where the towers are in the center.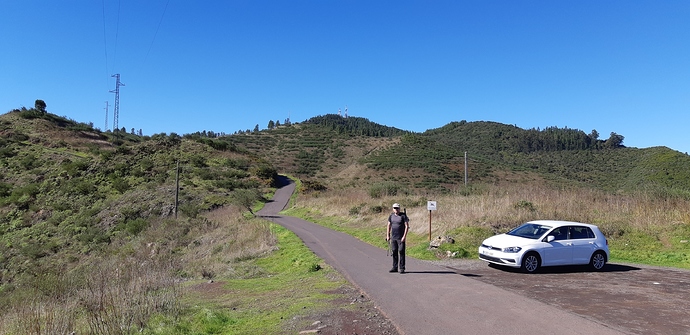 Calling CQ SOTA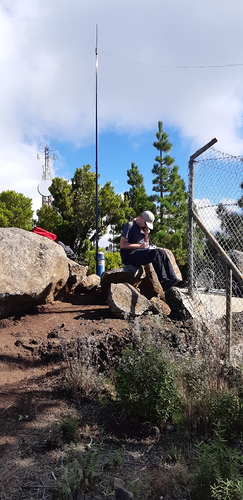 Excellent view, on the horizon islands La Gomera (EA8/GO) to the left and La Palma (EA8/LP) to the right.