For my last activation of the holiday I chose LA-023 Agujas Grandes on Graciosa. I had a discussion beforehand with Stefan, HB9HCS, about the route up. Although I started on the same route I ended up going up a steeper path which got me to the top ahead of schedule. I went down a different way as well - full details in a later report when I get home.
Weather was cloudy but warm and there was a stiff breeze at the top. No problems to set up, with a good broad area not far from the summit marker.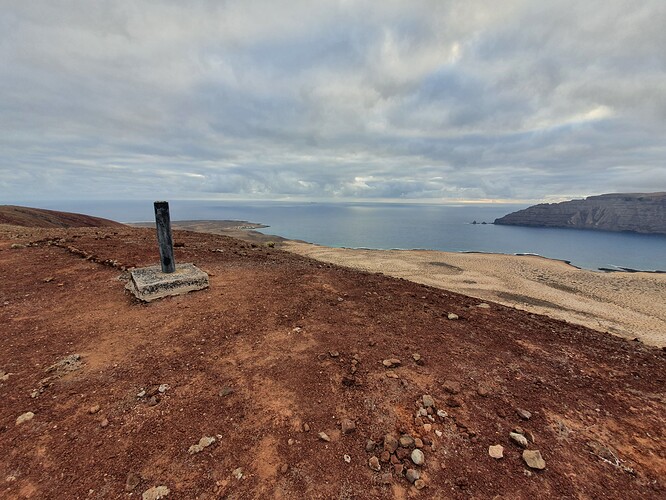 Operating position looking north to the islands of Montana Clara and Alegranza - photo taken in the afternoon when the sun came out.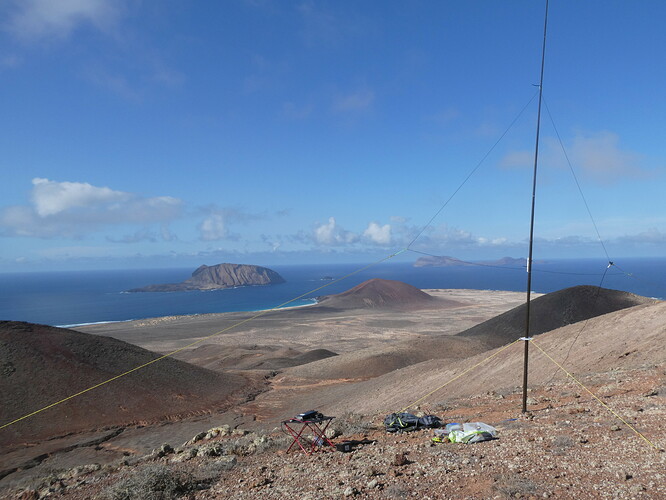 Started on 20m at 0832 with a QSO with VK5MRD Dave in Adelaide whom I heard calling CQ as I was tuning around. Band was very quiet. A spot brought a run of 45 EU QSOs including a S2S with GW4TQE/P. The woodpecker appeared at 59+ from time to time, which is a bit sad - I thought that had died a death. I picked up another S2S with YO5IA/P and then tried a 2m FM Qso with MM1HMZ, Brian, over in Puerto del Carmen. We both heard each other but were unable to exchange reports - too much rock in the way.
Moved to 15m and had 24 qsos, all EU.
10m sounded interesting so I moved there at 1100 and had a string of EU contacts plus UA9CUA.
Moved to 17m which provided my first NA contact of the day N3MZL in Penn, swiftly followed by a S2S with EA2/F5ODQ/P. 34 qsos included 3 more NA: W3DIY Virg, KW8L Mich and AD2BT NY.
Switched back to 20m and had 23 qsos including NT2A and W1OW and HB9HCS/p who was close to his home.
For the final session of the day I was on 10m until my battery gave out. The band was in great shape, with both EU and NA booming in, such that I had a continuous pile-up for an hour! Furthest East was 5B4AAB and furthest West K0JFI in Missouri. 88 qsos including 24 NA. My battery finally gave out while I was in mid QSO with 2E0HKM, so was unfortunately unable to complete that.
239 QSOs for the day, with 3 S2S. A great way to end my Lanzarote SOTA experience. I'll be back.
Many thanks to all.