For my second summit in Lanzarote I chose LA-005 Montana Blanca. Starting point for the walk up is just outside the village of Montana Blanca which is a 15m drive from our holiday base in Puerto del Carmen. XYL was doing her own thing today, so I had a couple of kilos of water to carry.
Straightforward track up, which for the final section runs across the caldera wall: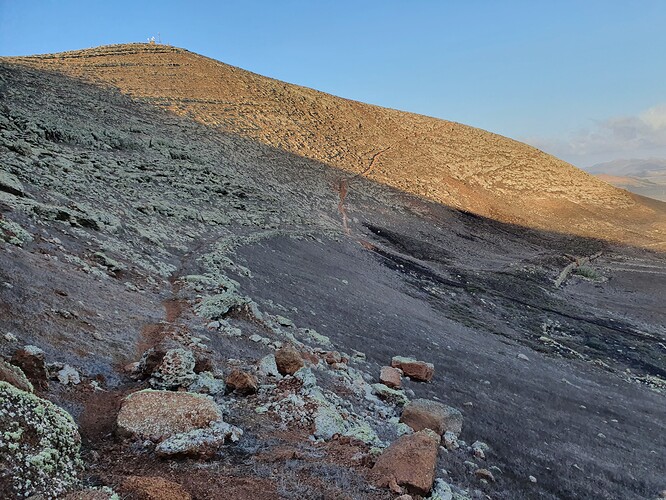 The small comms masts complex can be seen at the top - its right next to the summit marker.
Although there was a stiff breeze right at the top, on the East flank there is a wide gently sloping area sheltered from the wind - ideal. No issues setting up the mast and delta loops.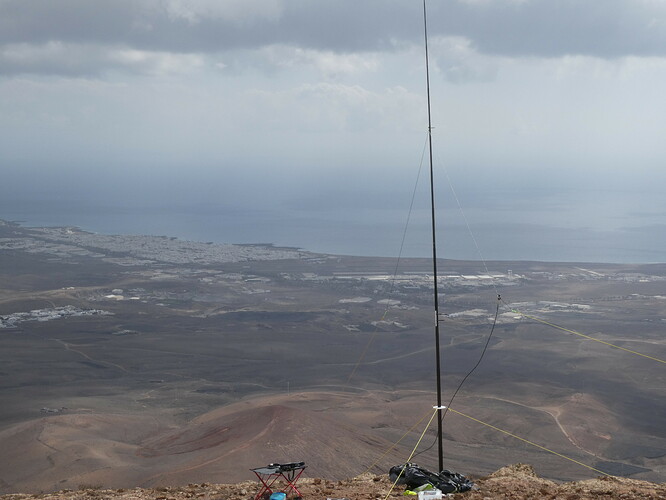 Nice sunny day with temp about 25c and great views all round.
I started on 20m with a S2S with EA2/F5ODQ/P and a spot brought a run of 41 EU QSOs, with F4WBN first chaser in the log. During this session Mark, EA8/M0NOM/P, called me from the beach. I then moved to 15m - 8 EU QSOs including 1 S2S, then back to 20m where W1OW was the first non-EU in the log. Found 10m open to EU and had a run of 13 QSOs. Switching to 17m brought 2 more US contacts W4UW and KI6AEB/W4 and a second S2S with EA2/F5ODQ/P. 15m then produced the best DX contacts of the day so far - VK4BXX, 9Z4SB, AB4PP and 4Z4DX. Another session on 20m was difficult - S6 noise, but got AC1Z in the log. Finished the day on 15m with more nice DX in the shape of KN3Y, K5DEZ NM, WB6POT and W6DT Calif, VE2KH qrp and ZS5WTF.
Pulled the plug at 1547 utc, with 184 in the log including 6 S2S. Thanks to all, including several who worked me on multiple bands.