Hello SOTA friends,
I'm on holiday on Mallorca EA6, from May 7 till May 21, 2017.
I'll try to do as many summits as possible, and under the motto
"a summit a day, keeps the doctor away", this is a preliminary list :
** UPDATED LIST 4/5/2017 **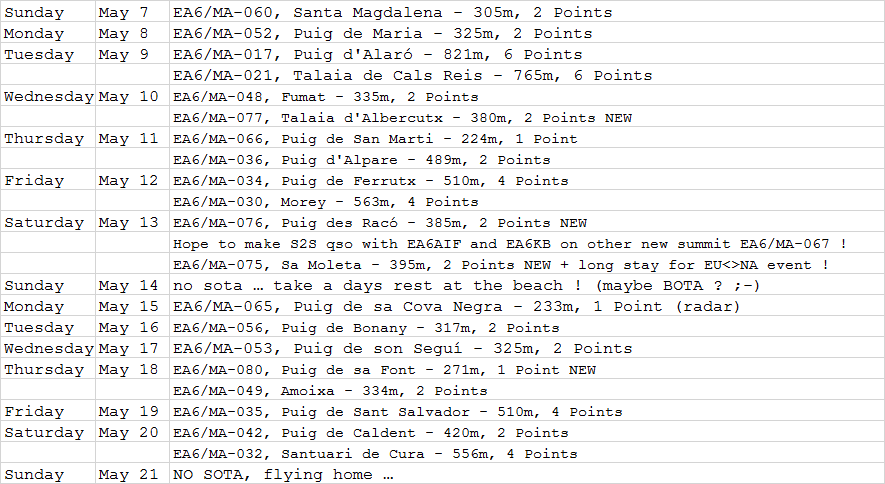 The first summit on May 7 will be in the afternoon around 13:00 UTC.
All others I think I'll do first thing in the morning, then after the summit I can go for some food, do some tourist visit or go to the beach … and relax ! (with exception if I would do a second summit on that day)
Check the alerts page for more details as I will update frequently.
Another exception is May 13, then I would also go in the afternoon, and stay for an extended activation, between 12:00 and 17:00 UTC, for the EU<>NA S2S event.
I will try bands from 40m up to 10m depending on propagation, response from chasers.
Modes will be SSB or CW, all depending on circumstances, ability to self-spot etc …
Spotting help is very welcome and also on-the-air info on possible S2S contacts !
Equipment : KX3 (up to 15W), link dipole or endfed, also 2m FM with 5W from an FT1D and a quarterwave whip.
I have a roll-up Slim Jim, but would like to know if anyone on Mallorca is interested in a 2m contact ?
(otherwise I can save weight and leave the Slim Jim in my car).
Hope to hear a lot of chasers !
73,
Luc - EA6/ON7DQ/P