Rob, M0VFC, Dan M0WUT and Dominic M0BLF are currently on Montserrat (NA-103) on a mini Dxpedition. Whilst I'm not in the Camb-Hams, I'm always made to feel welcome when I meet them at rallies, often being invited to operate their stations and join them for meals. I've never had a shack (plans are hatching!), so to chase any particular station, I have to mount a special operation.
The VP2MUW dxpedition is only of short duration, so I had to act quickly. I tried calling yesterday from home with an EFHW thrown out of the bedroom window, but at best the signal from Monserrat was peaking 55 and they're using good antennas and amplifiers. I thought my best chance for a contact (I'm QRP only) was to go to the west coast and try a vertical antenna.
Arnside Knott G/LD-058 is one of my nearest small summits and pretty much rises straight out of the sea to 159m on the edge of Morecambe Bay. I figured it should be good for take off across the Atlantic.
I was just setting up my vertical 1/4 wave antenna when my phone went off, HamAlert had picked up a spot for VP2MUW on 20m SSB. Upon firing up my venerable FT817, I heard VP2MUW on SSB at 59 working split for a while and then changing to simplex. I called at the point when the op went to simplex but had no luck. I was slightly amused by a 'frequency cop' telling me repeatedly 'up, up, up 4' - he eventually realised his mistake but didn't apologise!
VP2MUW appeared on 20m CW a little later and I managed to work Dan, receiving a 579 report. I was very happy to achieve my goal within a short time so I put out a few CQs to see if I could pick up the SOTA activation point. I was amazed that I was called by K4DY with a cracking signal. Adding N4EX and K2LS to the log meant I'd qualified with all transatlantic QSOs!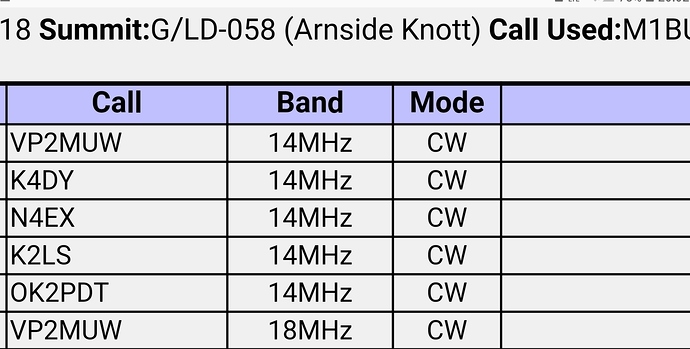 I managed one more contact VP2MUW, I made a lucky guess folding back the radiator element on the wire vertical, my FT817 seemed quite happy with my efforts to enable me to transmit on 17m. I hadn't taken a 17m antenna but it was definitely worth a shot!
If this is what the bottom of the solar cycle is like, I really can't wait for solar max!
Colin