As I thought hijacking the SMP thread is not ok, I started a new one here:
Continuing the discussion from Mapping feature question /suggestion:
@G8ADD
I am quite astonished you are not informed about the number of summits to be deleted in DM. In my statement dated 23.03.2015 I presented my first, rough analysis of the number of references to be deleted/remaining: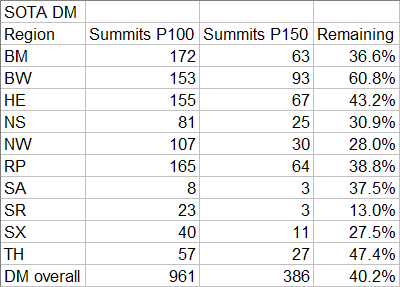 To my mind this statement was circulated around the MT. At least Rob's (G0HRT) answer was: "We will comment when all MT has had opportunity to read it."
I agree with you, that a small number of new references will be result of a in-depth analysis. E.g. DM/TH will gain 6 new/reactivated references and in DM/BW I estimate about 16 new P150 references. Of course this gain will not influence the loss of a majority of the existing references noticeable. So this is quite a difference to the revision of OE.
Ok, perhaps you do not trust my numbers. But later on Andy (MM0FMF) has given his numbers in his Statement on DM Association
339 even sounds worse than 386, not to talk about 286. This was the last information the MT has published regarding the DM summit list. As it was never superseded by a new statement I assume this is still true.
My access to the working version of the summits list was removed so I have no possibility to check the progress the MT makes in revising the DM summits list.
Several participants already have asked me about the future summits lists in DM. Unfortunately I was not able to give them reliable information.
As even members of the MT like you, Brian, seem not to know what is happening to the DM summits list, there seems to be a significant lack of information flow.
73 de Michael, DB7MM
(meanwhile I have found out, I am still association manager of DM)