Hi All,
Recently I posted a comment/query on the SOTA Facebook page.
I was on vacation and concocted a plan (but did not post an alert) to activate a summit on an island off of Tokyo. JA/TK-015 Miharashinsan is an active volcano, which last erupted in 1986, on the island of Izu Oshima. Godzilla fans should know this volcano!!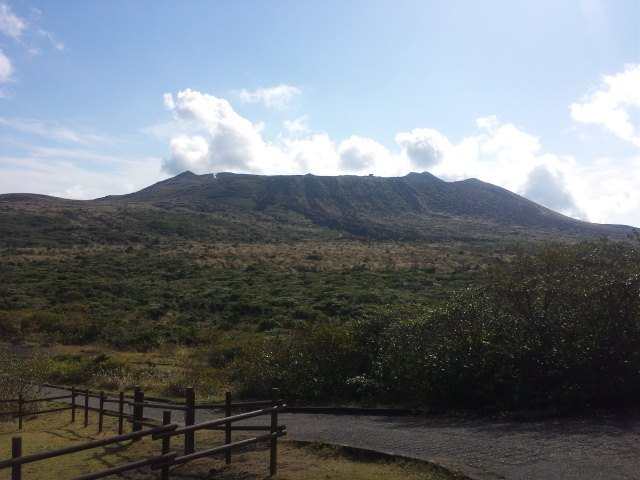 The summit was gorgeous with a 360 degree ocean view. Since this is an active volcano, I immediately noticed things not normally seen on top of other mountains. Bullhorn loud speakers, ground movement sensors, and EDM reflectors. The summit of Fuji-san (classified as extinct) did not have these many instruments and sensors, it only had one meteorological site up in the summit.
In the end I could not activate the summit. Forgetful me, failed to put in the bag a connector for my antenna. Though, the myriad number of devices on the mountain got me thinking if it was safe to operate on the summit without creating interference to the device or the devices creating interference to me.
I sent out e-mails to the JARL and SOTA-JP management staff, and did my own research. What follows is an overview of JA disaster prevention/emergency warning systems.
These are the types of disaster prevention/emergency warning and monitoring systems I saw on Mihara-san.
EDM (Electronic Distance Measurement) Reflectors - Does not use electromagnetic (radio) waves. My understanding is that these are used in conjunction with a laser measuring device (an EDM). These are passive device that reflect a laser beam back to an EDM device to get an accurate distance measurement.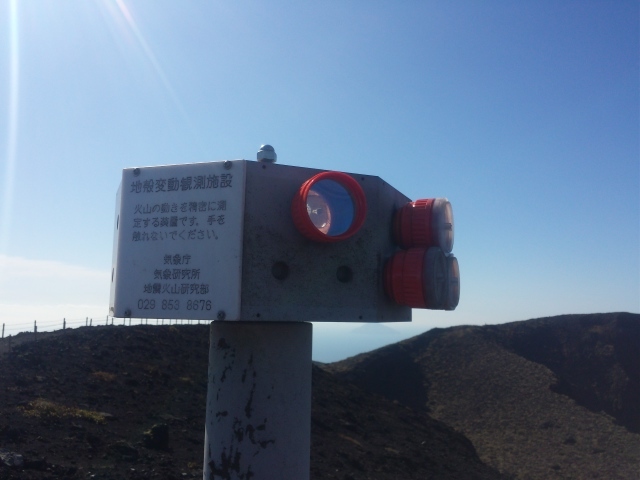 Possibly ground monitoring station - First type is just a box on a small metal pole with a vertical antenna. Second type is a free standing cabinet sized station, with a vertical and sometimes a Yagi antenna. Both have PV (photovoltaic) systems in place. The photo below even has a GPS antenna.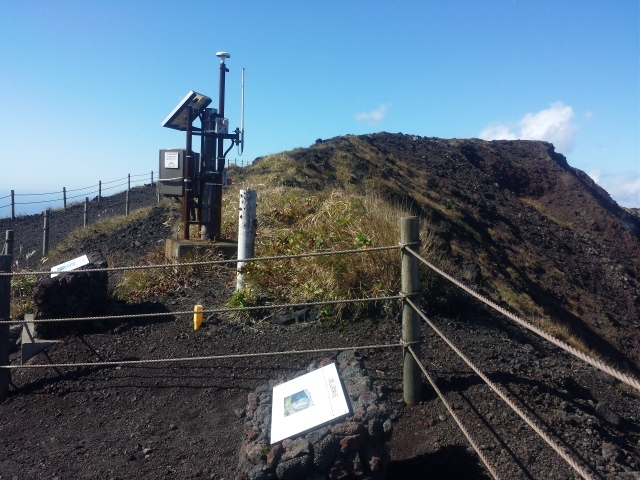 Possibly repeater system - Yagi antenna with a large PV system.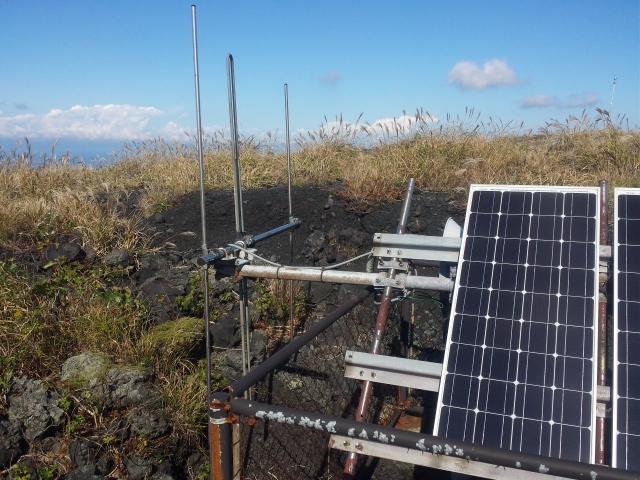 Broadcast system - Loud speakers on top of a ~10m tower with a Yagi antenna. Not only on Mihara-san but also around the port town centers of Okada and Motomachi.
My search led me to the Ministry of Internal Affairs and Communications website. There are several bands used for these disaster prevention/emergency warning systems (all Japanese). Text describing the bands are machine translated.
60MHz Fixed communication system (broadcast system); possibly analogue
A municipality public office building (antidisaster headquarter), an outdoor loudspeaker (The range of audibility about 300m), and a domestic house-to-house receiver are connected by using 60MHz band, and it is used to transmit disaster information from the municipality public office to the local populace.
70MHz Telemetery systems
150MHz Mobile communication system; possibly analogue (simplex)
400MHz Mobile communication system; possibly analogue (MCA, duplex)
The wireless station of the mobile communication system is transmission of local disaster information mainly and the one in the municipality public office from the disaster scene etc. from which everything reported with an vehicle mounted, transportable and portable radio equipment of 150MHz band and 400MHz band.
260MHz Mobile communication system; digital
The digital mobile communications system using 260MHz band was introduced in 2001 fiscal year, and as a result, an advanced mobile communication system with highly efficient frequency utilization is achieved by using multi channel access (MCA) method which can correspond to various information needs.
IMHO, based on the band information alone we could safely say that amateur radio operation should provide no interference to the systems on top of this particular mountain, Mihara-san.
The only possible issue would be 150MHz as it is the 3rd harmonic of 50MHz. 50MHz transceivers that are out of specification (old and unmaintained) might create interference. IMHO, new transceivers should pose no problems. For example the FT-817 states in the specification that spurious-signal and harmonic suppression of >=50db on HF and >= 60db of VHF/UHF. The KX-3 has typically >60db on HF, and 65db on 50MHz. Hopefully that is enough suppression.
JH0CJH (Toru-san), SOTA-JP Association Manager, gave a positive feedback. "no
limitation for operation on top of Miharayama". Other operators from YamaToMusen (http://yamatomusen.com/) group has operated on the summit. "But I recommend to work apart from there as much as possible to be in safety side. Moreover, if you work near field of these telemetry antennas, you may be annoyed by noise from them."
JARL also gave a positive feedback. QRP levels should be OK power levels. If possible operators should operate 1 wavelength away from the devices.
"I have looked out some reports on surveillance system on Mt. Mihara and found that most systems monitor either of geographical position, distance between two pints, slant of ground or geomagnetic field. The sensors seem to be not vulnerable in electric field due to radio waves. However, some radio communication system is used for transferring monitoring data as you find some antenna besides the monitoring post. According to your picture on Facebook, it looks like a VHF antenna for a relatively short distance.
I can only suppose that the amateur radio operation from Mt. Mihara is not prohibited and QRP operation is safe as far as you keep some distance (such as one wave length) from the monitoring post."
I guess the next step now is to actually activate that summit!
72
Mela JI1KBF