Hi All
is it me or is the Database having issues today? 12/8/21
Paul
M0PLA
Sitting in the hotel after activating GM/SS-184, was trying to upload my activation and thought it was the hotel wifi.
Paul
M0PLA
Paul,
I created this topic a minute ago. Is it the same problem?
Andy
Hi Andy
I go to the submit activation entry and I cant select any association. So cant add anything else.
Paul
I'm getting an error message trying to upload my log as CSV or ADIF. Both files are generated by the Fast Log Entry app.
Hi Andy
I get this message if I go to mapping, SQLSTATE[HY000] Unable to connect: Adaptive Server is unavailable or does not exist (167.99.198.232:14330) (severity 9)
Paul
You'll have to wait till a bit till myself or Andrew can kick the SQL server process.
MI7WJL Thank you for this post because i am pulling my hair out trying to get mapping and database and files sorted. So i will just wait and see. 73.
FYI: Andy @MM0FMF did a system restart yesterday afternoon which solved the CSV/ADIF log upload problem I was having earlier that day.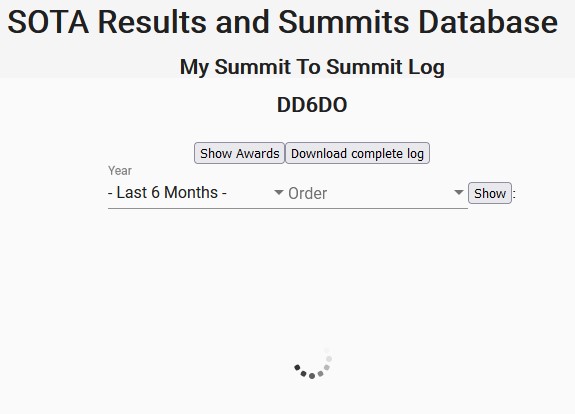 Hello,
I can not check my s2s Log of the last 6 month. The circle is turning and turning.
Any idea?
Thanks, DD6DO, Stephan
You haven't got any S2S results in the last 6 months. The database is suboptimal in this case and the spinner spins. Just change the Year dropdown to "Last 12 Months" and click "show" and you'll get page of results.
Thanks Andy. 73 de Stephan, DD6DO