I must confess that initially I didn't want to create an activation report for this summit, because this isn't a typical destination for a SOTA tour where the radio activity is at highest priority; instead this summit is IMHO far more a destination for those who like to scramble along ridges and are looking for rarely visited hiking tours. And I asume this summit will not attract too many SOTA activators.
Therefore this activation report shall not be taken as a tour guide for hiking up and activating this summit. It is just a very subjective report reflecting my own impressions while hiking along this ridge.
Since @DL4ROB was curious about the activation report for this summit, I finally decided to write down this report anyway.
The idea to activate this summit came to mind already a couple of years ago. But due to lack of time and bad health conditions I had to postpone my activation already in the summer of 2016. My first real attempt during summer 2017 wasn't successful, too, because, already nearby the summit, I had to turn back due to bad weather conditions. Then, last December, this summit even lost its German SOTA reference DL/WS-032. Nevertheless, as the Austrian SOTA reference OE/TI-606 still existed I wanted to realize my plans at least in this summer, but this time DL4ROB was more quickly and alerted his attempt to activate this summit on the same day as I've planned, just a couple of hours sooner. Therefore I refrained from my activation plans on that Monday and left the chance to activate this summit to DL4ROB.
On the following weekend the weather seemed still to be promising for such a long hiking tour and I finally got a chance to realize my long awaited plan.
Due to the forecasted high temperature I started early in the morning at the car park. Soon I reached a lovely forest section. Due to the early sun with its nearly horizontal beam of sunlight and the soft and warm colour tones the atmosphere in this forest was somehow mystical:
The vegetation with all its moss cushions and all the flowers added to this natural glory (As a non-native speaker, instead of natural glory, I almost wrote 'morning glory', but this seems to have a somewhat other meaning

) :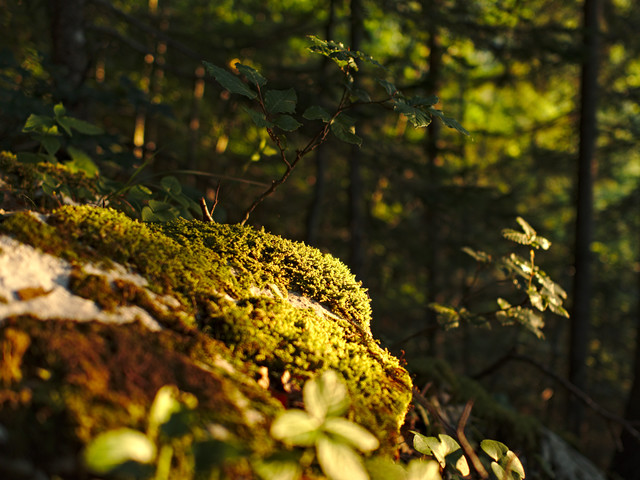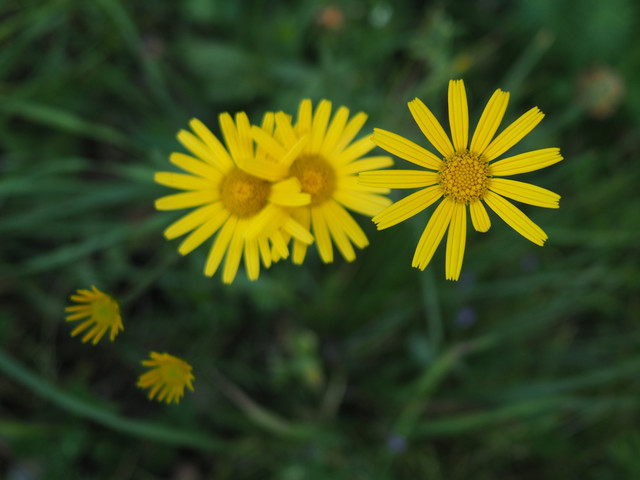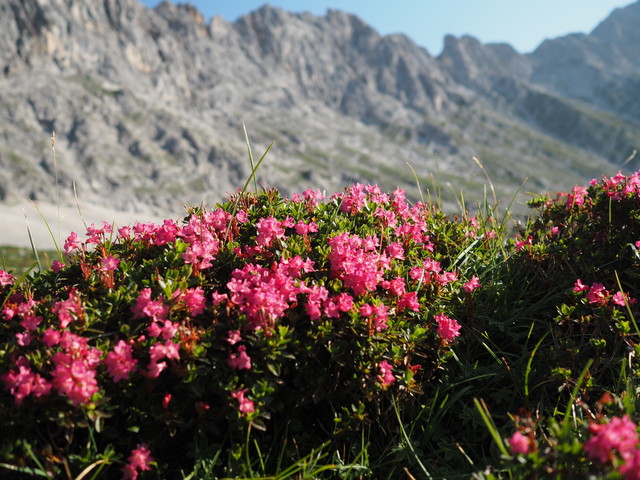 Soon after having left the forest, the first real challenge waited for me. A couple of sheep obstructed the hiking path. Very busy with grazing they didn't notice me at first; but as soon as I approached they run away anyhow, I assume mainly for safety reasons for their lambs.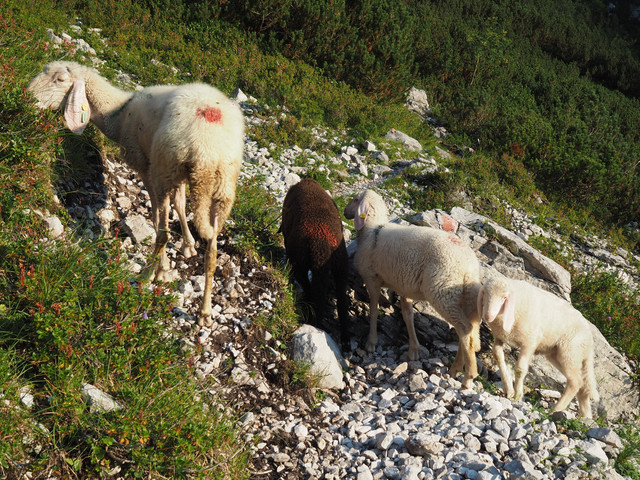 And also the first sight to the destined heights appeared

: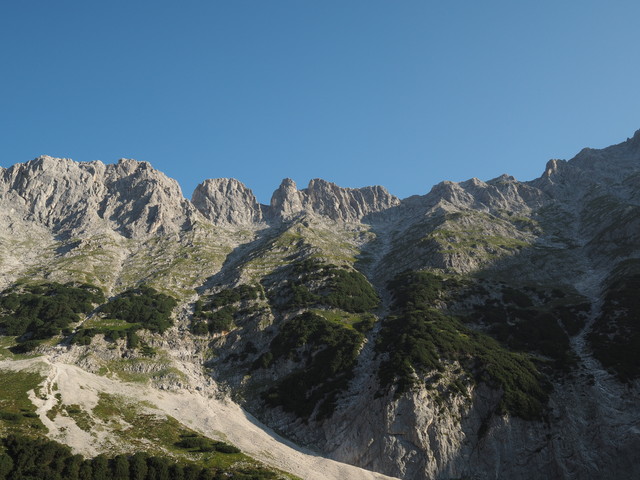 A significant distance up and along a scree slope followed, until I stood upon the ridge that would allow me to approach the summit of Wettersteinwand.
The route along the ridge appeared to be of mixed rock quality. Some sections revealed some nice solid rocks for scrambling, but also some very dubious sections with lot of loose stones and rocks had to be crossed. Here you see a photo of a more delightful section of the ridge: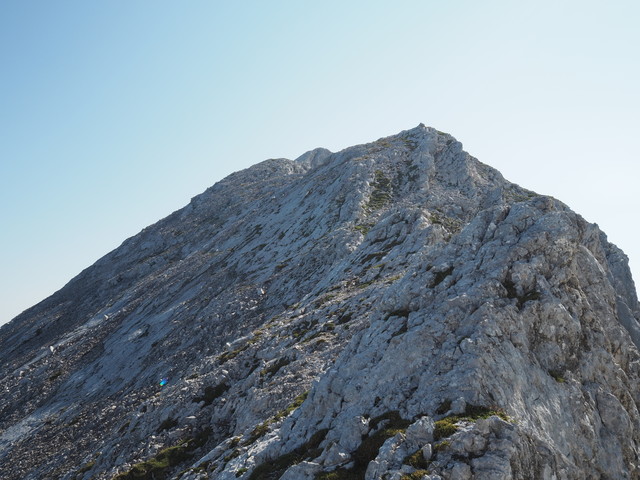 The length of the ridge should not be underestimated. Here is a picture taken from the ridge that has already been traversed: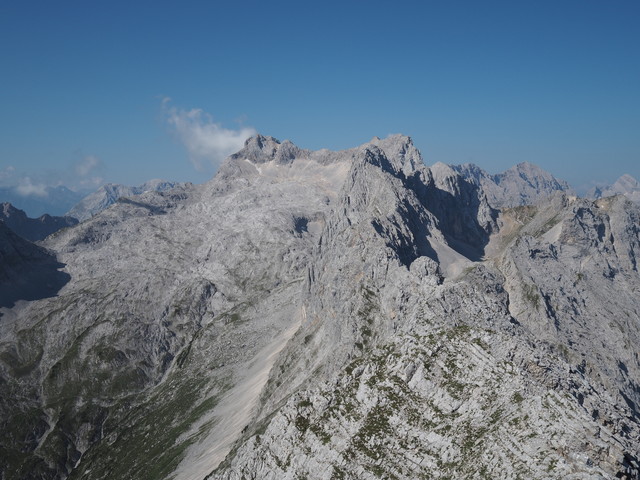 After quite some scrambling and balancing a first view to the Wettersteinwand appeared. And even if the summit seems to be near it took more than an additional hour to traverse the ridge shown in the following picture:
Finally the summit of Wettersteinwand, with its somewhat bizarre summit cross, has been reached. Judging by this summit cross you can guess that this isn't a very frequently visited summit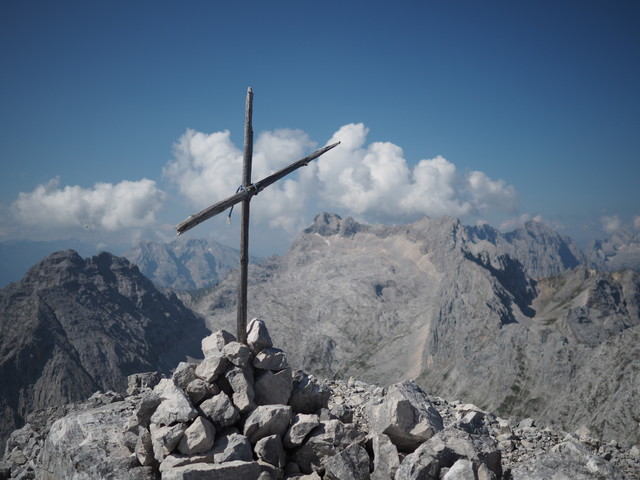 Nevertheless the beauty of the panorama was in great contrast to the bizarrness of the summit cross: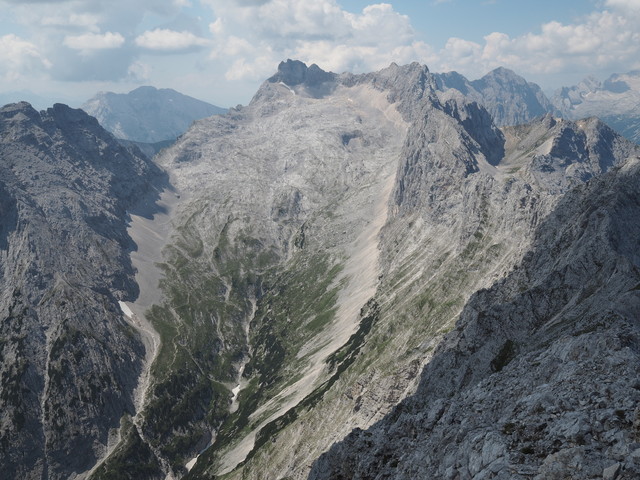 The official summit marker with its German and its Austrian side: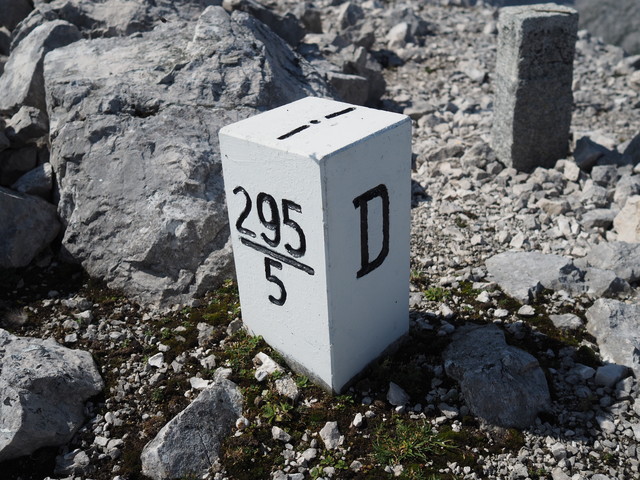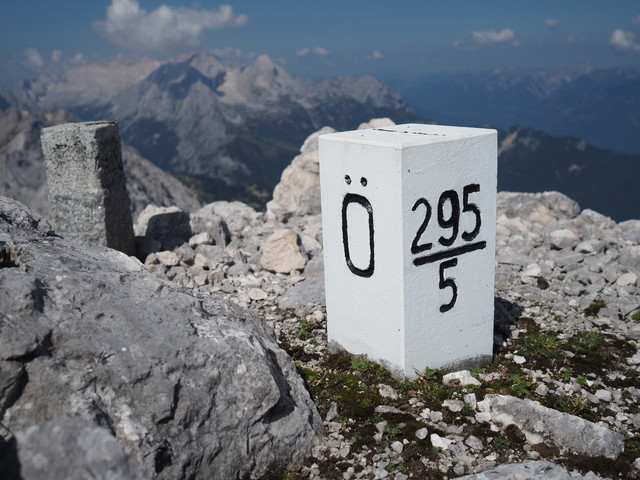 justified that in the past this summit possessed two SOTA summit references.
As I wanted to also do some communication on SSB, my bulky KX3 radio with its heavy batteries needed to be carried up to this summit. You see, the tendency towards lightweight of SOTA equipment is really overestimated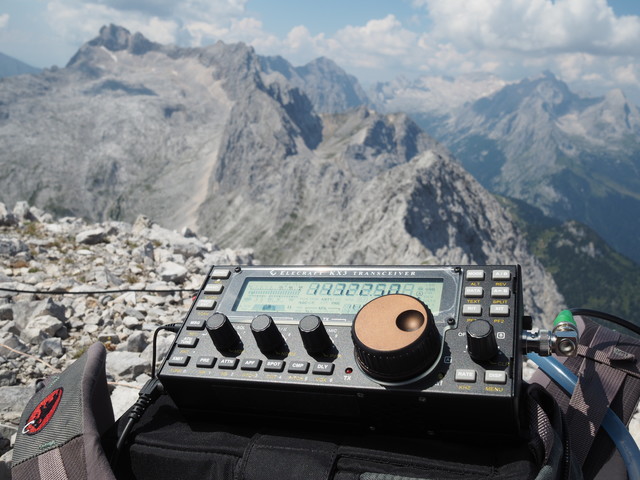 (Rare KX3 copper knob edition

)
A total of 37 contacts found their way into my log. Thereof CW and SSB contacts on the 40m, 30m and 20m bands. With quite some surprising high quality contacts from some nearby stations from Tyrolia and Bavaria.
After finishing the SOTA activation I proceeded my crossing of the ridge along the other side of the Wettersteinwand. Here the balancing on the ridge continued:
The final section of the ridge was a bit shorter than the traverse during the morning, nevertheless the view from the ridge was still outstanding: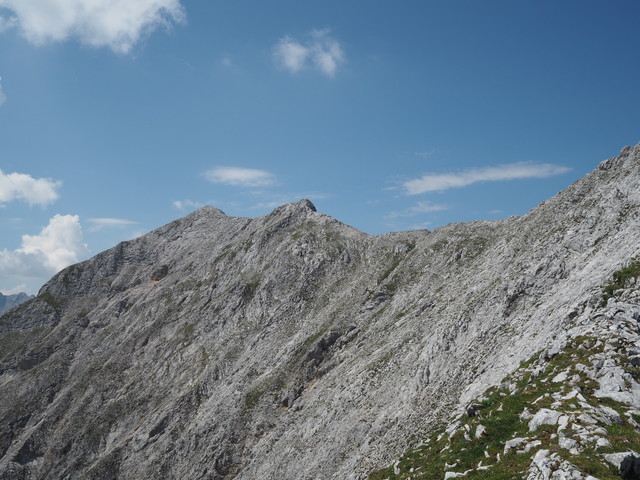 The final descending to a more plain and shallow area still took some concentration: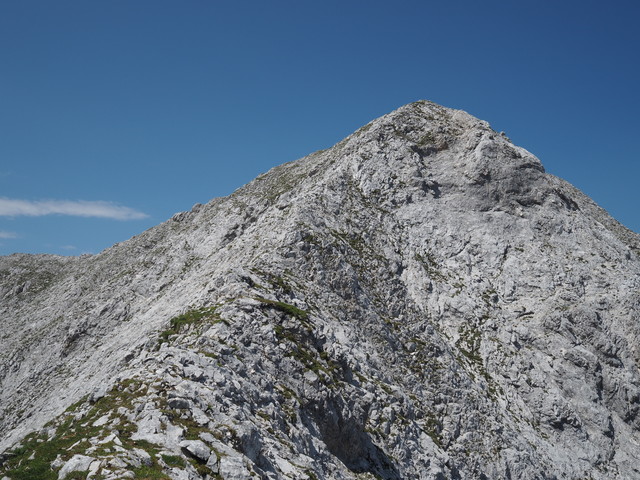 Concluding, this hiking tour was a pleasureful, even sometimes challenging hiking tour if you are prepared to set your priorities more to hiking than to playing with the radio. Nevertheless the 37 contacts even made it a delightful SOTA activation.
Many thanks to all chasers who called me, and hope to hear you soon from the next summit.
73 Stephan, DM1LE