Interesting bit of kit provided you can keep it there in the winds of the summits LOL
Karl
I certainly was in situations where I wished I had one! Nevertheless, to imagine sitting in one of those on a summit and running a SOTA pile-up makes me uncomfortable. I would be afraid of being carried away in a straightjacket…
If running a radio on a summit would not raise curiosity enough.
73 Heinz, OE5EEP
Never heard of these till now
so much better in our situation
Karl
I use a "Fishing Shelter" it's smaller and lighter than the thing you linked to and probably much cheaper too, I think I paid 5 quid for mine on Ebay about 4 years ago and it's still mostly okay (needs a re-proof, but I'll probably just replace it).
Colin
These things do work. But the photo on the site, showing the shelter apparently holding itself up in a neat square shape under the influence of some kind of anti-gravity, is perhaps a trifle misleading. Reality is more like this: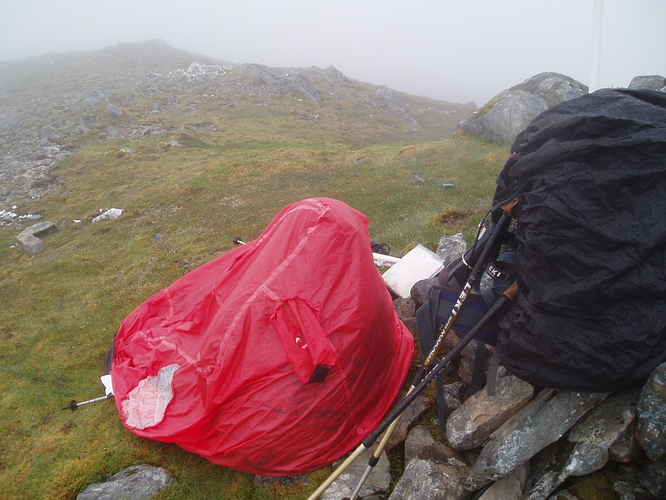 (though to be fair, this is with only one person inside as the other was taking the photo.
Popping in and out (e.g. to change links) can be a bit awkward, especially if it's windy (which it usually is as we don't usually find it worth the hassle of deploying the thing just for a bit of rain, especially as it makes it awkward to run two stations simultaneously.
Operating from inside is a very orange experience:
Martyn M1MAJ
And can be rather noisy in windy conditions, but still better than getting drenched when it rains. I have a Terra Nova (other makes available) bothy bag allegedly for 2 people but in reality just adequate for 1. They are remarkably warm inside even in harsh winter weather.
Victor GI4ONL
I have never deployed my bothy bag in over 9 years of activating, preferring to use a plastic tarp for protection. My bag does have a loop which can be used to tether it in windy conditions, but being the shape it is, I wouldn't trust it being in position when I got back from changing the dipole links. At least with a tarp I can peg it out at several points with it having eyelets around the edge. I often use it in conjunction with bungie cords which are useful to keep it in shape while allowing me to stick my head under to operate the kit.
I have come to the conclusion that there is no ideal shelter for activating. What suits the terrain on one summit, doesn't suit another. I prefer the flexibility of a tarp - not pretty, but it usually does the job.
73, Gerald G4OIG