If this wasn't on the list then I'd never have gone here. I wont be going back either
Maybe, just maybe, on a nice crisp Winter day with frozen ground a little snow, no wind and a piercing blue sky, maybe if you had that then this would warrant the trip. Otherwise avoid it.
150+ wind turbines, lots and lots of Sitka plantations, roads everywhere and god-awful bog everywhere else. If I didn't want the unique to complete the GM/SS summits then I'd never have gone near. There are no redeeming features at all.
4.8km and 80m of ascent took me from the parking place at Ardochrig to the trig. It was 10C or so but windy and the sky touched the ground. When it didn't there was heavy drizzle. But the wind when the drizzle stopped was enough to dry me off. Zero visibilty most of the time. Just the whizz and thump of many turbines as you pass by.
There's S8 noise on 60m here but I managed to bag 12 contacts. 40m had S2 noise but this was less of a problem with the narrow CW filter. 8 worked on CW and 6 on SSB. I thought about 30m but I was later leaving home, late setting up and I didn't want to spend any more time in this most miserable of places. I packed up and the mist lifted. So I could see what I had walked past on the return. Back at the car the mist came back.
Trig point and one of the many turbines… distinct lack of mist when this was taken.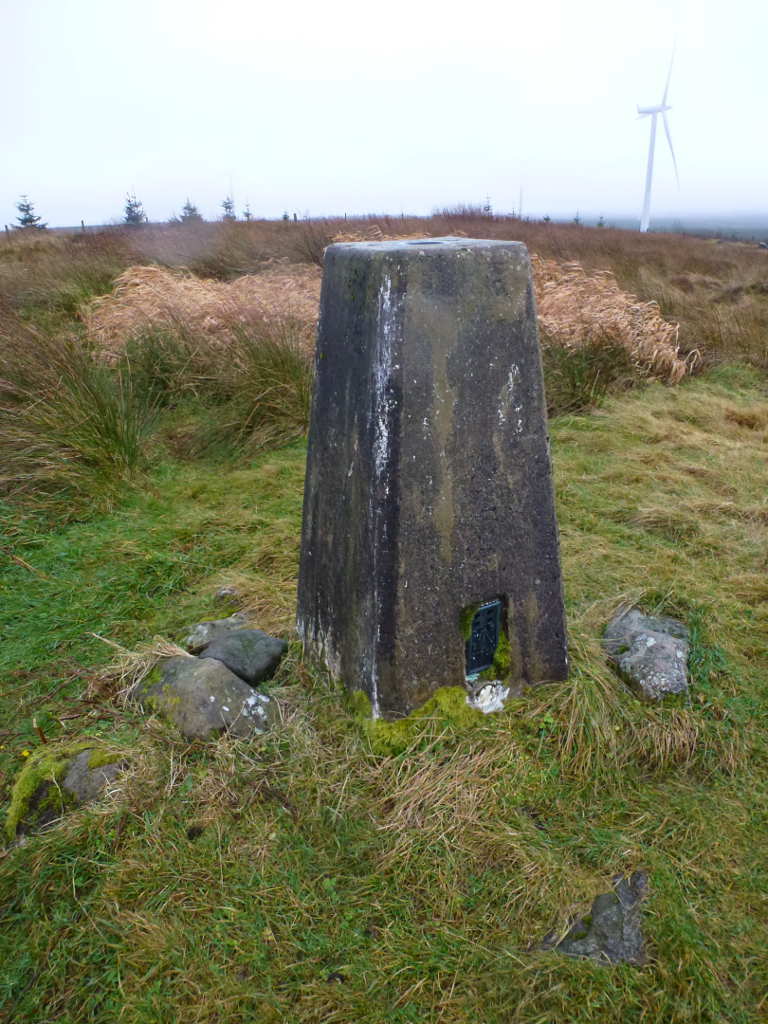 4.7kms and 80m ascent… it's basically a flat walk. But there's no need to find out. Boring and awful place. Avoid!