For the second time this year, I was tempted to take my SGLabs transverter for 13cm up Corndon Hill on friday 15th October. Andrew G4VFL had alerted for three summits in Scotland, and Nick G0HIK for a summit in the Lake District.
They were also taking 23cm and 4m, so I followed suit.
Talk back was to be primarily on 2m FM, so I took that too.
(In fact, 2m FM channels were very busy, so 4m proved to be a far more practical choice at my end)
The weather was perfect, almost no wind and lots of sunshine with a few fluffy white clouds to complete the ambience.
I didn't make the distance to GM on any band - it would have been a pleasant surprise if I had - but managed S2S with Nick on all four bands.
This must be the most complicated activation I have ever attempted:
FT817 as transverter driver + 4AH LiFePO4 battery
SGLabs 13cm transverter + 24 ele Yagi
SGLabs 23cm transverter + 15 ele Yagi
FT70D Handy for 2m + 4 ele Yagi
Wouxun KG UV6D Handy for 4m + Half Wave End Fed vertical
Camera tripod for microwave kit
5m pole for 2m / 4m antennas
Stool
Signals between Nick and I were probably most consistent on 13cm, and we established that we could just about communicate off the back of his beam when he swung North to work Andrew in GM. This allowed me to be sure of when Andrew was transmitting, but nothing heard. Signals on 23cm seemed quite a bit weaker, which is intriguing - maybe less good at sneaking past the North Wales mountains, or not working so well over the sea path…
Thanks to Neil 2W0TDX/P, Karen 2W0XYL/P, Hamzah 2E0HXS/P, John GW4TQE/P, and Martin M7BIA/P for S2S on 2m, and to the chasers who managed to find me as I flitted around the bands!
For the first time, I weighed my laden rucksack when I got home - 14.5Kg.
I was prompted to do that because it felt "heavy". Normally, it is just part of the outing, but this time it really felt as if I was lugging a load up the hill. It must change the centre of gravity, and perhaps I was having to lean forward slightly more than normal. I wouldn't want to carry much more.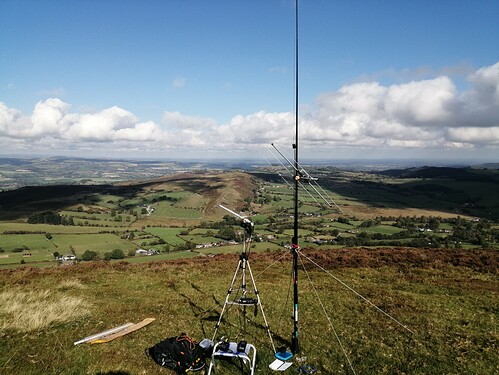 73
Adrian