This following table has just been published in other thread and I want to highlight the 100K chaser points milestone reached by Manuel EA2DT, who is now WORLD's 10th chaser!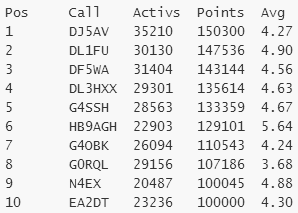 Big, big congratulations Manuel for such huge number achieved with low power (100 watts) and modest antennas CB GP and dipole most of the time and multiband GP just lately.
Thanks for almost always being there and also for so many chases.
I hope we'll keep having you on the bands ready to chase us again and again for many years to come.
Bravo, Manuel!
73,
Guru