Greetings Mountain Goats,
We are looking to meet fellow ham radio operators who would be interested in climbing technical summits (Rock Climbing). We'll provide the tech gear, know-how, and safety…you bring the rig

My Wife and I (both hams) are on a summer long rock-climbing tour. We are currently exploring Colorado's Front Range before heading onto the Sierra of California. If you live in the Denver area, then you are aware of the the vast and varied terrain. We just don't know where to go next! So far, we've climbing on the Flat Irons of Boulder, Spent time at the Garden of the Gods, and Cheyenne Canyon, and a day of skiing on Pikes Peak, all near Colorado Springs. We've also enjoyed Cold Creek Canyon in Golden and the nearby Table Mesa. We've been on a few Coors Brewery tours too…lots to see and learn!
We've made only a few contacts on two meters. We do not have any portable HF gear. However, we have a great deal of experience climbing and operating in the field. For those that might be familiar, we live and work on Mt. Washington, NH every winter. Our home QTH is an off-grid backcountry cabin in the White Mountain National Forest. Search the web for the Harvard Cabin to learn more

So, if you are interested and would love to make a day or two of it…we'd be interested in hearing back from you. The trade-off is your local knowledge in exchange for a fun day in the mountains making an unusual approach to a summit…we'll help haul the gear too! Preferably, we'll can find someone with a little bit of climbing experience, but there are two of us, so we might be able to bring along someone with not too much experience.
An operational highlight for us last summer was an activation of The Grand Teton, Wyoming!
Hope to hear back!
73,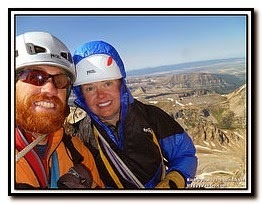 Rich and Marcia

KB1WDW & KB1WEP