Holidays in the Atlantic coast are always a bit risky in terms of WX.
After 2 or 3 days with lots of Sun and temperatures above 30 C, we got the sky back grey this afternoon. However, the temperature was still good and we went to the beach.
I brough my SOTA equipment and set up as you can see in the following picture.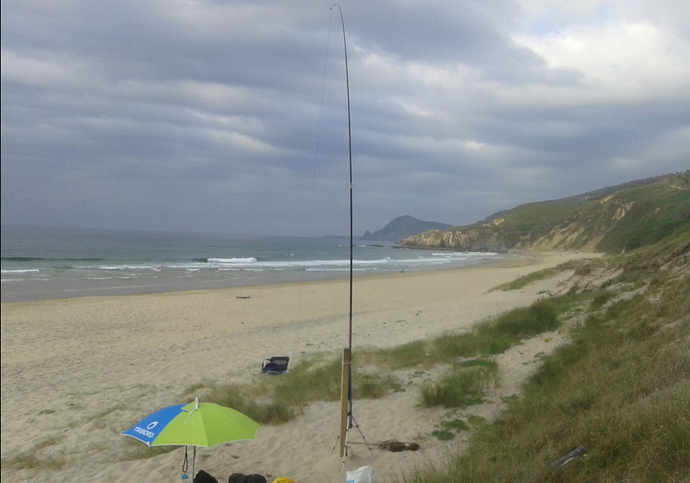 As soon as I switched my FT-817 on and got to 20m CW, without even having yet looked to SOTAwatch, I found by chance @TF3DX/P starting to CQ. I called him and got picked up immediately, so we completed our QSO. Thank you!
After my QSO I remained on the frequency and copied with pretty good signals a US chaser from the state of Colorado. This told me that propagation conditions seemed to be good and I hoped for some NA activator chased.
One activator from W5 and another from W0 were not copied, but I saw on SOTAwatch the alert from George @KX0R, who usually puts a good signal from Colorado into this side of the Pond, so I decided to wait stalking for him. George started on 40m, where I didn't copy any trace of him nor any NA chasers, as expected. Then he worked on 30m and again I copied nothing of him nor any NA chasers. He finally came to 20m CW and there I was able to copy him very weak with QSB and also quite a good number of his NA chasers. I called George several times but being his signal received at my side 219-319 QSB, I knew that a miracle or George exceptional good ears were going to be necessary. I believed for some few occasions that George was coming back to me, but his signal was too weak and the QSB so lethal that I couldn't finally confirm copy of my full callsign and his signal report. So, NIL.
I would have liked to wait a bit longer until Sunset in the hope that the Sunset effect would enhance enough our signals for a quick QSO, but I think George went QRT or QSY and my family asked me to pack up and go home. So we did.
We were close to make it today, George. Hopefully, there will be another chance soon.
73,
Guru