And lots of knobs that look like they came off an AR88. And some command sets too.

Yes I agree Andy - I've logged S52CU Mirko 33 times from his home station to my summit, starting in 2013 - 2017. A very familiar callsign and like me a Completer - 77 QSOs logged with Mirko with me from the chasing side, including several S2S contacts. Keep up the good work Mirko!
73 Phil
As the snow starts to melt, there is a real risk of avalanche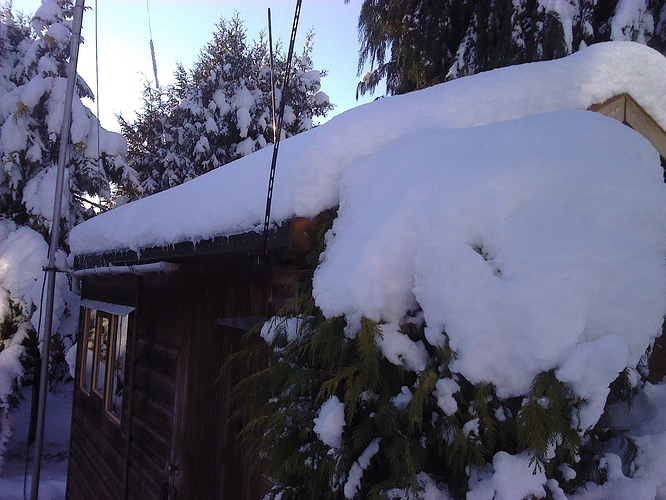 Untidied shack - the bottle is long empty, bought to celebrate getting my licence in 1972.
Sorry for blurry picture, phone doesn't cope well with low light…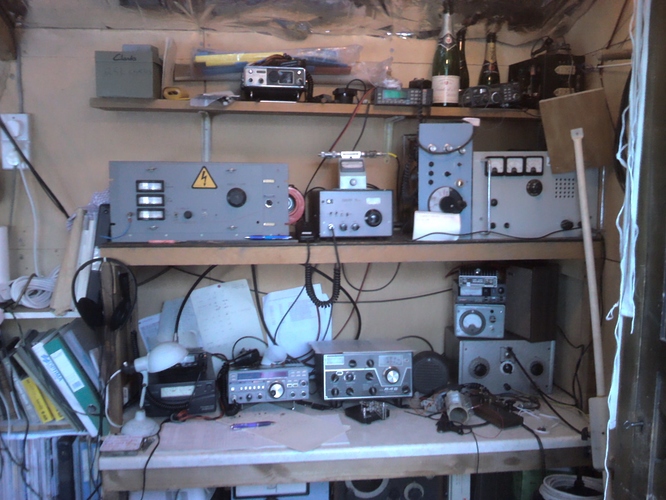 TS7200G, rarely used. 4m FM. FT290
4m Linear 4CX250B. 4m SSB Transceiver. Top band SSB TX on its side. 70cm Linear, 4CX250B. (Prototype metal detector leaning against it)
12v PSU with Alinco DR605 2m / 70cm FM behind desk lamp. FT757GX. Drake R4B (MFJ paddle). Home brew Z Match ATU. HB SWR bridge. Commercial bridge for VHF, Microwave Modules 2m Linear 25W.
Although I am not an ambitious SOTA chaser my station and hidden antenna may not be representative.
My solution can therefore be rather a (further) confirmation that an imperfect antenna is much better than no antenna.
Since I was allowed to use a beam antenna only for the first 7 years and then had to use indoor antennas in the last 37 years, I was able to experiment and learn a lot with them (also in drilling long holes through apartment walls and ceilings, hi).
The following rough statistics may give an idea about what is possible (in CW …) with such small indoor antennas as indicated below:
SOTA Associations and regions worked: 181
WAE Countries worked: 49
DXCC Countries worked: 209
Station
Main: Elecraft K3/100, K-POD, P3
Backup: Elecraft K2/100
Receive only: Elecraft K2/10 with IF buffer amplifier, P3
Special purposes/experiments: ICOM IC-706MKIIG (the only rig with a mic connected…)
Keyer: Logikey K-5
Paddle: Begali Sculpture
SWR&Power Meter: Kenwood SW-200
Wattmeter/Dummy Load: Drake W7/DL1000
Remote ATU: LDG Z11ProII (at the feed point of the doublet)
Remote active loop amplifier: Bonito ML200 (at the vertical loop)
Power supply: Diamond GSV3000 (2x)
Antenna
Main: Indoor Doublet 2x4.90 m, angled several times, usable from 80 to 6 m
Receive only: Indoor vertical loop 6.40 m, around shack window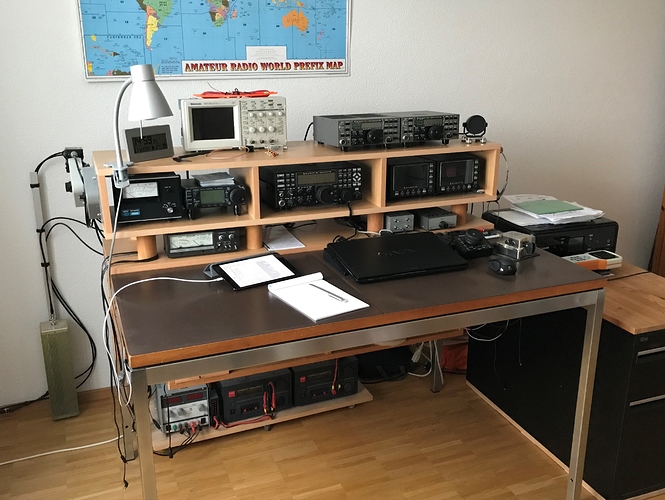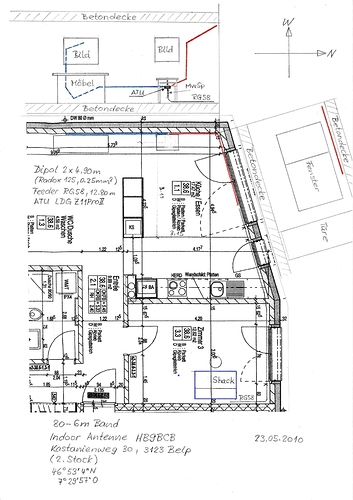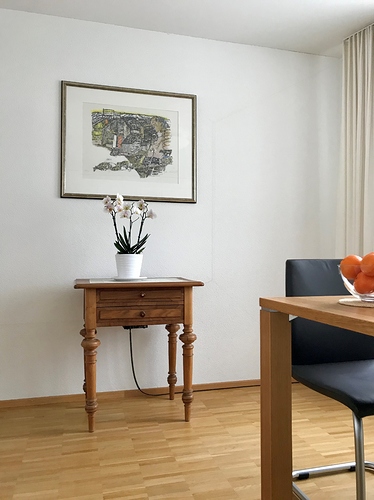 K8HU - Chesapeake, VA
SOTA Chaser Contacts Made: 327
DXCC Countries worked/confirmed: 332 (Honor Roll)
Staition
Yaesu FTdx-5000 / Alpha 86
Yaesu FT-1000 / Acom 200A
Collins 32S-3, 75S-3B, 30S-1
SOTA Station:
Elecraft KX-3
Yaesu FT-897D
Xiegu X108G HF Transceiver (20W out, light, not a bad radio!)
Power: Bioenno LiFePO4 20AH battery w/ Grape solar, 50W pannel and LifePO Charge Controller
Antennas:
M-Squared 20M-4 ( 4 el Monoband on 50' boom) @ 100'
Doublets for 160, 80, 40, 15
Quad Loop fed on side for 30M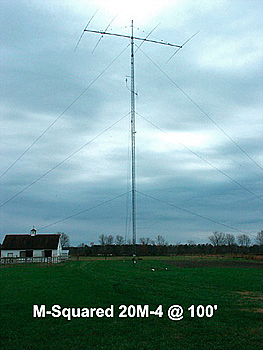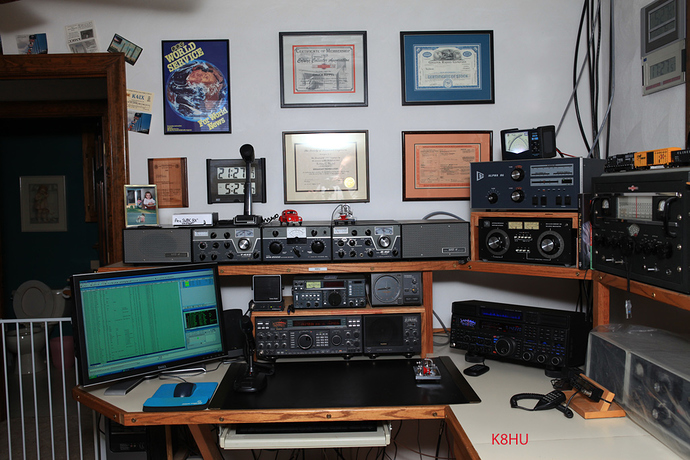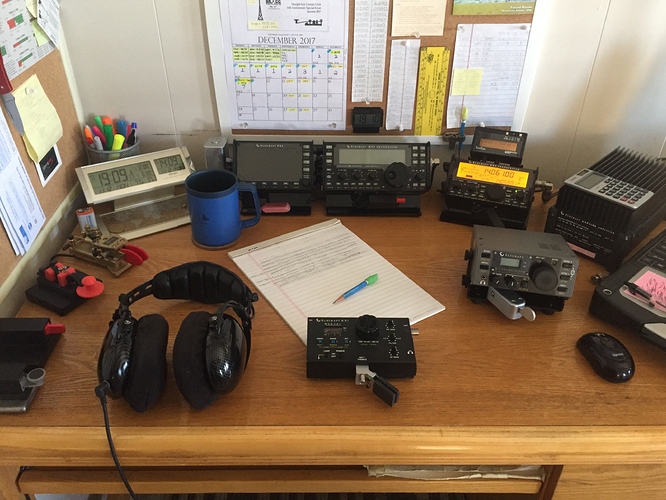 Here's my chaser station on the west coast of Florida in Bradenton.
I use all four radios as conditions allow, my antennas consist of a EFHW up 32 feet on a fiberglass pole, and a Scout 20-10 meter from Radiowavz. The Scout is not a beam antenna, simply a nine foot square wire antenna up only 15 feet.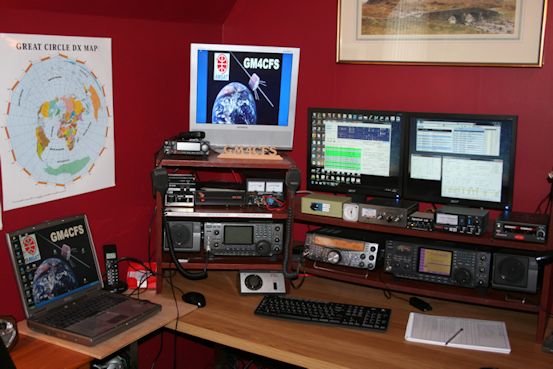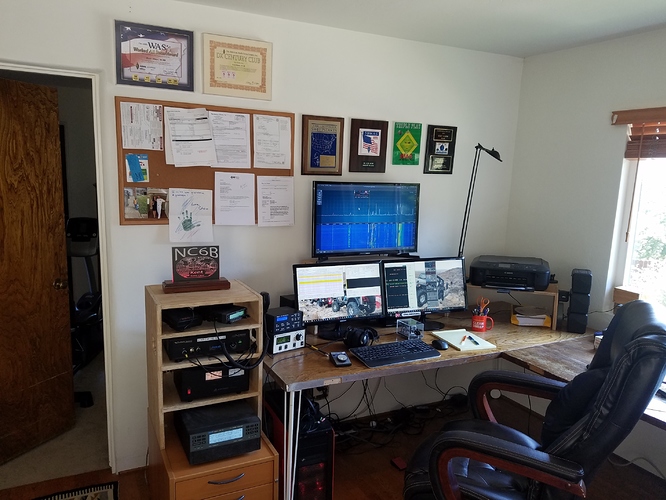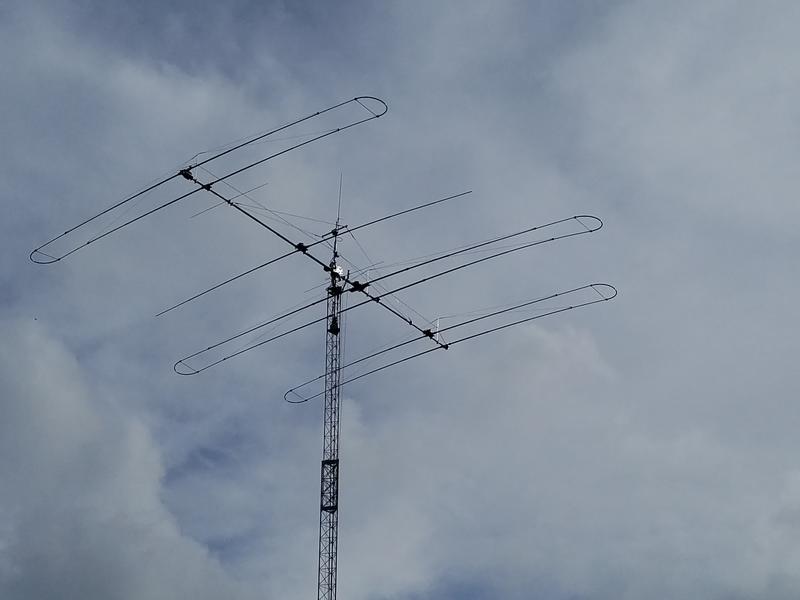 HF Radios: Flex SS 6500
 Amp: SPE 1.3K FA
Mic: Heil PR781
Headset: Arlan Com.  RS60CF with M350-ADJ Mic Element
Power Supply: Astron RS-35M
 US Tower HDX-572MDPL
Antennas: SteppIR DB36 with 80 meter dipole addon, OCFD for 160 meters.
Positioner: M2 OR2800 PXAZ
Controller: Green Heron RT-21

73
N6WT
Main HF - Ten Tec 580 Delta
Drake TR-4 (needs repair)
ARC-5 80 m cw TX
BCN-454 3-6 MHz RX
Icom 728 HF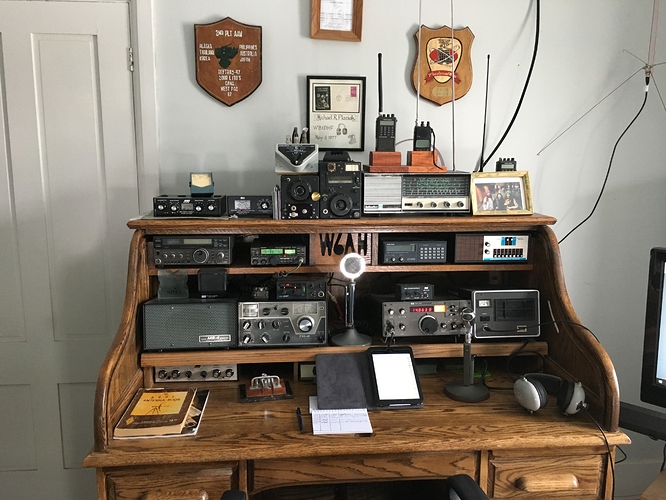 Antenna 20 m dipole and a 5/8 wave 2 m vertical both at 10 m in the attic.
Console is an old oak roll top desk that was in terrible condition in a friend's garage. I refurbished it when I was still W6AH in California. It survived the trip to Maine!
See you on the air!
73
Mike NS1TA
Mike, that's a classy old-school style station, with the separate TX/RX.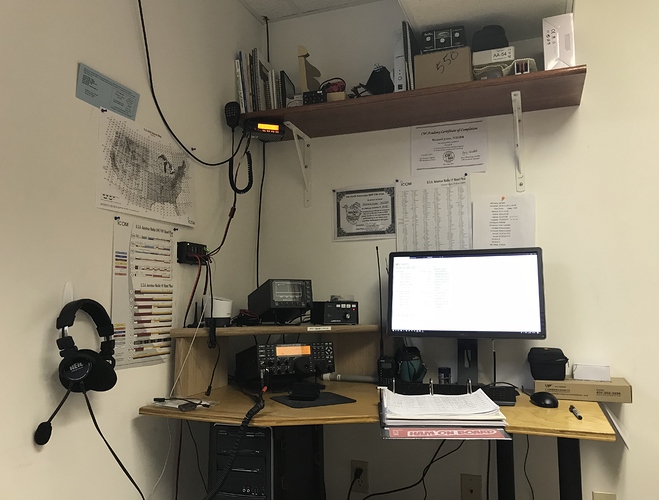 "Custom" designed desk to fit into the corner space available
Elecraft K3S + P3 for HF
FT1900 for 2m with an X200A
Shack PC
4-position antenna switch (Wire antennas… DX-CC @ 65Ft, 10-40OCF @ 55ft, 85ft Long wire Inv. L)
Palm Radio Paddle
Station log is Paper… then N1MM+ for any contests…
Richard // N2GBR
Seeing this picture, I realized that my station looks pretty good and really doesn't need to be straightened and cleaned up after all. Much relieved to get that one out of my job jar.
Gary, K9ZMD
Ridgefield, WA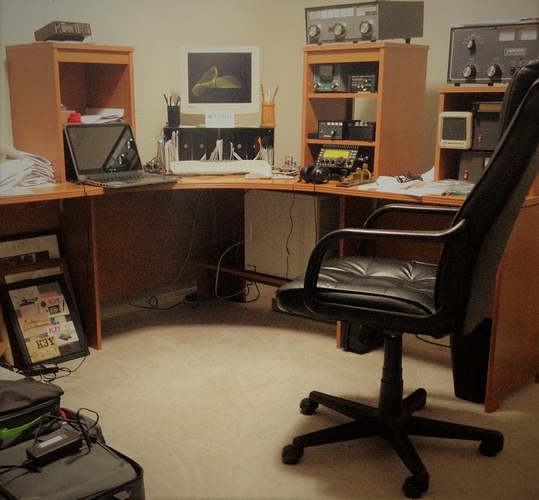 Nice to see an Index Labs QRP+ still in operation. The one I owned was serial number 487. Yours?
Gary, K9ZMD
Ridgefield, WA
This would have been mine in 1981, had SOTA been around then.
A makeshift shack in my bedsit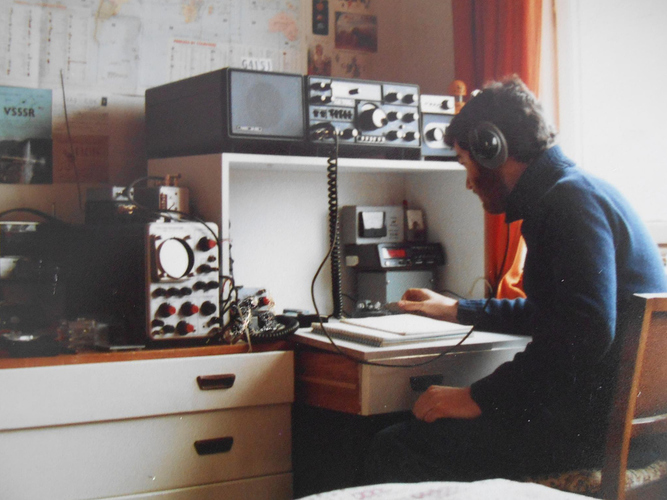 Better still, a few years later Hong Kong, I would have had some superb summits to activate.


I was left just to manage the daily pileups with the HW9.
And nowadays, the KX3 and a wee dram is all that is needed…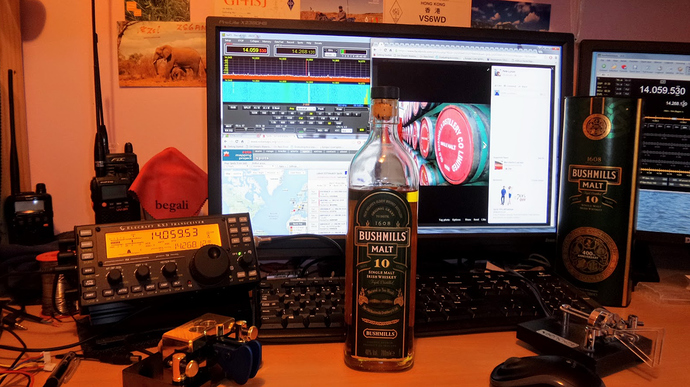 Mine is Serial #0124. I got it from Ebay quite a few years ago…can't remember exactly when. Can't figure out exactly how old it is…today I managed to break the pileup from here in Utah for W2T on 20 meter SSB. Pretty cool. Using End-fed half wave.
G0FEX
I like the yellow marker on the Bushmills Bottle.
73's Ken
It's very nice to see the home stations of many of the chasers here.
I don't have a chance to set up any static antennas at my home QTH, and the noise pollution here would make chasing hard in any case. Luckily I have access to my group station LA4C, which is only about 10 minutes away by car.
Old aerial image of LA4C - Holmen
LA4C is located on a small island on the west coast of Norway, bordering the North Sea.
We have two almost identical work stations inside, the only difference is the Tranceiver. I prefer using the Icom IC-7700 shown below, but we also have a IC-7300 station set up next to it for contest use.
Primary work station
The shelf in the middle contains antenna selectors (with A/B work station), rotors and various other stuff.
Out of the window you have a beautiful view of the North Atlantic, which offers up some amazing sunsets at times.
Sunset seen from the parking lot
Our antennas:
20m 5 element Logyagi
10-15-20m beam
20m quad
40m K1WA-style vertical dipole
80m half-wave dipole
160 meter vertical delta loop
various antennas for 70cm, 2m and 6m
Some antennas
More antennas
This is my operating position at home. Rig is a Yaesu FTdx3000 running exclusively QRP (5 watts output) at all times.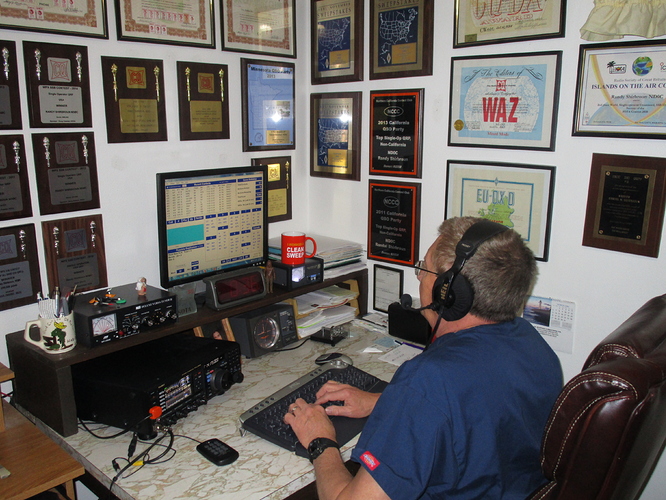 The antennas are a tribander Yagi at 40 feet (2 elements on 20, 2 elements on 15, and 4 elements on 10); rotatable dipole for 40 and inverted vee fed with ladderline for 30, 40, and 80.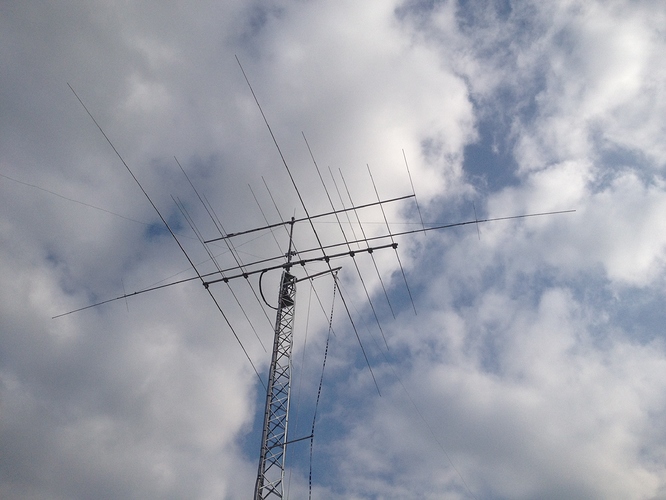 73,
Randy, ND0C