I would appreciate the opinion of other SOTA activators on the best location to set up when activating this summit.
The trailhead for Chabot 2 Benchmark is easy to locate, with good parking. The "trail" is a paved road with lots of dog walkers and well behaved off leash dogs. As I approached the summit I saw a coyote and he saw me and went the other direction!
The paved road takes you to within a few feet of elevation of the activation zone and since today I was early and had time I decided to see how close I could get to the actual summit.
The paved road leads to a locked gate with many locks. There is a radio station transmitter at the site and a good number of repeaters. The site looks over the San Francisco Bay and is a likely spot for a wide area/regional repeater.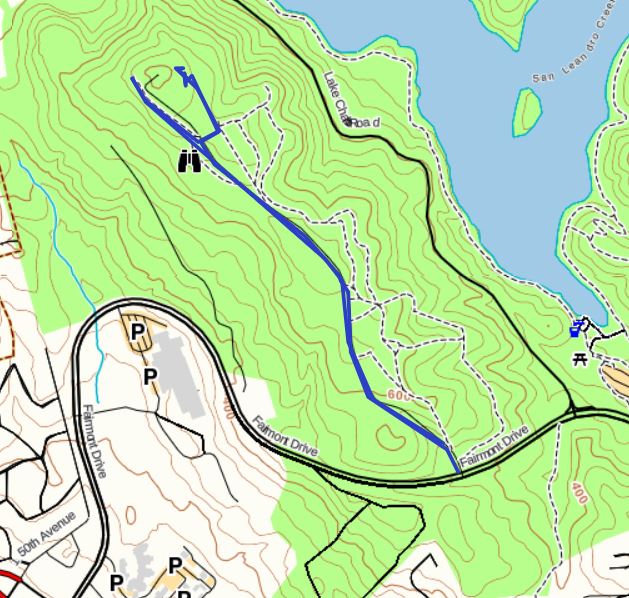 On the map above you can see my track (prepared by GAIA) and the actual summit. My first experiment was to the east of the summit. I followed the fence line 8′ tall topped with barbed wire to the north end of the fenced in transmitter/repeater site where I encountered another tall fence running east and west that blocked my passage. I considered setting up about mid way along that fence which would have meant attaching my Packtenna mast to the fence and sitting adjacent to a grassy hill side. From the fence to the drop off was only about 6′ wide – the view of San Francisco Bay was beautiful but I decided to try the other side.
Returning to the locked gate I hikes a short gravel road to the west then through an opening into a eucalyptus grove. Then north through the eucalyptus grove with a bit of down then up to the north end of the fenced in transmitter/repeater site. Again a blocking fence so I returned to a small clearing in the eucalyptus grove and set up for HF operations.
I think you could operate from three different spots; along the east side fence and grassy hillside; approximately 750′. Or in the eucalyptus grove; approximately 756′. Or at the end of the gravel road approximately 726′ which is the lowest end of the activation zone.