After a couple of days off touring and enjoying the island of Fuerteventura and also a reccy of possible parking spots and climbs of various summits, we found what appeared to be a relatively easy summit and a first a first to activate too. Some web research suggested that there was a hill running route along the ridge and down each end so how difficult could it be?
The summit was Morro Tabaiba (EA8/FU-018) and we set off to arrive at sunrise. A dirt track runs up to a newish viewpoint (mirador) from the village of Vallebron. Parking on the end of the hill, it was only a 150 m elevation climb over 500 m of walking. Under foot was no worse than we had done on previous hills and we are starting to get used to the terrain. In 25 minutes we reached the top with good views over the north of the island and further to Lanzarote.
In overcast and slightly windy weather we activated the summit over the following 2 hours with Helen making 54 contacts on 20 metres and me 49 contacts on 18 metres (with a summit to summit on 20 metres). The two 5 Ah Li-po batteries we were using (one for the FT817 and one for the Packer Amp) would normally manage to power this activation and another easily, but suddenly the radio showed high SWR with the cause found to be a an extremely low battery on the amp; this curtailed the activation

We were going to do a another summit but decided instead to visit the fishing town of El Cotillo and sit in a nice fish restaurant enjoying the view along the west coast. Later in the evening we found that the battery had totally lost one of its three cells. We are not sure if this has damaged the amplifier in some way and cannot easily check until we are at home given that we need the other battery to power the radio.
So it will be QRP if we activate any more summits… we are still planning to trek up Pico de la Zarza, the highest summit on the island, on Saturday.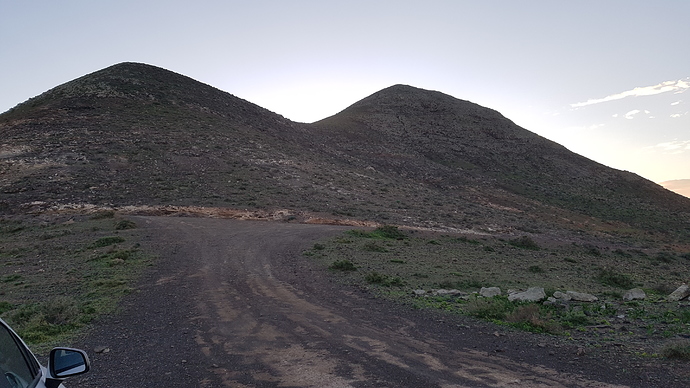 The west end of Morro Tabaiba (EA8/FU-018) looking from where we parked the car. We walked up to the col and then to the summit on the right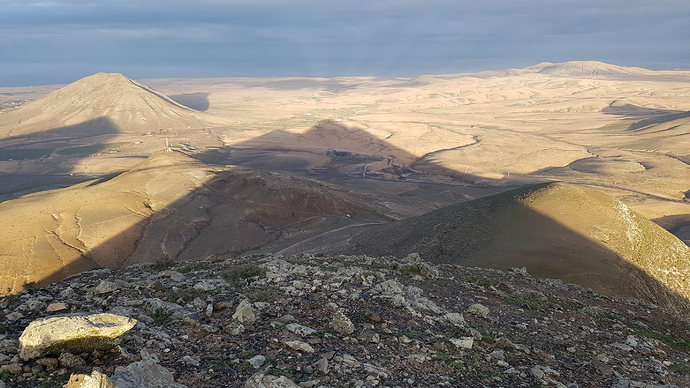 The obligatory spot the car photo looking down from the summit. You can see the long shadows from the early morning sun and Tindaya (EA8/FU-005) on the left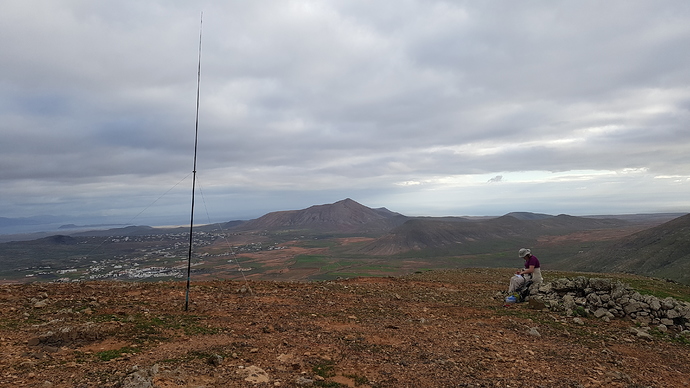 Helen activating the summit for the first time looking northeast towards the small island of Lobos and the east side of Lanzarote. The first hill we activated Montana del Econfraga (EA8/FU-016) is in the centre of the photo
Carolyn