Hi all,
By following the latest COVID19 restrictions in France from 28/11/20 (max 20km no more 3H), I decided to activate Carabelle F/CR-317 this Sunday, just 19.2km from the house.
Initial temperature just 1 ° C with a bright sun but far from that of Jarek @SP9MA on SP/BZ-041 (thanks for the S2S)

Arrived at the start of the ascent I followed the route of Paul @DL6FBK (SOTLAS), we suffered a little the first 300m, a path in a scree of rolling stones (not the singers) with a slope of 26%, XYL Christine and Luna our York will remember!

This is the easiest route, I think Paul
@DL6FBK
remembers it!
Once at the top, a splendid 360 ° view awaited us with a glimpse of the neighboring SOTA!
Summit cairn.
During the climb, a wink to Roger

Once the station has been set up and a successful test on the TG973 DMR with Roger @F5LKW and Lars @SA4BLM.
you can see behind the aerial coax, "Les Dentelles de Montmirail" with the F/CR-222.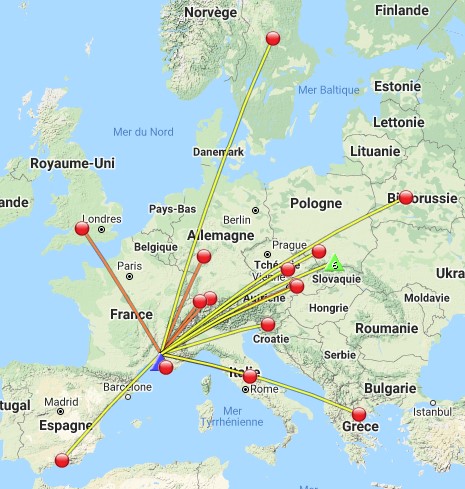 I didn't have enough time to do SSB and in 28 minutes despite the CW Contest I managed to do 18 QSOs, thanks to the hunters.
PS: During the dismantling I have QSO Gérald @F6HBI on the TG973 DMR but he was still in his ascent towards F/AM-629, I was able to contact him once back home

73 Éric