Quick question,
Are you able to download your sota log?
73
Chris
Yes
You can download your full chaser/S2S/SWL/activator log or you can download just an activation.
Brill,
Can you now elaborate

You click the "Save to File" button which is displayed on the Activator Log, Chaser Log, Summut To Summit Log and SOTA Complete Log pages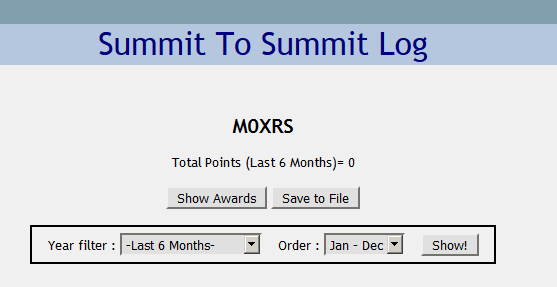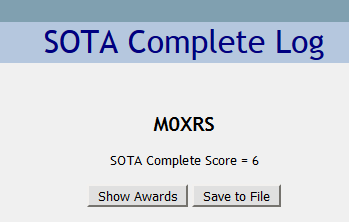 Funny how you don't see what's in front of your face

Thank you
Maybe the button should be renamed "Save log to file"? It's an easy change and I'm doing some tweaks to the pages anyway to try to make the default cursor location be the first field you would fill in. That and make the tab key move between some fields. I'll change it and see if it looks better.
It can't hurt if you can fit the words on, keep up the good work and thanks again. Up in MM land end of October and might activate Broad Law I think, don't know if you can get me from your QTH but thanks again.
73
Chris, M0XRS
If you are tweaking the pages can you do something with the S2S pages? I can never remember what goes first.
Right now, if you choose to submit an S2S log you see this:
Submit Chaser/S2S/SWL Entry
a. Select the Association, Region and Summit
b. Enter QSO Details
c. Select your Association, Region and Summit
Parts b & c only appear after you fill in part a. I don't do many S2S, so I forget that part a refers to the other summit (which is clear when part c appears). Could you please edit the text for part a to read something like:
a. Select the Association, Region and Summit you contacted
Thanks!
Perhaps even "Download log file" rather than "save log to file" so that it's clear the log is coming to the users PC not just saving to a file on the server.
Ed.
Agree I've been caught out by this
Hi all,
I also was very interested to download the whole results of my SOTA-activitations.
Most programs works with ADIF. How can i convert CSV to Adif?
The program CSV2ADI_V2 give a wrong conversion.
Is it possible to download the results in ADIF-Format???
Tks for yr work,
73 Sake, Pa0skp
Christophe ON6ZQ maintains a list of SOTA software and you will find ADIF tools listed.
http://www.on6zq.be/w/index.php/SOTA/Software
Not yet, ADIF support will be added one day. In the meantime, the ADIF<>SOTA tools should solve your ADIF conversion issues.
Tks for your support!
73,
Sake