We had been determined to get up Cadair Berwyn since Christmas, but the convergence of reasonable weather and time off work just hadn't happened. We did give it ago a few weeks ago but only got as far as the 750m elevation mark before we were to be defeated by gale force winds.
Our luck changed last week when the Cadair Berwyn mountain weather started to present a window of opportunity for Sunday the 28th February. The forecast was promising to be a clear but cold summit with light wind, perfect!
We had decided to ascend up the Valley and descend the ridge over Trum Felen in order to make an almost circular walk. The higher altitude temperatures were forecast to be at freezing or below and indeed they were. This however made the going easier as the normally boggy sections after the stream crossing were frozen solid.
Now I have only just started my adventure into SOTA but not walking, so the deal with my XYL Bev is, it's a walk first, as we have done for many years and SOTA second. With this mind and the summit temperature expected to be -4 degrees Celsius with wind chill, I wasn't sure how long of an activation I was going to get away with.
Once on the summit of Cadair Berwyn it was beautiful clear day with amazing views, nothing in the world seemed to matter, it's one of those, "Life doesn't get better than this feelings"
After taking in the views for a while it was time to get down to business. I set about putting up my aerial for the planned 20m activation while Bev deployed the Boffy shelter, coffee and food. Some 20 minutes later and a bit explaining to another couple what the big pole and wire was for I was in the shelter setting up the radio end. It was just after 13:30 and we were good to go. I thought I may have struggled to find a clear frequency with weekend contest traffic but it wasn't too bad. A self spot spot on 14.308MHz and we were off. I managed to make 21 contacts in 16 minutes or so before Bev started to get really cold. To be fair by this point she had been sat around for nearly 45 minutes. I put out a last call out but struggled pick anything else out of the noise so called a QRT.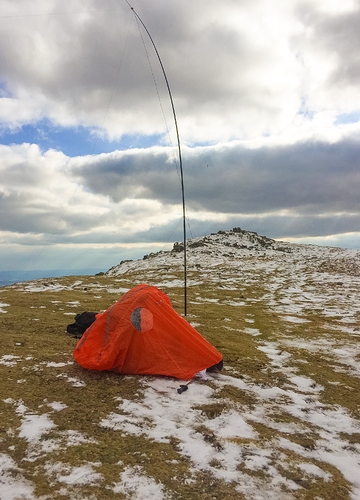 20 minutes later we were packed up and ready to make our way down. I did want to have a go on 2m but after skirting around the idea with Bev I sensed that would have been pushing my luck 
Thanks to all the chasers on the day for an enjoyable activation.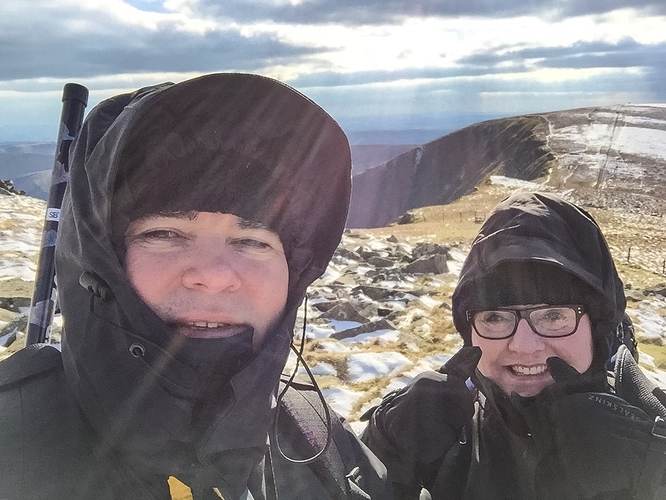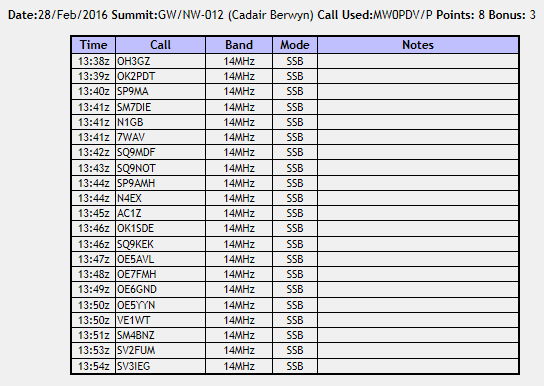 Paul
MW0PDV