I've seen lots of postings about designing/building your own power sources using 18650 cells. Being lazy (and not terribly mechanically gifted), I was looking for an easier way, one that would allow me to use the ubiquitous inexpensive off-the-shelf 5V powerbanks.
There was a previous post by Tommy SA2CLC, who was kind enough to even send me some blank PC boards for a power booster. But again, I'm not terribly gifted in such projects, so I kept looking.
I have found a first solution with the Adafruit Model 2778. I love the idea of being able to pick up a cheap powerbank to use with my MTR-5b with the help of this very cheap ($US 6.50) cable. There is also a 9V version available (Model 2777).
The cable is rated for 500 mA, but the factory got 700 mA out, and I've been getting 960 mA out during initial tests using an MTR-5 and a dummy load.
Note: when I used the powerbank/booster cable with my KX2, the rig shut down the second I started to transmit due to insufficient current.
One key thing to be aware of is that the cable/MTR setup does not work with every powerbank. Some of them switch off if the load draws too little current. On receive, the MTR5b from LNR is spec'd to draw 30 ma @ 6V and 20 ma @ 12V. On my tests with a KD1JV 5b kit, the rig/12V converter cable setup was drawing an average of 60 mA from my powerbank. This was adequate to keep my Varta powerbank turned on during receive, but my larger Voltcraft powerbank turned off after just a few seconds of receive. Note that one workaround is to add a device such as the Sotabeams "USB battery pack keep-alive load" – but it's not really practical for outdoor use.

Here is a photo of my test setup with a dummy load; field trials to follow shortly. I have the MTR5b in Tune mode (continually sending a carrier into the dummy load). You can see that the MTR is detecting an input voltage of 11.6V (lower right display). The current draw in Tune mode was 0.96A (as measured with a LogiLink Model PA0067 1-Port USB power meter). I left it running for a good 15 seconds continuous.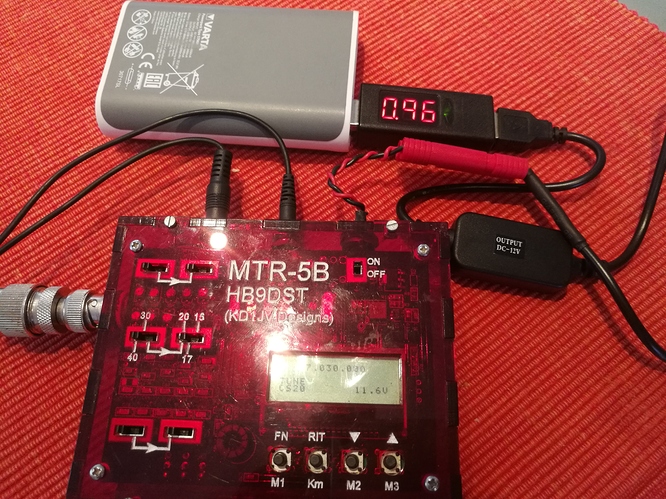 I was wondering if I would get QRM from the converter module, but there was no discernable difference in noise from the powerbank and a LiFe battery. I was also concerned about chirps in my signal, but I monitored transmission into the dummy load from my desktop xcvr and heard no difference from the powerbank to the battery.
Thus far the results are encouraging, next are the field tests. If you hear me on the air in the near future, please give me accurate signal reports (I won't be offended if you give me a 595C).
73,
Paul HB9DST / AA1MI