Already my fifth activation and another couple of firsts: first time I climbed 溪洲山(Xi Zhou Mountain), BV/TA-011. First time this summit was activated and also the first time I had the luxury of a table and bench to make my QSOs even more enjoyable.
BV/TA-011 is one of my two "home town" summits, so it only took 20 minutes on my scooter to get to the entrance near the old hiking trail called 大艽芎古道 (Dà Jiāo Qiōng). Usually people take the longer route, starting in Longtan, passing 新溪洲山(New Xi Zhou Mountain), but I was running late this Saturday afternoon. Afterwards I was glad that I took the shorter trail, because the 2 kilometers up took me a little more than an hour. But it was a great hike, alternating between walking and climbing, with some parts a little treacherous. At the top views from both sides, one being Taoyuan City, the other Shimen Reservoir. In Taoyuan and Hsinchu we rely on this reservoir for our water supply and without rain or typhoons we will get into trouble, with water rationing as a result. Last year it didn't rain all spring, so rationing was imminent, then it started to rain in earnest in June and we were saved at the last minute.
Me at the trig point.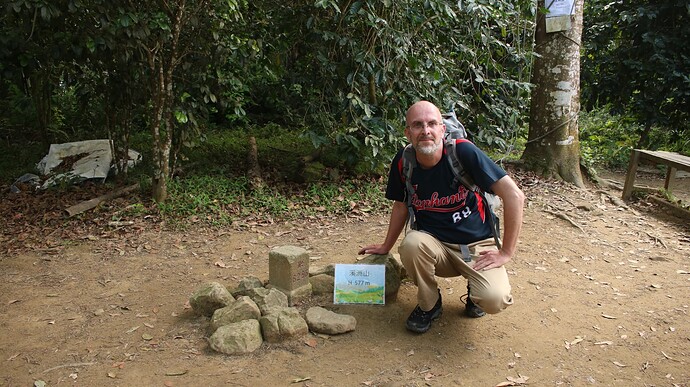 Shimen Reservoir in the background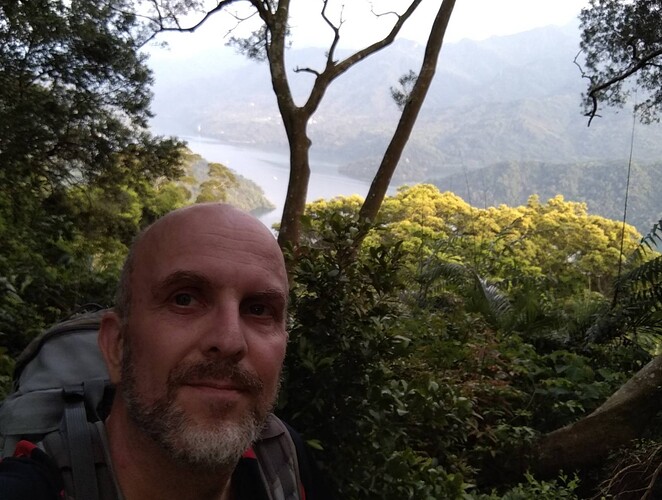 Setting up was a breeze and by 0830 UTC I gave my first CQ. Half an hour later 9 QSOs in the log, one of which an S2S and two calls from Europe (with vaguely familiar call signs like F4WBN and OK2PDT; thank you both for the first contacts ;-). All on 21 MHz, but for the last QSO I switched to 14 MHz, because I wanted to give Gene (BX8AAD), an old friend from down south in Taiwan, a couple of chaser points and 21 MHz was just skipping over him.
The relaxed operating position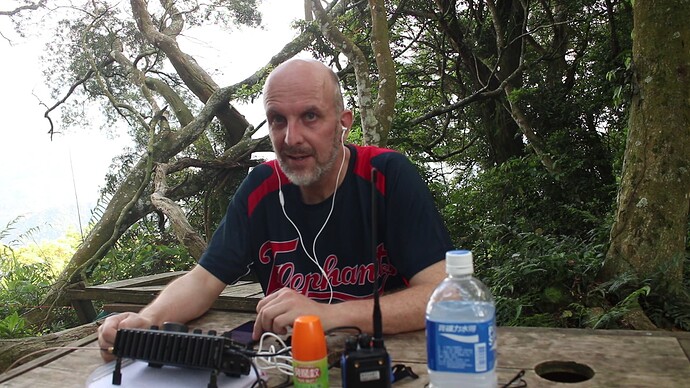 I also wanted to do some local 2 meter FM contacts, but knowing that going down would also take an hour and with dusk rapidly approaching I packed up and was back at the trail's entrance just in time before it became dark. A pity, because I really liked 溪洲山(Xi Zhou Mountain), both the climb as well as the views on top and the relaxed way in which I could activate it. I'll be back there next year, without a doubt.