The weather bureau promised fine weather last Sunday, but it was also a Sunday I had to work. So why not a Saturday late afternoon activation? Maybe a good chance to work some Europeans when they wake up on Saturday morning. So I chose the only 1-point summit in Hsinchu county, BV/HS-019, a.k.a. Xiahengkeng mountain (下橫坑山).
I set off at 2 p.m. and I rode my old but trusty 125 cc Sanyang scooter to the township of Guanxi, in Hsinchu county. I had calculated a route to a local temple and from there I would traverse one 468 m mountain to go to the one needed for my activation. The name of the temple also happened to be the name of the local scenic area, so Google decided to send me in a totally different direction. Lesson learned: don't trust Google maps and double check your input. But it being the mountains it took me over an hour and a 25 kilometer detour to finally get to another starting point where I could get to Xiahengkeng mountain.
The route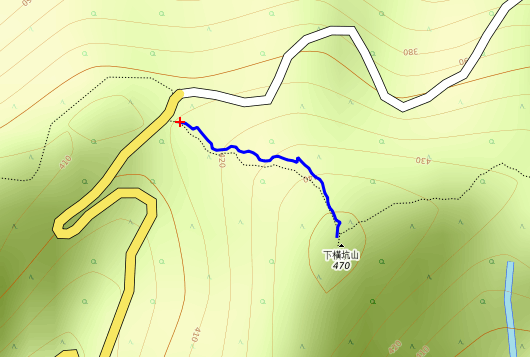 The entry point

Mountaineering clubs usually put ribbons at various points to indicate the correct path.

This was an easy part of the climb, with typical vegetation on either side of the path.

The best view I could get on this climb.

The route from there was actually better than the one I originally planned to go on, because it only took seven minutes to go the 60 meters in elevation and reach the triangular marker. But it was in quite a secluded spot. Really nobody around, far from civilization and I didn't see or speak anybody, not even in the distance. Quite a contrast to my first and second activations. No view at the top, either, only vegetation. But being far away from people and buildings was actually a good thing, because even with the preamp turned on my KX3 was whisper quiet. That was one of the reasons for me to start doing SOTA: I can never ever get this at home. Pure joy!
Not much room to move at the top.

The triangulation point: number 88.

First QSO was with OH1MM on 15 meters, so reaching Europe was a success. Then some Japanese chasers and one S2S QSO with JP3PPL/3 who was on JA/HG-052. Another OH station and then VK6NU to round it off. I took a little break to eat and drink something and then packed up.
The GP extended for 15 meter operation.

My KX3 with paddles made by my ham buddy BX2AB.

Of course I made a wrong turn going down and wasted a couple of minutes going in the opposite direction (lesson leaned: don't trust your sense of direction), but by five-thirty I was back where I left my scooter. Another hour and 25 kilometers later I was home in time for dinner.
So a successful third activation. I didn't lose anything this time, except an hour to get to the right spot. I could have spend that hour relaxing on the summit and having some more QSOs, but it wasn't to be. On the other hand, my now finished SOTA antenna performed really well and it only took a minute to set up and take down. The rest of the setup is also working fine, so that part is sorted now. The new thing I tried was logging with VK3ZPF's VK port-a-log app for Android. That worked a charm and saved me a lot of stress and time. I haven't done a lot of CW for a while and I was never good at it. But I find that by not using pen and paper to write down what you hear (that's what I do at home) and only enter the essentials in the VK port-a-log app you concentrate more on the code and that makes decoding easier and much more enjoyable, at least for me.
So now the next thing to improve is navigation. I already found that Open Street Map's maps are much better when it comes to hiking trails. They are more complete and detailed than any other offering. The OSM Android app is really good for checking where you are on the trail, but not so much for taking directions. On my phone the combination of the OSM app and my GPS is really slow, especially then you change directions. The Google Maps app performs much better and also has a much better interface. OSM also always wants me to take the highways, which have restricted access for motorcycles here in Taiwan. (Not that I want to go on the highway with a 125cc scooter, but even larger bikes are forbidden to use the highways. I know, Taiwan is sometimes very weird).
Next weekend is the JA SOTA QSO party weekend and I'll be in Hsinchu again for my first 2 point summit activation. Let's hope the weather stays as warm, friendly and especially dry as the last few days. Looking forward to it.