Last Monday (Feb 28) was a national holiday here in Taiwan and the end of a sunny weekend, the first in over a month. It was time for my second SOTA activation. I haven't been mountain hiking in Taiwan for over 25 years, and being out of shape I chose an easy one: BV/NT-045, Yuan Shan, a one pointer. At first I wanted to do an FM 2 meter activation only, but since it was a national holiday I suspected that there would not be many people at home to answer my CQ. The Taiwanese really like to go out and about, that's one of their many traits. So I also packed my not-quite-finished-but-usable DIY HF antenna and my KX3 plus paraphernalia. I aim was for just a quick test to learn the ropes of setting up my portable station.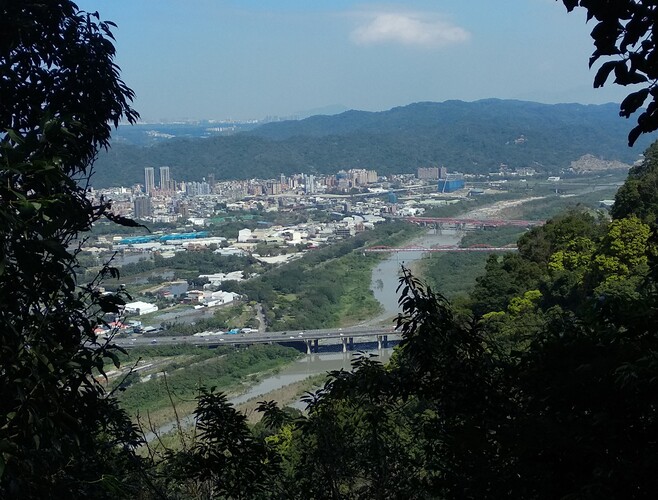 Yuan Shan turned out to be a lot harder to climb than I thought, the path up being steep and not well paved. It took me over an hour in the end. At the top I first tried 2 meters and indeed not many people around and the ones that were didn't come in well or at all. So I set up my HF station and had a difficult SSB QSO with BU2EQ on 20 meters. But I knew from asking JG0AWE that 15 meters towards Japan would be open around noon and so I switched to there. First two local QSOs with BU2EP and BU2EQ and then I finally had my first international SOTA QSO with JH1MXV.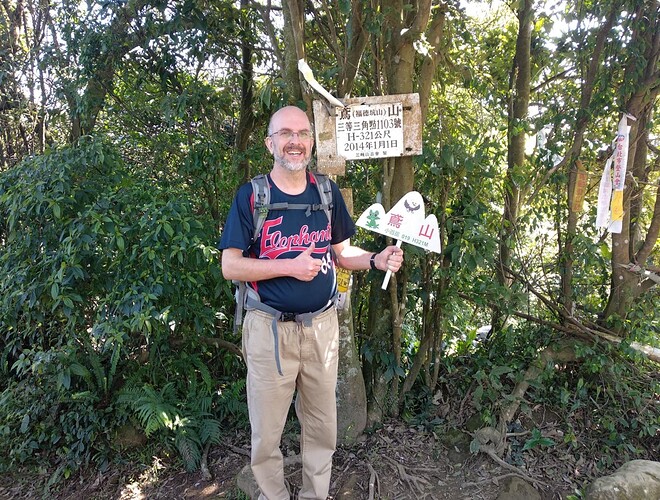 Having fun makes you hungry and it was already after 1 p.m. and I hadn't eaten yet. But unbeknown to me BU2EQ had spotted me on SOTAwatch and he IMed me that New Zealand was calling me. Luckily you can do CW with your mouth full, so I had a sandwich during my QSO with ZL1TM. I was ill prepared, because I didn't have paper and pen ready, so I had to do all the CW in my head anyway. So my second SOTA QSO was with another continent. Could it get any better?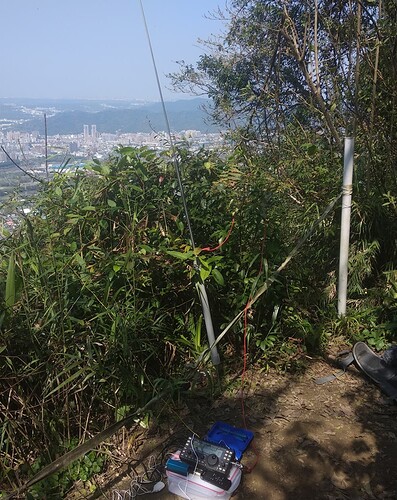 Oh yes, it did get better. After two QSOs with Japanese chasers JA5QJX/0 and JF1NDT, my first S2S QSO with JS1IFK/1 who was activating JA/KN-020. Quite something to have your first SOTA HF activation and working a DX station plus an S2S station in one go.
I finished my lunch and had two more local 15m groundwave QSOs with BX2AG and BX2AN before packing up an heading home. I was happy with the test, finding a lot of things to improve so that next time I can operate even more relaxed than this first time.
It was only after I got home when the anticlimax came: I couldn't find my trusty Kenwood TH-F7e HT. Gone! The only HT I had, my first ever transceiver that I got when I passed my novice licence in 2009. My workhorse, always by my side. I must have put it on the ground or placed it in the grass and forgot to pack it up when I left. My own fault, nobody to blame but me, and the heartbreak hurts extra because of that.
I went back the next day, via an alternative shorter path and it took me 45 minutes to get to the top then. The Taiwanese are friendly people and my hope was that they would have just left the HT where it was, or put it in a safer place. Unfortunately that was not the case. I have already been to the local police and no found items have been reported in the last few days, so I now have to live with the realization that I have forever parted with my beloved Kenwood. But you live and learn and after this second SOTA activation I have a whole list of things to improve not related to the radio ops. First thing on my list: get sturdy stickers with my telephone number on it to put on everything I take with me.
To end on a positive note: I climbed the same mountain twice in two days, improved my health with that and met a lot of nice people on the way.
73 de Hans
BX2ABT