I had originally posted an alert for Saturday morning without looking at a weather forecast first. I quickly deleted it. Saturday morning in the midlands was grey and wet. I really didn't want, or need to go out and get cold and wet for a summit I have done before. I thought I could have patience and wait till things improve. I couldn't wait long. Sunday looked better so an alert went up for 08.00z on Burton Hill (G/WB-020).
We arrived at the limited parking to the east of the summit at Ostey Wood, the gentle walk had the promise of a couple of geocaches. I had not done this approach before, I usually opted for the short sharp climb from the west. During the walk we came across quite a few deer amongst the trees, but unfortunately I didn't get any good pictures. The main summit of Burton Hill is just past the trig-point from this direction. The summit has plenty of trees which could be used as antenna supports but again the vertical was used.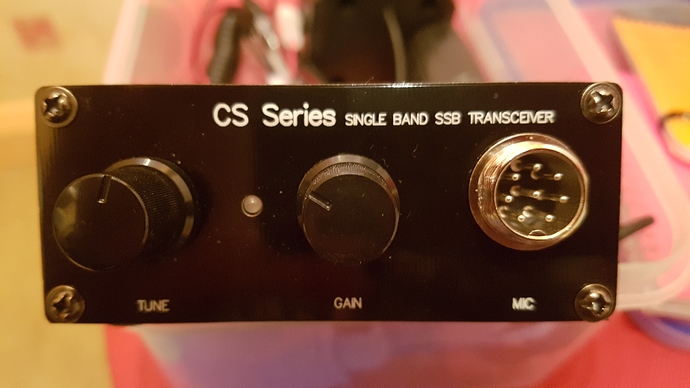 It really is that basic.
Switching on the CS-40 plenty of signals could be heard, the only problem, they were mostly very strong contest stations. It ordinarily wouldn't be an issue I would just run my linear at full…………. Now because I've put this self-imposed limit on myself of being QRP using an amp was not an option. The activation was going to be difficult.
It took nearly 15 minutes of CQ-ing and trying to call contest stations before the first contact was logged. It was going to be a long haul. After 45 minutes I bagged a S2S, my third contact, I still hadn't qualified the summit. The fourth contact did come a short while later but I wasn't happy I had truly qualified so continued till I had five. It took nearly 25 minutes to get it. Five contacts in over an hour with multiple self-spots trying to get a clear frequency. I couldn't remember the last time it had taken so long to make contacts. I did contemplate going straight home disenchanted in taking so long.
On the way back to the campervan, Helen and I discussed going down to May Hill anyway. New caches had been placed since the last time I had been there and it is one of my favourite hills so whatever happened it would be a pleasant walk.
Since my last visit there has been a car park built just near Yartleton farm providing a nice grassy walk to the summit. May Hill (G/WB-019) has a copse of trees on the summit which, from a distance, makes the hill easily recognisable from most directions. The hill had many visitors either walking the summit or sat on one of the many benches (one group having a picnic) enjoying the day even though there were no views. To be clear of other people I set up on some rough ground to the SE side of the trees.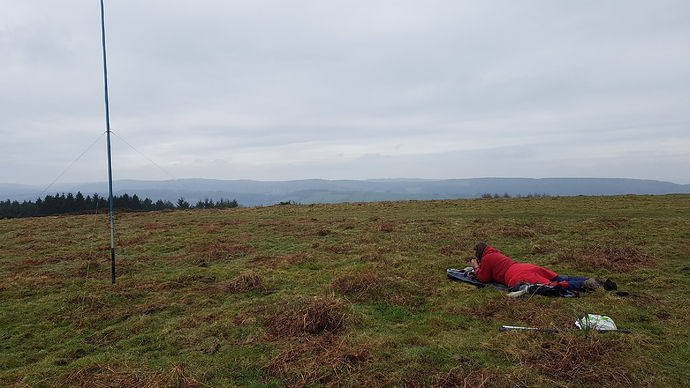 Overcast summit of May Hill looking towards Ruardean Hill
On switching on it sounded like the contest had finished. Nice signals heard, little splatter and gaps! I hoped that it wouldn't take quite as long to qualify this one. Rain was threatening and occasionally a spot was felt. I first called into a station calling CQ and had a short chat then noticed there was a S2S opportunity. Colwyn (MM0YCJ) activating a summit in Switzerland was soon logged. During the half hour or so I operated I logged 13 contacts including 4 summits. It was mentioned that I was a little off frequency and was asked what my display showed? I don't have a frequency display, signal strength/power meter. TX led or true volume control; this rig is that basic! However what a difference a few hours had made. May Hill had not disappointed me.
So two more summits off the list. The Welsh border countdown continues.