I was going to write about what a good day I had on Birks Fell G/NP-031 yesterday and then I was lucky enough to get out again today. And what a day!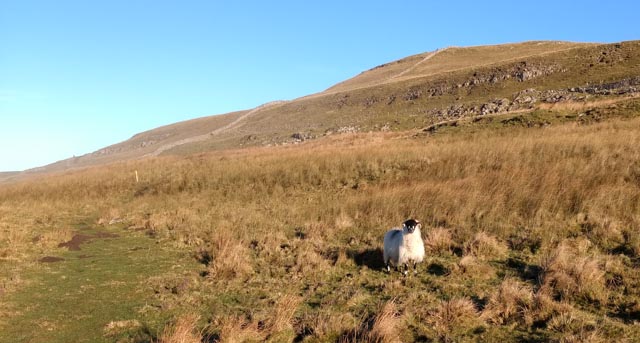 I believe sheep shots are now compulsory
I had originally alerted for Rombalds Moor G/NP-028 but then my wife decided to work from home so I could use the car. I decided on Buckden Pike and parked in Starbotton in exactly the same spot as I did for Birks Fell yesterday. This meant the walk to the top was longer than it has to be but I like some variety and to make a proper walk of an activation. At the start the weather was pretty good but as I ascended I came into some cloud - I could see it working its way down the valley. I was soon above it though. I spent my two hours on the summit above the cloud, looking down into a sea of fog. I'd assumed it would burn off but it actually got thicker.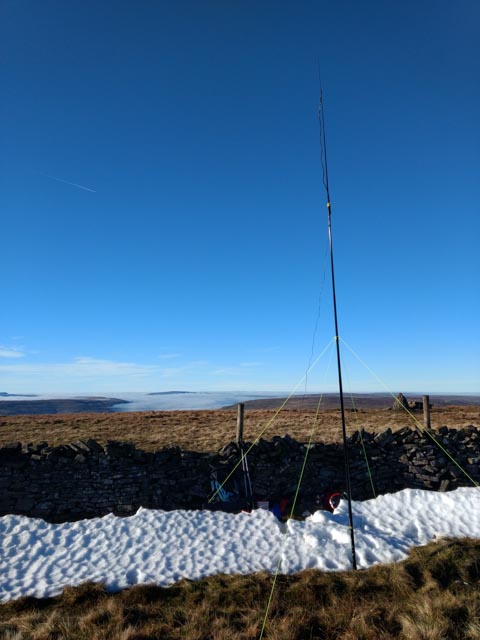 Enough snow to justify 3 bonus points
As usual I started on 40m CW and my first two calls were S2S into Switzerland which was a nice start. Plenty of regular chasers, some with very strong signals. Conditions do seem to be improving. 20m was another story. I only managed 4 QSOs but I think perhaps there was a lot of QRM. It seems that however long you listen on a frequency and how many times you ask if it is in use, you'll get QRM once you are in QSO.
Then it was 2m FM which is when the fun really began. The temperature inversion causing the cloud in the valley was also generating a boost to VHF conditions. My first QSO was an S2S to GI0NCA/P on GI/SM-006. This was followed by GW4BML in mid Wales and GW4ZPL in Caernavon. Along with several local chasers I had S2S with M7BIA/P on G/SP-004, M7SDO in Shropshire, G4IGL in Leicester, GW1KGW on Anglesey and two stations near Wrexham. Finally one last S2S with G6WBS/P on Ingleborough G/NP-005. That one didn't need special conditions as it's line of sight. It was a bit like when I was first licensed in the 80s with every channel in use. It was only when it was too late that I remembered that channels now are 12.5kHz and all the half-channels were free. I'll remember that next time there is a lift. If I suggested using V41 I wonder who would understand.



How the cloud below grew
As I descended I could see the bank of cloud below me. I stopped for one last time in the bright sunshine to finish my flask of tea and KitKat Chunky before entering the gloom. Those in the valley had probably thought it had been a very poor day but I had been in glorious weather the whole time. Even the wind had dropped while I had been on the summit.
EDIT: I've just remembered even the journey home was a bit magical. The setting sun was partially below the horizon and partially obscured by cloud leaving a bright red strip. A bit later a barn owl flew across the road.