So long, Bruce; RIP. Will miss hearing your very recognizable call in the mix.
Ken
Last seen on the reflector 10 days ago and posted on 6th Feb
I'm awfully sorry to read this bad news. Bruce was a faithful chaser, and I'll miss hearing his calls. Andy, N4LAG
RIP to my very long term friend Bruce since attending Brooklyn Tech HS together half a century ago. He introduced me to SOTA years ago and I had the privilege of learning a lot from him and the pleasure of many road trips and activations with him, last one W2/GC-026 (Utsayantha Mountain) 2020-03-11. We had plans to get going on the road again. He will be missed.
Warren WG2P (also HS friends) and I were with Bruce over the last two weeks and shortly before his passing.
The posts I'm reading describe Bruce superbly. Always helpful, always looking to support SOTA through chasing and on our road trips calling "CQ SOTA SUMMITS ON THE AIR - ANY STATION ANY LOCATION" on every band, SSB and CW, until every single chaser was handled. Always friendly, meeting other enthusiasts and engaging interested bystanders explaining what we were doing. Patient and considerate of each person.
Steve, N2IO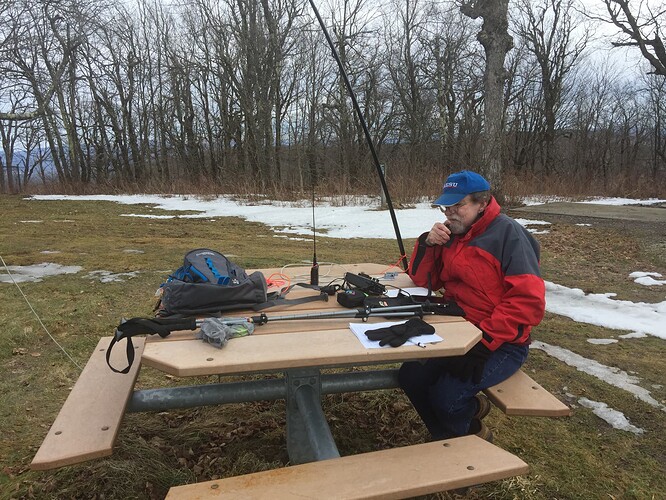 My sincerest condolences for the passing of Liz. Bruce not only introduced me to K1LIZ on SOTA but spoke compassionately of her and you on our road trips. May she rest in peace.
Steve, N2IO
Very dismayed by this sad news, and so soon after we lost Liz. Bruce was indeed a very faithful, thoughtful and courteous participant in SOTA; wish I had met him in person. Condolences to family & friends.
So sad to hear about Bruce. We never met but we had many long landline conversations talking shop and comparing notes about the hobby.
We always exchanged a dit dit with each other when we heard the other finishing a contact with a summit just to signal "I'm listening". Bruce will be missed!
Condolances to family and his friends
Gary - K3TCU
He hasn't logged a SOTA contact in his log on this website since 2020. I am not sure why he stopped logging. I email him about it in January and got no response unfortunately
Bruce was a regular chaser when I started SOTA using SSB. During an activation contact in 2018, I told him that I was practicing Morse code and hoping to make some CW contacts someday soon. Of course, Bruce encouraged me to dive in, and was my first of three shaky CW contacts. He sent me a nice congratulatory email and in the following email exchanges offered encouragement and helpful suggestions.
Peter KD0YOB
Very sad to hear this news…
I've been working Bruce for the last 4.5 years. I believe he was mostly or always running QRP power levels chasing as his signal was always close to my noise level. My last contact with him was on 31/01/2022. I will miss hearing his distinctive callsign in my pileups.
RIP OM…
Brad
WA6MM
This is sad news Bruce was my top chaser. He will be missed RIP
Oh, man … I just submitted logs from my trip and noticed Bruce was not in them, somewhat surprisingly. What a solid guy. Another prominent SOTA member gone.
I'm saddened to hear this news.
W2SE had become an entry in my mental callbook.
It was a pleasure to hear his call from NJ.
RIP, Bruce.
David N6AN
I just learned of Bruce's passing from his friend Warren WG2P. I am so saddened by this news. I consider Bruce one of my SOTA mentors, as he encouraged me from the start of my efforts in this part of the hobby. He was very creative in his solutions for various issues we encounter in the field, and generous in sharing whatever he developed to solve those challenges. Bruce and I walked through the Dayton/Xenia Hamvention one year as he assisted me in my selections for various gear. Most of all, as many have noted, Bruce was a regular chaser. I didn't consider my log complete unless I heard Bruce's distinctive way of sending his call and completed a QSO with him.
Gone way too soon. Thank you, Bruce, for all you shared with me and others. You will not be forgotten.
73 Paula k9ir
It was always great to hear W2SE here in New Mexico when conditions were right.
RIP Bruce,
Mike - ke5akl
Oh my. I will miss hearing "W2SE".
Scott kw4jm
Will miss hearing the distinctive ring of W2SE, RIP brother.
Dale
Very sad news, my condolences to his family and friends.
Roger MW0IDX
I'm sorry he's gone. I only worked him twice and never met the man but I'm still sad to lose him.
Bruce was a SOTA mentor for me like so many in this hobby. He first worked me a few years ago and immediately sent me an email after our QSO. He gave me some pointers, tips and ideas. He was a driving force to get on 60m and would always to to work me when I was on the summit. Nice guy who will be missed.