Monday the 3rd April was to be this big round of hills… however… Mrs VPM "reminded" me that she was away overnight, so I was in charge of the dogs. Hmmmm replan then!
So we went to Ben Cleuch GM/SS-059 - that was so nearly a wipe out - I'd left my boots at home so was reduced to 1000 mile old trainers - not ideal but it was a dry day so on we went. Managed my first 13cm QSO with Andrew @G4VFL who was out in the Pentlands close to my QTH.
To Friday the 7th then - the forecast, as Andy mentioned, was for good weather. Up at 5am and on the road to arrive at the start point at the south of Glen Ample, for what was going to be a lonnnng day. The start up the valley was a beautiful clear crisp morning.

Called on 2m first since I'd managed to make a mess of that on Ben Cleuch by having flat battery and no means to transfer the antenna from HT to the 817… (I also forgot to change from 0.5watt output for driving the transverter for the first few QSOs on SSB on Ben Cleuch - well done if you worked me on Monday !)
Great response to the call on 2m and also on HF, I was packing up on the summit before anyone else appeared and that was to be the last time of having an empty summit all day.
It's a decent walk to Stuc a' Chroin, involving only 3km but with a lot of down and up in between.
I only worked 2m fm from here with a view to still having some time available for Vorlich.
That too involves a bit down and up to reach although only 2.5km lateral.
A good run on 2m and HF brought the radio day to a close. By this time the wind had picked up and the antenna pole, despite a lean of 45 degrees into the wind, needed guyed down in that position!! I'd seen a good number of people over the course of the day (by Scottish standards, only a tenth of what the Lake District would experience!) but that was thinning out by the time I was packing up.
Another brew up of tea and something to eat and it was time to head back.
Total outward distance was 9.5km and 1879m climb. Outdooractive (my usual mapping tool) only suggested retracing the route to get back to the car - "no thanks". I dropped down into Glen Ample and basically walked it's whole length to arrive at the car at 19:00utc
It was a long day… but the views!!!
Andy @MM0FMF has posted much better pictures than I have (sorry we never managed an S2S

) but here are a couple from me.
View up Glen Ample

Panorama from top of Beinn Each

Stuc a' Chroin en route from Beinn Each …

Looking back to Stuc a' Chroin from the summit of Ben Vorlich
North from Vorlich

Antenna at jaunty angle…

Route taken on ascent - 9.5km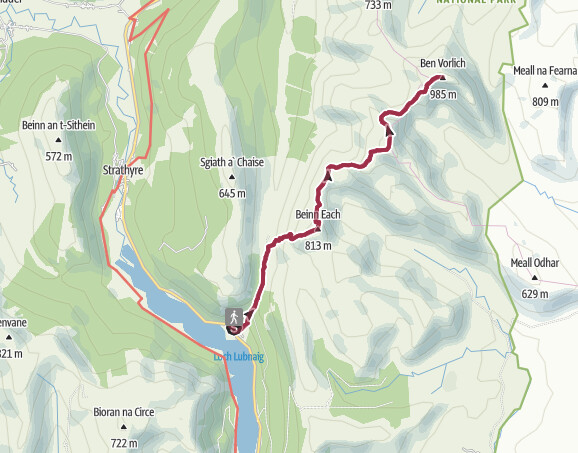 QSO summary
Beinn Each
4 2m FM, 18 20m SSB (inc 3 S2S), 11 40 SSB
Stuc a' Chroin
9 2m FM (1 S2S)
Ben Vorlich
3 2m FM, 2 15m SSB, 17 40m ssb (2 S2S)
Peter @GM0VEK chased me on them all - thanks!
QSOs - 65, metres climbed 1879, distance walked - lots, time spent - 12hrs, memories - priceless!
Alan