After a long long year, my summer holidays have finally arrived and I'm as usual at the great region of Galicia in the North-Western coast of Spain, where my wife is original from.
We drove the 700 Km from Pamplona on Saturday and I haven't yet got a chance to activate SOTA.
I'm going to stay here for quite a long while (about 4 or 5 weeks) so I'm sure I'll find the chance to activate several EA1/CR summits here.
In the mean time, while dedicating time to my family, I still had a warming up activity today from the beach.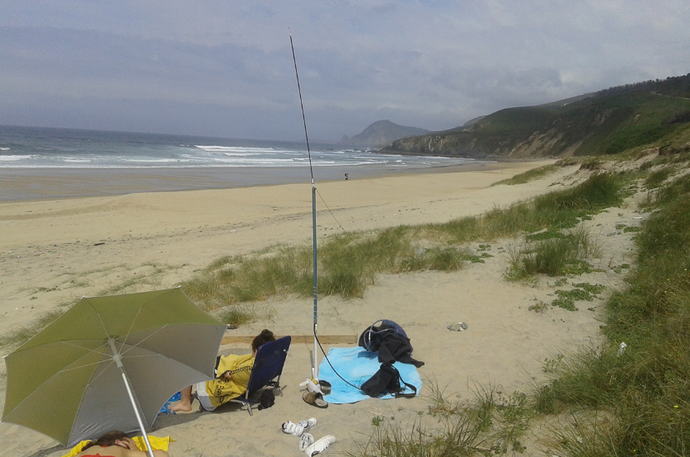 Despite my simple mobile whip with one wire radial and powering my MTR with a 9V rechargeable battery, meanning just 2.5 watts output, I managed to have QSOs on 20m CW with very good 599 signals both ways with Ignacio EA2BD and Jorge EA2LU back in Pamplona.
Later I connected my old in-series-6+6 V SLAB, which I don't anymore use for SOTA since I bought my current LiFePo4, but it's still alive and kicking, and managed one QSO with a German station near Bonn and other with an Italian station in Pavia.
In case you feel interested my 10 digits QTH Locator in the beach today was IN53UN83BF.
This was a nice warming up for the hopefully very soon coming SOTA activations in EA1/CR.
Stay tuned!
73,
Guru