From the MT Summits Team…
This month sees a couple of big updates.
OK – Czech Republic
The long awaited alignment of Czech Republic to the SOTA rules finally arrives in the most significant update this month. More than 2500 peaks were thoroughly analyzed on available DEM sources and on topographic maps to determine their prominence value and to check if they qualify for SOTA or not. This includes the existing summitlist, of which a significant part could not even break the software's threshold to consider as a peak on the DEM surface, but also many other summits mostly with prominence between 100 and 150m. The results of the analysis are quite devastating:
783 of the current summits have to be retired as not qualifying to the P150 rule (most of them not even P100)
on the other hand 61 new P150 summits were also identified (a few of them being the actual parent summit of some existing one)
1 more border duplicate was found, which was missed in the 2017 retirement of border dupes, owing to inaccurate placement, which is now also retired
This means that starting 1st of August we will have 228 SOTA summits in Czech Republic. For the curious here is a small map excerpt with the remaining summits (colored orange) and the newly introduced summits (colored green). The SOTA mapping solutions will update also in a couple of hours after the commencement of the updated summit list.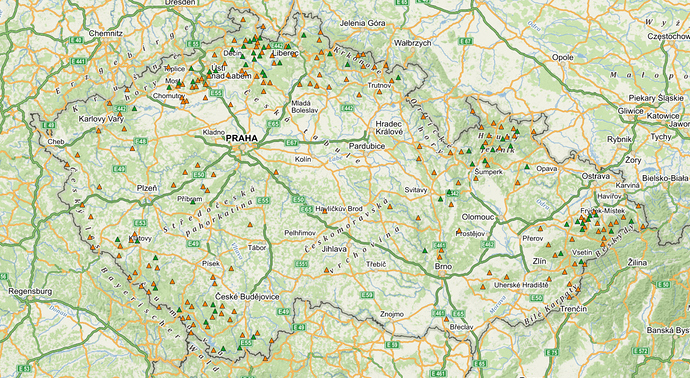 map created with acknoledgement of original work by mapy.cz
LA Norway – MR (Møre og Romsdal) Region
Many thanks to Erik, LA5XTA, for contributing a list of extra summits in LA/MR. Together with LA Association Manager, Aage, LA1ENA, we have worked this up into what we believe is now a complete listing of P150 LA/MR summits. Just a handful of old summits had to be retired, but we were able to add 582 new ones.
ZL1 New Zealand – North Island
By examining LINZ (the ZL mapping agency) LIDAR data we were able to determine that a marginal summit just met the listing criterion, so this has been added as ZL1/AK-027, Pukekohe Hill. Another small fix results in ZL1/GI-079 being replaced by ZL1/AK-027.
W7N – Nevada
We have agreed a relaxation of the 10-point lower boundary to 9,500'.
Miscellany
DL/CG-107 renamed
ZS/EC-634 renamed
Unfortunately something went wrong with the updates this month, which resulted in issues for LA/MR and much of OK today (2020-07-31). We hope to restore normal service shortly. Any activations made today (UT) on summits retiring tonight will of course be valid, but you might have to wait for this to be sorted out.