Here are the latest updates to the SOTA lists…
JW – Svalbard
Our new most northerly association is Svalbard. It looks to be an amazing place, with 1422 summits. As well as the main island of Spitsbergen (which we had to divide into four regions, because there are so many summits) there are many outlying islands.
Welcome to our AM, Sander, JW4PUA.
The summits will appear on the region pages once they become valid (1st February).
Here's a preview: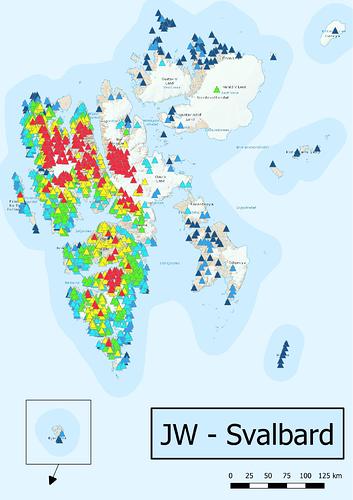 Base map ©
Norwegian Polar Institute
,
CC BY 4.0
licence.
VE7 Update
Another big association is VE7. The issue that has prompted this month's update is that it is so big, with thousands upon thousands of summits yet to be added (although mostly in the north, it has to be said). We're not actually adding those summits this month, but to accommodate them in the future we've had to divide up regions. Rather than have a confusing set of old and new overlying regions we've reallocated references to some of the existing summits. We will post further information to resolve the changes, if you're wondering about any of your old activations / chases and how they relate to the new codes.
Another big change is the points banding. Originally the 10-point band was set so high (4000m) that only a handful of VE7 summits qualified. We've now dropped this to 2600m whilst keeping the 2-point level at 500m and squishing everything else in between. This will see a big boost to VE7 scoring. I think it looks a lot fairer now.
SP Update
AM Bart, SQ9APD, has provided many position tweaks and name corrections for Poland. Three references have been retired, with three new entries.
Retired refs: SP/BS-021, SP/BZ-042, SP/SS-015
New refs:
SP/BP-009, Wilcze
SP/BS-036, Jaworzynka
SP/BZ-084, Kotliny (Błyszcz)
We have two changes to scoring resulting from elevation revisions:
SP/BZ-060, 4pt ⇒ 6pt
SP/SS-018, 2pt ⇒ 1pt
EA1 Update
A handful of small corrections, but we had to retire EA1/AT-291. This turned out to be almost indistinguishable in elevation from a near neighbour, and only one of them was the truly prominent summit.
LA Update
Just one summit retired – LA/RL-057. Again this was a case of almost indistinguishable neighbours (LA/RL-276). The difference in about half a metre according to mapping agency trig point annotations.