Sorry for the lack of update news recently. There were just a few bits and bobs, some of which has ended up not coming through until this month.
I/VA
We made some final updates to Valle d'Aosta. The last update was all good, except I'd not spotted one more summit swap (a really short jump). This is I/VA-147, which replaces I/VA-026. Additionally we had a few elevation corrections to feed in for older summits and some naming updates.
JAx
We have a large set of adjustments to JA associations. There are a lot of name updates, some positions changes and a few retiring / new summits.
SM update
This is a large update, principally in central / northern Sweden. We have:
25 retirements
2 restorations of retired summits
666 new summits (8 of which are nearby replacements for retirees)
Numerous adjustments to elevations, positions, names
This map shows just the new summits: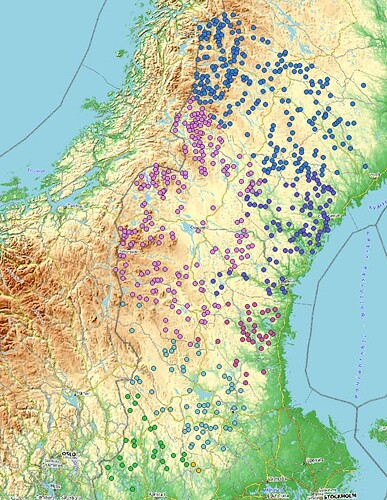 Map created with acknowledgement to original work by OSM.
As you can see we've not quite finished. There is another big chunk (about as many again) to process in the Norrbotten region. Stephen, SA3IEI, and I hope to get through this over the next few months.