Disclaimer:
Antennas is a very addictive subject. If you pass from this point on it's under your responsibility.
Bear in mind you'll need about 10 minutes for a proper reading of this post (so go and grab a beer before you get on with the reading…).
1. Motivation
As the solar cycle nr. 25 starts its ramp up, with a good solar flux developing since last months, I decided it was the right time to design and test an antenna focused on DX.
I usually run an inverted vee EFHW antenna with good results for SOTA activation with many Local and inter-EU contacts in the log.
Nevertheless, every now and then there are especial events where we focuse on working DX specifically, like for the EU-NA, or the EU-VK/ZL.
What would be a good antennna choice to have some gain and produce a low take off angle?
I would be very happy to have a 4 element yagi at hand up in a summit but that isn't realistic. I will try to look for feasible options to build a light wire antenna that can be deployed in a solo portable expedition without becoming a hard stuff nor getting mad!
Let's start planning.
2. Target and initial considerations
In order to compare the main features of some wire antennas I decided to run several simulation models in Mmana software.
We should be cautius with the resulting plots and figures, as we know that real performance of an antenna will depend on the actual soil conductivity characteristics, terrain slopes, near obstacles, etc, but the simulation would be an easy tool to have a qualitative comparison of the expected results and will identify differences between a range of several different models.
The basic targets to achieve with a good portable antenna for DX are:
To get some gain and directivity, focusing on a low elevation angle, improving the take off (TOA)
Bands of choice: 14 MHz and consider higher bands like 18, 21 MHz…
Consider a way to get a Multibanding antenna, and not too complex for a quick band change.
To provide a reasonable impedance, minimizing the use of tuners whenever possible.
To use a moderate height of the required masts to keep weight and portability.
To limit the number of required masts at two maximum, for ease of setup in a solo climb
To put some limits to my dreams, I fixed the height of required mast support to 10 meter maximum, and decided to limit myself to use up to two of these masts. Bands of choice will be 20, 17 and 15 meters.
3. CHAPTER A: REFERENCE ANTENNAS
From this point on we will see a number of characteristics for different antennas. To limit the information to a reasonable level, only the following features are shown:
Z: impedance (ohm)
Max Gain: expected maximum gain (dBi) indicating at what elevation angle
Gain 5, 10, 15, 20: Expected gain at 5, 10, 15 and 20 degree elevation angle
GainRef: Expected gain over a reference antenna. More on this later.
As a starter, I considered first some basic wire antennas to have a basis line.
They are common for a portable wire antenna; some are omnidirectional, not a beam, but I took them as a starting point.
3.1. Reference antenna: Dipole
That's the first obvious choice. To achieve some gain and see the variation I simulated a 14 MHz dipole at two heights over ground: 6 and 10 meter.
3.2. Reference antenna: Quarter wave vertical with two elevated radial.
I know it could be better to add some radial for a pure omnidirectional pattern, but I decided to use just two for simplicity in the setup and because this feature is better for a later modification of this basic design.
3.3. Reference antenna: End fed Half wave vertical (EFHW)
Instead of a inverted Vee or inverted L, I simulated it vertical to have the better TOA elevation angle. See the slight improvement when compared to the Quarter wave vertical:

3.4. 3 element vertical Yagi
This is not a common antenna, as you need 3 masts to setup the three elements for this antenna, so not an option for what I'm looking for, but I just wanted to see about gain difference when using a wire beam.
For ease of setup I used the basic Quarter wave vertical with two elevated radials as for the driven element.
See all 4 designs here:
And let's see their performance now:

Right, we see that, except for the vertical yagi beam, all the basic antennas are omnidirectional and therefore you don't get any gain at low elevation angles.
It's time to look for better alternatives now.
4. CHAPTER B: WIRE ANTENNAS WITH GAIN (at low angles)
4.1 EA2BD's HYBRID 3 ELEMENT VERTICAL YAGI
It's obvious that I can not raise a horizontal polarization yagi on a tiny fishpole. In the other hand if I want gain the easiest way is to stick to Vertical pol.
Is there a way to design an easy-to-deploy Vertical yagi: Yes! After some reasoning I created this unique model with a single center support: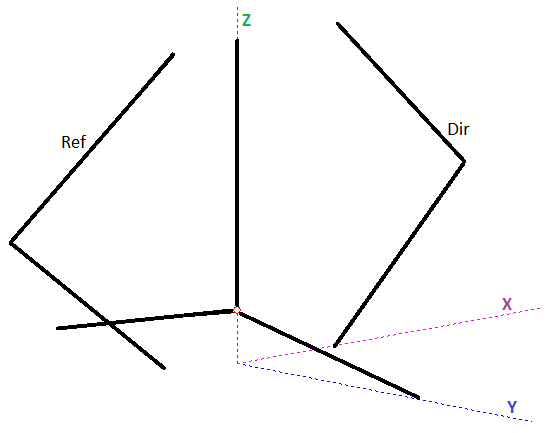 As you see, only a center pole is used and both the reflector and director are bent as a side Vee hld with the aid of rope at certain distance of the center mast.
You may guess that its performance is not as good as a true vertical yagi with straight elements and you are right, but despite the loss, the resulting beam is not bad:

There is a 1 dB loss compared with the pure Yagi, but, you still get much more gain when compared to a Dipole or any of the vertical reference antennas (in example, about 3 dB gain compared to the EFHW).
Here the 3D pattern of my design:

And here the comparison between the "pure" and my "hybrid" model:

Performance of a yagi seems the right approach for a DX antenna, but…
I should decide in advance if I should orient the antenna to beam Short path or Long path, because I won't be able to rotate a wire yagi once setup in the wild.
Therefore I explored some other wire designs (not mine) capable of a simultaneous beam towards opposite azimuth.
4.2. HALF SQUARE
This one is a good choice for portable. It is a vertical polarization antenna and requried height is not that big: Appex is still at 6 meters for 14 MHz. Feed point is one of the top corners, requiring a long coax running up.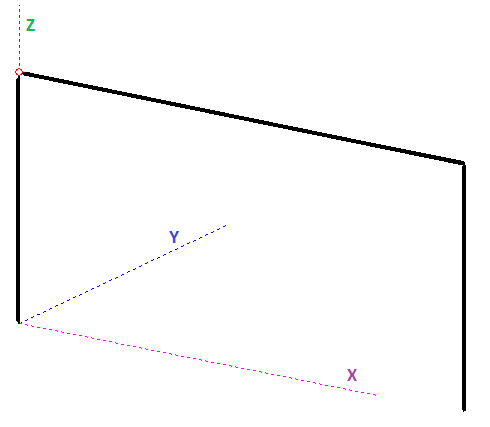 Performance:

Pattern (in red) compared to a Vertical EFHW (3,6 dB gain @ 20º for the Half Square):

4.3. BOBTAIL & DOUBLE BOBTAIL
This one is an interesting antenna though it is very large. It is made with three 1/4 WL vertical radiators connected by two long horizontal 1/2 WL sections: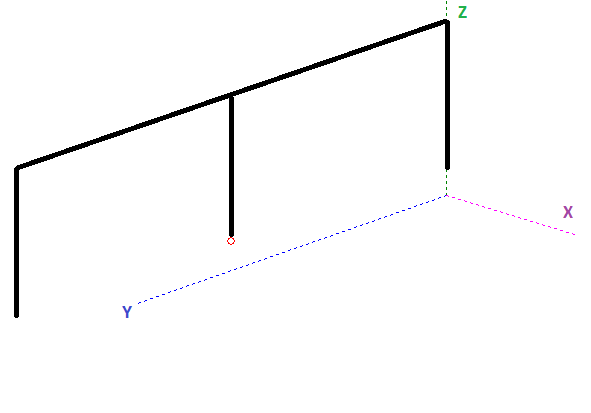 Its performance is higher gain compared to a Half Square, but this long antenna (20 m end to end) is not for every summit. Feed point is in the top middle vertical section, but could also be fed at the bottom middle where the impedance rises to a very high value requiring a impedance match (similar to an EFHW).
A nice variant is a Double Bobtail (thanks Adam @K6ARK for the idea, as shown in Youtube), composed for 2 parallel equal Bobtail antennas, 5 meters apart, so that it's converted into a beam. If you want to reverse direction, simple choose which of the two Bobtails to fed.
See a comparison between the Single or Double model, this one has truly Gain!
Pattern comparison between the Single / Double versions:

Although you could enlarge one of the two Bobtails to get a higher gain, the idea to have both equal to be able to feed either antenna was nice to flip the beam easily.
Well, there is no doubt this monster antenna is intersting. The bad news is the complex setup that requires much more poles (4 minimum in the corners for the Double version) and space in a summit.
5. CHAPTER C: HOW CAN I GO MULTIBAND?
All the above models were an interesting exercise: I could qualitatively compare these designs without cutting a single piece of wire and comfortably seating in my living room…
They provided some promising figures and I could see what to expect from them, but I decided to research a bit more to design a novel antenna that was very easy to setup, didn't require a huge space, that could be used in more than a single band, and that I could easily change the beam direction.
I focused on 14-18-21 MHz.
5.1. EA2BD's CHEAP 2 ele BEAM
I tried to model this very simple 2 element vertical beam:

The Driven element is similar to a doublet dipole but installed as of a quarter wave with a single elevated radial (along the Y axis). Both wires are 5,2 m long. The feed point is a short parallel line that goes to a Z tuner (ZM-2 in example) so that it can be tuned in the three bands, 14-18-21 MHz.
Then the Reflector, spaced 5,5 m apart from the Driven, has a vertical wire but also has a quasi horizontal leg deployed along the Y axis, and parallel to the driven. This bottom leg is tunable, so that it can be shortened (manually bypassed) at some points to make it possible to act as a Reflector also for the other bands.
The beam looks promising in the simulation, see the pattern and performance for 14 MHz:

Such figures are similar to the ones obtained with the Half Square antenna.
Performance for 18 MHz or 21 MHz with an easy reduction of the Reflector length in the horizontal wire provided these values, also satisfactory and not far from the 14 MHz results:

Converting the Reflector into a Director would be ideal in orther to flip the beam direction, but it resulted to be tricky, being only possible by reducing the vertical wire length and not the horizontal one, being therefore less practical in the field. In the other hand, the director wasn't as efficient and produced a reduced gain.
6. Research on hold
There some other designs that I didn't included here as they would require more experimentation (and time!), in example:
2 element arrays (with a coaxial delay line plus switches to reverse the beam direction)

the VP2E wire beam

Others…
7. What's next?
Simulation was a nice game to play and compare things, but, what about real life?
I should start cutting some wire now, perhaps to builld one of my "cheap and dirty" ideas. If I am lucky I should go out and try testing one of these wire toys. I promise to tell something soon.
Is there any good advice you could add here? Game is over. Thanks for reading.
73 de Ignacio