On Friday, August 5 through Sunday August 7 (PST) , amateur radio operators from around Southern California will be hiking up to the tops of California's greatest summits to make radio contacts with other operators locally and around the world. If you are new to ham radio, this is a perfect opportunity to get outdoors and practice your radio skills with a supportive and amazing group of people. SOTA (Summits on the Air) is an award scheme for radio amateurs that encourages portable operation in mountainous areas. The SoCal SOTAFest event has three main goals (besides having lots of fun):
Make summit-to-summit contacts with other radio operators and rack up activator points for the group. Activators are those who summit a mountain to make radio contacts and earn SOTA points.
Provide an opportunity for people new to SOTA to experience the thrill and adventure of hiking up to beautiful and remote destinations and making radio contact with others.
Give "chasers" an opportunity to earn tons of chaser points . Chasers are those who seek to earn points by making contact with mountain activators.
If you are new to SOTA and would like to join someone on a hike to a summit to activate it, please join our group and post to our mailing list using hashtag #sotafest. Due to COVID-19, we ask that you consider safe practices like washing hands with soap or sanitizer if sharing gear or supplies.
You do not need to be in Southern California to participate in the event. Our friends in Colorado, the Pacific northwest, and other areas will also be participating in a federated group event this weekend. Check out @K0NR's post here for more information about these other groups.
Big Bear (Tanglewood) Group Campout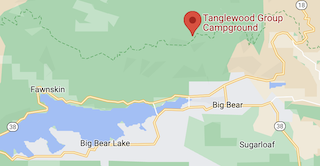 Join the SoCal SOTA crew for a campout in Big Bear! We'll be at Tanglewood Group Camp this year (thanks to an anonymous donor) . Please RSVP in our event database so we know who's planning to come. There's technically space for up to 40 people and 8 cars although there are plenty of places to park a car nearby if we exceed the vehicle limit. Please try and coordinate a carpool if possible. High-clearance recommended, but sedans can make it in with careful driving. There are numerous SOTA summits in the area including Gold Mountain, Arctic Point, Delamar Mountain, Bertha Peak, Onyx Peak, and others. Evening activities will be awesome, including a gear show and tell, and an evening under the starts. During the day, rack up those activation and S2S points!
Visit our event page here!