I think it has taken a bit of time for @VK1AD and me to recover from our double summit activation of Devils Peak VK2/ST-003 and Dingi Dingi Ridge VK2/ST-004 both on the west side of Mt Coree.
Devils peak lived up to its name. The climb wasn't so much the struggle, it was more the bush bashing, leaf litter, and debris on the forest floor that slowed things down. But with a few breaks during the climb, we were rewarded with clear blue skies and a tiny breath of wind on the thickly vegetated summit.
Andrew and I operated on 2m SSB, 2M FM, and 1296.SSB. Activating on each band and mode. It was fantastic to see so many summit to summits from local activators - just like the old days!
Andrew's oblong loop continues to produce good results, I was using the collapsable/telescopic dipole in both the H and V pol config.
Just as we were packing up on the summit we realised we were not alone… despite the remoteness of the summit, the harshness of the climb, and the thickness of the scrub, 2 bushwalkers stumbled on to the summit. I think they were just as shocked as we were.
On the descent, I regularly had to tell Andrew to slow down as he has a habit of blending in the scrub with his camo hat and bag. About 1/2 of the way down, Andrew was approx 5 paces ahead of me when I saw something fall from the tree between us, calling Andrew back we were greeted by a juvenile sugar glider or is a juvenile Dropbear that had fallen from the tree, maybe he or she had a bad nightmare. After a number of attempts to get it to climb the tree back to safety and the poor thing falling out again, we placed it in a nearby hollow to sleep off the day. NB: Dropbears are a nocturnal creature in the Australian Bush that have a thirst for tourist blood. They are often seen working in teams with Hoop Snakes.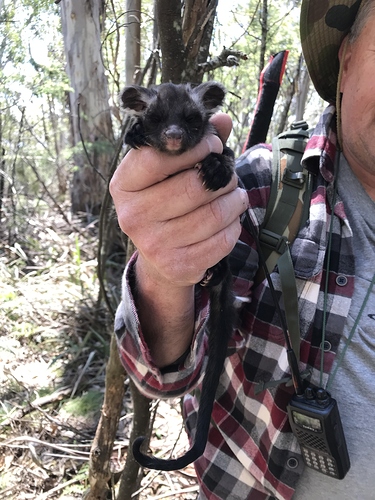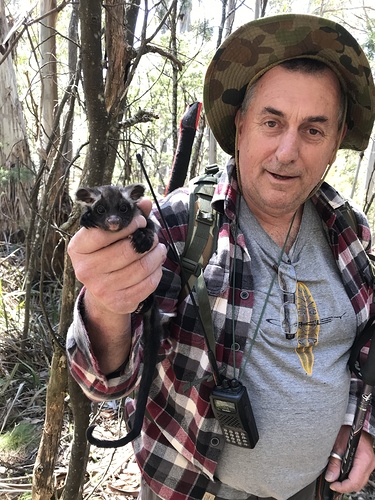 Getting back to the car we scoffed some tucker before moving on to Dingi Dingi. We were not exactly filled with excitement about the second climb. The second summit was even more overgrown than the last time we summited it. It was evident that fatigue had started to set in as simple tasks like erecting our antennas were taking more brainpower than normal. At one stage I was unable to remember my callsign!
Packing up and falling down the mountain in somewhat of a controlled fashion we were out of there! Back safe and sound to Canberra in the late afternoon.
Wade