Spectacular WX forecast for the weekend just gone. Wall to wall sun, low wind speeds but not yet hot. This is ideal WX for going and doing something a bit less ordinary for me. i.e. a big brute. I've been meaning to do An Caisteal for 9 years but kept doing something else instead. It seemed the WX would be just perfect for this hill as it's a 11.5km round trip with 890m of ascent. As it's a Munro there is a Munro Motorway of a path. What could be easier.
I had an early night and was up at 600BST, injected, watered, fed and out of the door by 650BST, a record I think. I made sure I didn't do what I did last week… place the poles and walking poles against the bumper of the car whilst loading it up and then forget to put them in, reverse back and drive over them. The Leki poles were fine but my original and replacement poles were ruined. "Why did you do that? asked my lovely wife. "I didn't intend to destroy them dearest!". So new poles ordered and we wont make that mistake again.
I've just had a load of suspension bushes replaced of my car as they succumb to UK roads at about 60k miles. Wow! It's got its mojo back now I made excellent time up almost deserted roads. Such good time I arrived 45mins earlier than I thought. I had a leisurely boot up and preparation. As it would be sunny and a long climb I revamped the bag contents, I wanted some HF and 13cms, didn't so many warm clothes but kept the belay jacket in as it is lighter than a fleece. Can of diet Red Bull to give me wings and I was off with 8 other walkers all making for An Caisteal or Cruarch Ardrain from the car park just outside Crianlarich.
Look, done it again, lent the poles against the bumper. This time I was walking with them not driving over them. D'Oh! The first target of the day, Sron Garbh is the lumpy hill behind. That's 709m ASL so only another 285m to climb after that.
There is meant to be a faint path when you leave the private estate road at the second gate. Well it's not faint, it's an obvious brown and wet scar that is quite boggy all the way from the River Falloch to summit of Sron Garbh. How can it be so wet after the long dry spell? Easy… you should see it normal weather, you need flippers for some sections. It all went surprisingly easy as it winds its way up the side till it comes out on top and you see your target and the much better path from here.
Twistin Hill. The path meanders up and down and round and round all the way to the rocky knoll at the top. That is The Castle of An Caisteal with the summit about 100m beyond. This looks easy.
It is simply one foot in front of the other and follow the massive scar. It's a bit steep in places and the surface is loose stones in others but it's simple stuff. That's because the sting in the tail is on its way.
I'd read of the large cleft in the ground that looks daunting until you realise it's quite simple to climb down and then up. Whilst you could fall and hurt yourself in wet or icy conditions it was easy today. Now I don't like any exposure or scrambling. If I need to hold rocks then this is not where I want to be. I had no choice, climb up the rocks or go back. When I tried, the obvious hand holds were smooth from the bazillions of hands that had grabbed them over the years.
The climb out. It's very easy to go up even for cowards like me. It was more challenging coming down but that's because I don't like these things no matter how straightforward. Anyway after I got past that I was happy the obstacles were traversed and I was still breathing. Erm… no!
So a little further you stand at the foot of the final climb to The Castle. If you don't do scrambling and exposure this is really not on at all. Someone is having a laugh if they think I'm going up this.
The path is straightforward with just some loose scree on the surface but surprisingly easy to climb up and I thought well up there and around and we're there, not much more vertical or horizontal distance to the summit. When you get close to the castle and you don't do scrambling then your spirits just drop to nothing.
There are 2 ways up. The photo doesn't show the surface of those rocks is at about 85deg to vertical. There is quite an obvious route straight up. There is also a rock just over waist height on the left and then the path continues round. Well I can tell I wasn't going straight up so I went round. This was a worse route. There's a path about 12in wide with fairly serious unprotected drop on one side and the rock of the castle on the other.
Here is a snip from the 1:25k map. The path is the red line and there is a long exposed drop to the right in this view. I didn't like it. No, not all.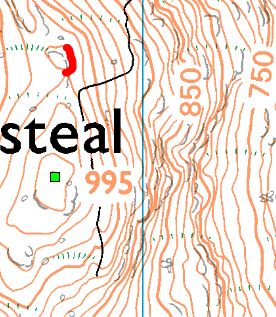 Then you get to the final step which is a doosey. It's enough you have to pull yourself whilst trying to find a footing whilst not falling back because there's bugger all to stop you till you reach the River Falloch. Well I did it but there a no photos because my heart was beating like a jackhammer and I was sweating profusely from the Adrenalin flowing in my blood. I have no idea how I did it because I was so far out of my comfort zone. It did linger in my mind for the whole activation that I had to come back.
If you don't like exposure why do you go up mountains? Well how about this… ?
That's the view from the foot of The Castle.
With the fun and games over I met up with the hordes who had climbed the summit. I counted a total of 21 visitors whilst I was there. Up with my new pole and out with the EFHW for 40/30/20 and the 13cms antenna. The new pole is one recommended to me by Phil G4OBK from Life's A Breeze. Not cheap but bloody magnificent. It's 50cms when collapsed with beefy walls and a 5mm diameter at the top. Not having a big pole sticking out of the bag made that scrambling nonsense possible. Anyway with the HF gear setup I started the satellite spotter (takes 4mins to get going), I brought it as it has a few more days credit to run since I was in France (FL/VO region). On with the 2m handy and my fellow 13cms dudes were getting going early.
More importantly I was able to pick up a load of 2m FM S2S contacts with Robin GM7PKT on WS-272, Rob GM3YTS CS-065, Jack GM4COX SS-070 and Jim MM0GLM on SS-060. 4x S2s and 3x complete, one complete taking over 10 years to achieve. Jack had worked Andrew G4VFL on G/LD-045 and we were able to work on 2m which was S2S #5. There was some confusion as to who was doing what on 13cms so thought I'd tune about 2m and found Robert GM4GUF from near Biggar. He was very loud on 2m so he was dispatched to his garden to call me on 13cms where he was 59++++++. Silly strong. Robert has an RX issue at present so I was 59 with him he missed about 5% of the copy due to interference/noise. I was happy with 1x 13cms.
Next Jack appeared, well I could hear him splattering away on my frequency even though he was 5kHz down. I tuned him in and he was 59+++++ from Blackcraig Hill. He had worked Andrew G4VFL and a sked for me was started. Tweak antenna, tweak tuning, G4VFL in the log 51 each way. My ODX of all time on 13cms at 216km. That was 3 QSOS, just need Jim to qualify. Jim was Meall Buidhe and hidden by the bulk of Stob BInnein 5km from me. He was very weak. But judicious use of Ben Vorlich SS-008 as a reflector we ended up 51/52 QSO. Jim sounded a little ragged which I think meant I was hearing lots of reflections from the mountains around. Job done. No! Paddy 2M0IPO appeared just as I was dismantling the antenna. A quick tweak and he was #5 in the log.
HF was a let down after that. I couldn't work anyone. Ah, put the 817 onto 5W not 0.5W (from transverter driving) and I worked 7 on 20m and 2 on 30m and nobody, nothing, zilch on 40m. Probably just worst time of day, midday, bottom of the solar cycle, mid-summer to use 40m.
New pole and antennas. Ben More SS-001 the hill on the right.
Loch Lomand. Starting to get a bit hazy sadly.
Microwave activators junk. 1.5GHz satellite link, 13cms gear, feeder, batteries, 817, water, banana guard.
Man who should look happy looking worried about how to get down the scrambly bit. I told you I was concerned all the time I was up there.
Descent was possible as I am here to write about it. I missed the path to my ascent scramble and arrived at the front vertical scramble as another walker arrived coming up. I asked he could spot footholds etc. for me and it took 4 steps and 10 secs to get down to the path. I would have got down without him but probably with dangerous amounts of Adrenalin in my blood. He was a seriously nice bloke who sympathised with my dislike of scrambling. But you know, this would have been out of my comfort zone but so much easier if I was out with another walker even if they didn't like scrambling either.
I saw no mention of these challenges in any routes I read about. So you can assume I am a big girl's blouse and the challenge is only a challenge to people like me.
The ascent to 2hr30mins and I was not tired at the top (courtesy of Mr. Adrenalin). Descent took 1hr50 but I was in no rush. It was very hot by the time I got back to the car. I had 2 cans of Red Bull and 1.23L of water at the car, de-booted and drove home in massive amounts of day-tripper traffic.
5x 2m S2S
3x 13cms S2S
3x completes
5x 13cms QSO
13cms all time ODX QSO (G4VFL on LD-045 at 216km)
11.5km walked, 890m ascent
Would I do it again? Yes, I must be mad.