Before we start, I know others have done more. So respect to:
OK2PDT who did a remarkable 758 activations in 2015, averaging over 2 per day!
OK2PDT again who recorded 547 activations in 2014
OK1DVM with 438 activations in 2013
…and any other >=1 average activations per day in a year that I've missed!
Main thing, is SOTA is, and always has been about setting personal goals to work towards. Something I've always fancied doing is averaging an activation per day for a whole year. Well, for the first time, in 2018, I've actually achieved that.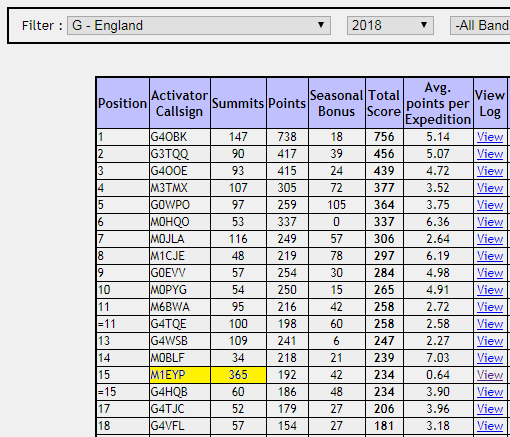 Monday 31st December 2018 - New Year's Eve - The Cloud G/SP-015
Gig: Simon Faulkner Band
Venue: Bistro Live, Milton Keynes
So activation #365 for the year was also a 'SOTA on Tour' activation! The Cloud was very busy with me snagging the last available parking space on Red Lane, and hordes of people on the paths and on the summit.
VHF was pleasantly active too. I operated for just under ten minutes on 2m FM on the Yaesu FT70D handheld, but in that time recorded eight QSOs, including S2S with Caroline M3ZCB/P and Martyn M1MAJ/P who were on Fair Snape Fell G/SP-007.
So now to hit the road for tonight's gig; see you all next year!