Looking at the alerts, it looks very lonely tomorrow.
Can't have all the chasers to myself surely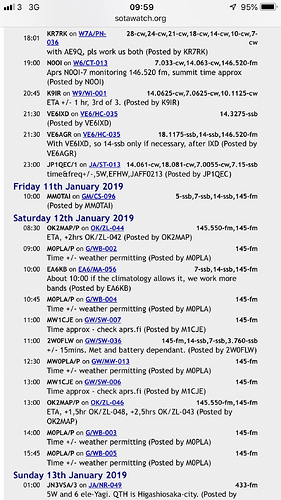 ll
You will certainly be very popular …
73 es HNY
Andrew G4AFI
To me your activation alert is a breath of fresh air, in recent days activations in the UK have been dominated either by VHF/FM from summits too far away for me to work, or 7megs from summits too close for me to work from central England! That's life, I suppose!
HNY Andrew. Could be popular yes

Hopefully catch on the bands tomorrow
Adrian
MM0TAI
You may well be very popular.

60m has been working well for me over the last 8 weeks. Plenty of SOTA chasers, including some ground wave GM contacts, NVIS GM contacts, G contacts as far as the G0RQL in Devon and the odd OZ too. Nice and easy and a delight to fill up the log book. The biggest problem now is the band has lots of fixed stations prattling on for hours on end bogarting the frequencies. 40m is still generally long, the downside is the UK South Coast being as short as it gets most of the time. The upside of longer 40m contacts is that you get chased by the large number of very keen EA2 chasers which makes it very well worth while to go on the band still.
That didn't last long Adrian,

Possibly out myself tomorrow (legs & knees stiff from three days of curling) up Taynuilt way again? A couple of SS's (down to last 24 - phew!).
Possible S2S ?
73
Jack(;>J
Inter G has been good on day time on 80m of late caught good number Welsh SOTAs other day
karl
60m was very busy last week when I was out. I spotted myself and could hear a few stations calling and waiting for me, but no-one could hear me call. Disaster. I had earlier that week been playing around with menu settings on the KX2 for my shine new headset. But all there seemed fine. Then I remembered, I had set the power to 0w.

Turned back up to 10w and we were away, 10 or so stations back to back, with a S2S witch jack at the end of my activation. There is plenty of trees to choose from at Mount Eagle, and got the dipole legs out horizontally, sometimes forget the length is enourmous

Looking somewhat better now, Adrian.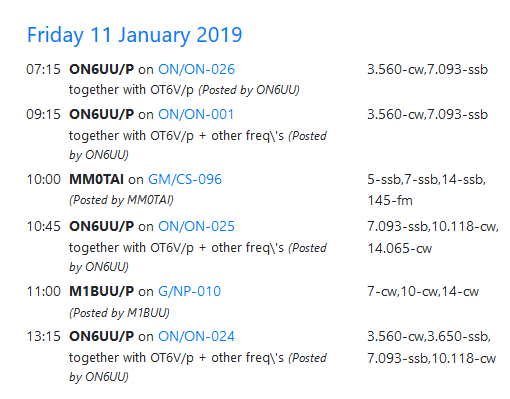 But all of next week is looking very barren at the moment - there's only me all week (Mon-Fri)!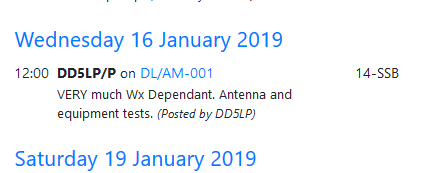 Even I might have to cancel with the horrible weather we have here at the moment!
73 Ed.
I have lots of weekdays off so I may be out next week if the weather is decent
Check these two warnings out
As Martin says don't expect a lot of activations from our necks of the wood for a while - at least not on the higher scoring summits!
73 Ed.
Stay safe out there folks.
Yes, stay safe! Life is more important than SOTA points - just about!

Indeed something to take very seriously in order to avoid fatal accidents like the one happened last weekend to 3 Spanish 26 years old mountaineers and their guide from Peru after having summited a 5000m a.s.l. mountain in the Andes and had started their descent.
Just one Spanish guy out of 5 in the team survived the avalanche.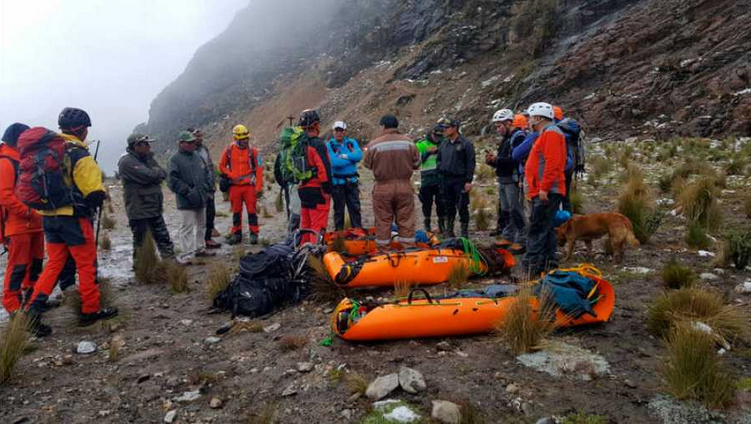 Most of the accidents happen when descending.
Rest In Peace all 4.
Stay safe.
73,
Guru