Coming in at a whopping 354 meters, it wasn't a big climb by any means, but a delightful and beautiful trail. We were given the choice of "Gentle gradient 1.5 miles" or "Steep gradient 0.5 miles" at a split in the trail and naturally shorter is better, right? Of course it is! It turned out to be a wise choice, and the steepness was certainly there, but not grueling. Well marked too. No sign of anyone else at the trail head or on the path, but we did run into some hikers coming the other way right near the top.
Having just recovered from a severe cold, it seemed to me that I'd be wise to take the opportunity to go with a light pack today. To that end, the gear was stripped down to the Elecraft KX2, a homemade LiFePO battery (four 26650 sized cells with a protection board installed, all shrinkwrapped up, with power connector specifically for the KX2) and a simple end fed antenna, as was suggested in an Elecraft forum. Antenna was made of 18 ga silver plated wire (hey I got a huge reel surplus!) 58 feet (17.68 meters) for the radiating element and a 13 foot (4 meters) counterpoise. No coax, just connected direct via BNC Male to Stackable Binding Post - the internal tuner on the KX2 handled this beautifully for 40 meters and under. The key paddles supplied with the KX2 are proving not to be my cup of tea, so I took my Navy Flameproof Key for some straight key action. The extra weight was worth it.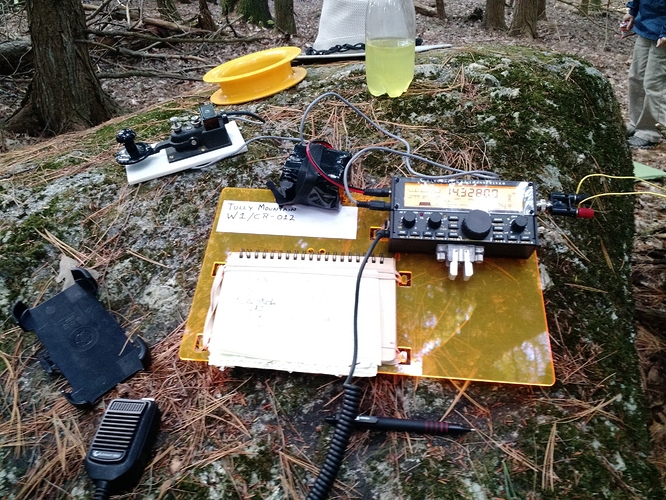 The day was lovely and temps were cool. The summit of this mountain is wooded with a mix of hardwood and conifers. I selected a nice tall oak tree to hold up the end of the wire, and got to use my new line throwing technique in the field for the first time. Using a half-liter bottle of water as the weight, easily I slung the 200 pound test spectra fishing line up to the top of the tree at about 50 feet. (if you've never see the way arborists get line into a tree, you really need to learn this - it's so much better than a baseball style throw)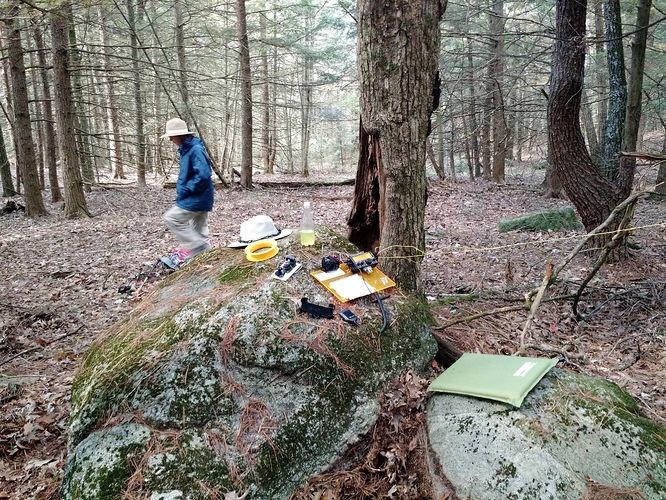 XYL running around there in the back.
Bands were variable, lots of QSB, as seems standard these days. Had some great openings on 20 for a few minutes and pulled in a bit of DX. Congrats to Lars, SA4BLM on his first SOTA DX(?) There was a nasty birdie on 30 meters that was right where the other activators were operating, so that was a non-starter. Managed one S2S with W7TAO on 20 CW. Finished out the day on 40 meters, and the band was behaving very well and getting down into the southern states. The SMS SOTA spotter on my phone worked flawlessly, apart from my fat-fingering and claiming I was operating FM on the 20 meter CW portion of the band

The shadows started getting long, and XYL didn't want to pick up the mic today, so we packed up and headed down about 1915 GMT. A fun little mountain and a super nice day out in the fall weather. Couldn't have been better.
Thanks to all the chasers today. Some of you went the extra mile to get the QSO under lumpy conditions.