Last Saturday I activated Pheasants Peak in SE NSW. This summit has only been activated twice before, even though access is fairly easy.
However, it turned out to be a slightly stressful activation, not least due to having limited time available on this particular afternoon.
I approached from the southern side (more south-western really). Starting at the T-intersection where the southern end of Waratah Rd meets the Coolangubra Forest Way, it's a few kilometres drive along Waratah Rd to get to the start of the Pheasants Peak Trail which is marked by a large information board. So far, the route is 2WD friendly, but after this point it becomes definitely 4WD only. Turning onto Pheasants Peak Trail, it's fairly steep in parts but mostly in good condition. There is one more difficult section however where the track squeezes between large boulders up an eroded steep slope. I made it without much difficulty on the second attempt in the Land Rover but it has real potential to cause vehicle damage if not approached with due caution… you've been warned

Right after this bit there is a peak on the eastern side, but this is not Pheasants Peak itself.
After a bit further (around 2km from the start of the trail) Pheasants Peak is marked with a small wooden sign on the eastern side of the track. Opposite is a flat area to park in.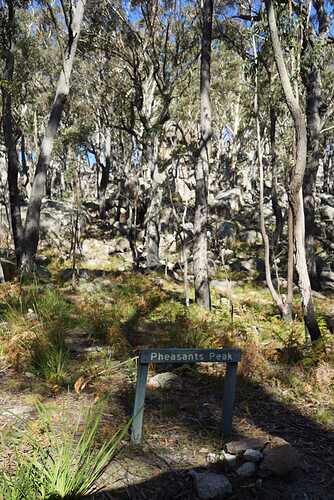 The sign, with the summit among the trees in the background
The summit is only a few hundred meters from here. The whole hill above this point is a mass of rounded boulders in all shapes and sizes, with some very imposing ones at the peak. I didn't feel like heading straight into the big boulders, so skirted round in an anticlockwise direction, climbing gradually. My phone was struggling to get a GPS fix in the trees (there's lots) so once it looked like I was in the Activation zone I set it down on a boulder and waited for a fix, which it found fairly quickly once it wasn't moving.

My operating position was somewhere around the centre of this photo, maybe halfway up the mass of boulders
I wasn't there yet, so scrambled a bit further up eventually setting up south-west of the actual summit, just inside the AZ, as far I could tell from the contours on the topo map.
Incidentally, the contours on the NSW topo map show the summit as 1080m ASL as opposed to 1060m on the SOTA Summits site. What's more, on the NSW map, Pheasant's Peak is marked as being an adjacent summit. Any thoughts anyone?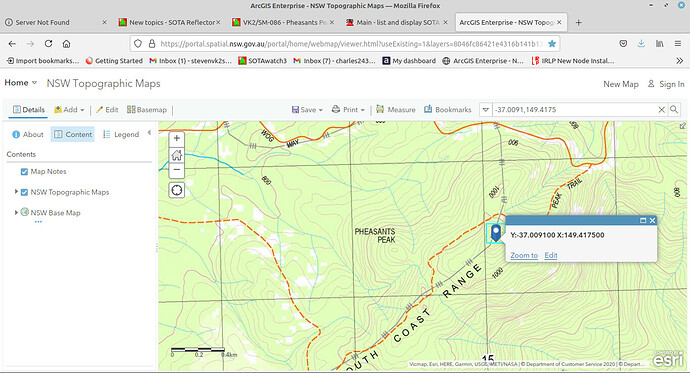 This screenshot shows a marker on the VK2/SM-086 location
.
I tossed my weighted string over a obliging branch and pulled up my 40m EFHW, finishing up with it in a sort of inverted J shape - not ideal, but I'd already wasted 5 minutes untangling the "tidily wound" string…
Set up the tuner and uBitx, after a bit of fiddling. I've been meaning to remember to arrange a convenient method of giving a carrier for tuning - the uBitx is only SSB and CW - and I didn't have anything to plug into the key socket

.
After peaking the tuner (a long suffering portable MFJ) on receive, I tried to tune it with a whistle into the mike - but my whistle was too unsteady to find the fairly narrow dip in SWR. So, I had a rummage and found a piece of spare wire, and I jammed the end of it into the keyer socket. That did the trick, but not very elegantly.
As is probably obvious, I don't exactly have a standard SOTA setup. This was the first time I'd used the uBitx with this antenna setup hence the complications.
I'd already put out a spot on the way up saying I'd be there in 20min, but the time estimate had been optimistic - to put it mildly! Once set up on 40m I heard a VK2 calling CQ, so made the first contact, after which ZL1BQD found me for the second QSO.
At this point I took a break to put up a new spot, only to find no phone signal. But after trying a few locations was able to spot myself on SW3. After this I worked 5 more stations on 40m, before going to 80m using the same antenna as a 1/4 wave, with the addition of a random wire radial/counterpoise. Here I worked Peter VK3PF and VK2VAR.
I would have liked to try 20m next, but was already going to be late - so called it a day, stuffing everything back in, before hurrying back down to the Land Rover. Even this last part didn't go altogether to plan, as on the way down I slipped on a loose rock and took rather a tumble. Fortunately no serious damage was done - to radio or operator. But it could have been much worse and it was a real reminder of the importance of taking care when one's out in the bush, and to make sure someone knows where you are - things can go wrong!
Apologies if I missed anyone who called, or caused any confusion with my rather incoherent spotting. My only excuse is that I need more experience!
Thanks everyone, 73.