So…… I had to make an afternoon trip to Bristol Airport on Fri 10th Dec and decided to take the route through Burrington Combe and re-activate G/SC-003 Beacon Batch on the way. However I got delayed and decided to make the trip up to the summit on the return leg home. By the time I got to the parking spot at Ellick House, at around 1715z, it was already dark but the sky was clear and I could see the moonlight was picking out the stones/rocks on the footpath so I made a start thinking it would be easy to make out the path with just 5lux.
Once through the gate I took the path to the left and that was my first error. After checking my position on my phone, I opted to walk across the rough ground to reach the correct path to the north of me…… this was my second error. The ground was covered with pockets of deep vegetation which make the walk difficult. Luckily for me, the moon seemed to be located over the summit so I aimed for it and finally came across a correct footpath which looped round toward the summit so I kept walking. Some 40mins after leaving the car I reached the summit. There was only a light breeze up there and I could see the planes approaching Bristol Airport and also make out the illuminated (Clifton ?) bridge over the channel. The night time view was impressive but impossible to photograph with a mobile phone.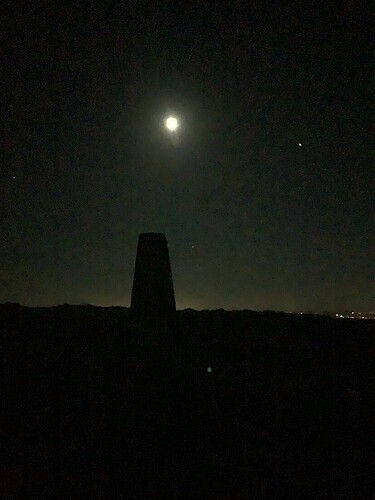 By the way, the star to the right of the moon is Jupiter (and Saturn was below the horizon).
Photo shoot over, I decided on using the UV-5R /Nagoya and called CQ on 2m FM and some 10mins later, M0CRO came back to me. He was located in S. Bristol so not far at all. Then Matt 2E0FNT/P who was on his way to the Isle of Avalon ARC's Fri night meet also got back to me. I then struggled for over 20mins and the wind was beginning to pick up. I was getting cold and didn't have any hot drinks with me this time so was very glad when M6TJA & G8AOJ got back to me in quick succession. Although it felt much longer than 30mins, four QSOs were in the log and I was ready to wrap up. This time I managed to find the correct path back down to the gate and was back at the car in 15mins.
I think it's time to put a more powerful torch in the go-bag!
73, Lea M0XPO