Friday/Saturday 11/12 June 2021
I just realised I had not uploaded my notes from an overnight trip in June. So here is…
As part of my plans to camp atop various SOTA summits, with a view to some intercontinental DX, I opted to camp atop Robinson (G/LD-021), with a an activation of Dale Head (G/LD-020) the following morning.
The forecast was for 50km/hour winds on the fell tops, which was just within the tolerance of using a lightweight 3 season tent, given that stringer gusts would also be likely. For radio I was using an FT818, and a couple of Yaesu handhelds. A flowerpot antenna for 2m, and an inverted vee for HF completed the setup. I had recently purchased a 40W amplifier for HF, but decided to leave it at home in order to minimise weight (the amplifier is light, but the extra battery energy required is not).
I set off from home after work at about 1730hrs BST, cycling first to Loweswater and then on to Crumnock. I used a rough looking fully-rigid MTB that would be safe parked overnight. Cycling around the Crumnock water on this pleasant evening revealed just how busy Lakeland is at the moment - lots of people car-camping, with tents in various places next to the road.
On reaching Buttermere village I had a scout around for somewhere to leave the bike, I eventually opted to lock the bike to the "Welcome to Buttermere" sign at the base of the Newlands Hause road.
After changing out of cycling shoes, and moving all my gear from panniers to backpack I was ready for the ascent. The path departs the road at NY179172 and immediately begins to climb in a series of zigzags across the grassy slope. Its an interesting climb, with lots to look at - Grasmoor (G/LD-009) to the north (where I had camped in May) and Melbreak to the South West (where I had camped in January).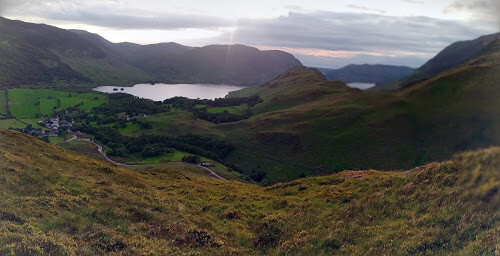 Looking back to Buttermere village (centre left) and Melbreak
As usual, I was not carrying water, so I had a break at one of the streams to drink (using a Sawyer squeeze filter). I was glad I had left the amp and batteries at home as my pack felt heavy given I only had one night's worth of food and a lightweight tent.
The path levels out onto High Snockrigg, and joins the path that climbs up from the top of Newlands Hause pass. This is a lovely grassy area, with easy walking across Buttermere moss and great views south across the Buttermere valley to the High Stile Range. It was tempting to camp here, with so many potential spots on the Moss, water was readily available from numerous streams and there were options for shelter from the wind.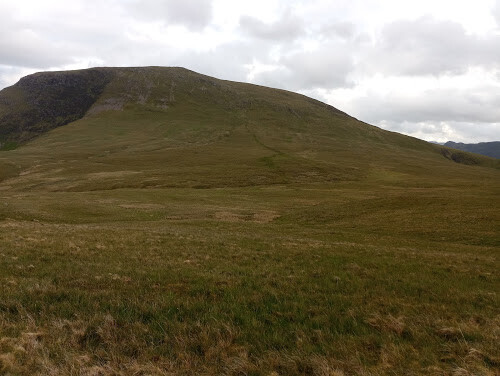 Buttermere Moss with Robinson behind - Ideal Camping. The last 300m of climbing to the summit is also visible
I pressed-on, eyeing the approaching 300m high climb required to reach the summit of Robinson. I opted to take the ore direct route to the summit starting the final climb form NY197168. First though, I needed to get some water. I dtopped the pack and headed along a flush listening for teh sound of water rising in the stream bed. Soon enough I found some good running water, and after guzzling a litre I filled up my water bottles with around 3litres to last the night.
With the pack now 3kg heavier, I was glad it was only 300m of ascent to the summit. A well used path cuts diagonally across the slope. I was starting to hear some chatter on my handheld as gained height - picking up some GI stations. The summit was reached suddenly and spectacularly as the plateau opens up, with Dale head and Honnister behind.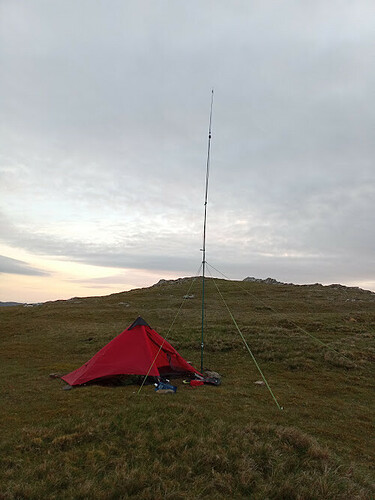 Tent pitched atop Robinson - operating 2m from a flowerpot antenna
Lots of options were available to pitch the tent, but conscious of the fact that the wind was around 50km/hour I tried to get some shelter by pitching on the NE side of the summit crag. WIth th etent pitched, I set-about getting teh antenna lofted and at 2120BST called CQ on 2m. M3UBE was first to respond, followed by 2E0IKN, G1OHH and then MW6FEF. After having a brief chat with M7BUY on 2m I moved onto 40m with excitement - I was really hoping for a S2S to USA. First to respond was EA2DT then IU3GKJ and F4WBN. A brief chat with F4WBN revealed I was a real 59 into France, but unfortunately no other calls came in. I moved on to 20m at 2200BST where EA2DT and F4WBN called again but otherwise there was not much activity.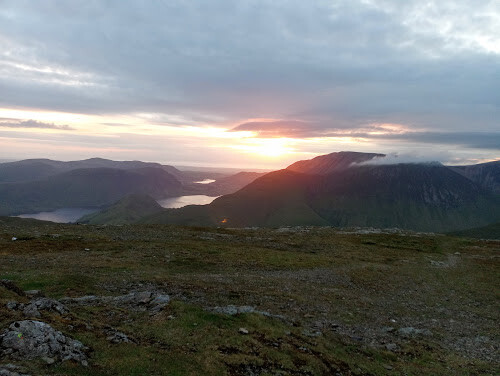 Sun setting behind Grasmoor - Buttermere (just visible) Crumnock water (centre), Loweswater (at rear) and the Irish Sea (reflecting the sunset) are visible.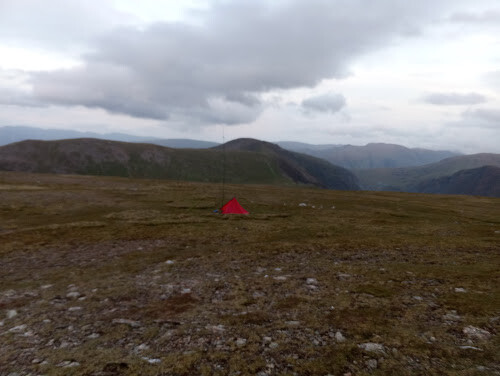 View north towards Blencathra and Skiddaw
I set about preparing my sleeping bag and pad, and having some food. Lying in my sleeping bag I listened across the bands for a while, until at 2313 I heard GM4WHA calling me on 145.500MHz - he had seen my APRS beacon and called out speculatively. It was good to have proper chat with @GM4WHA, I'm normally in a rush when on a summit so although we have had many QSO's over the past year we have not actually spoken very much. I eventually went QRT for the night.
I slept well through most of the night, with the exception of being woken at about 0200BST by a light shining on my tent. Poking my head outside I could see a fell runner inspecting my antenna, I think we were both bemused at each others activities. I called "hello", but he ran off towards Dale Head. Robinson is on the Bob Graham Round route, but he seemed to be going in the wring direction at the wrong time for it to be an attempt.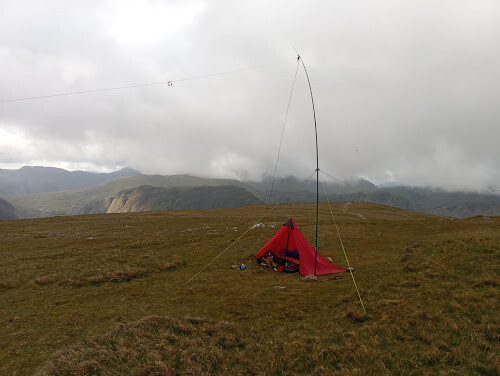 Operating HF on Saturday morning 0630BST, Dale Head in background
I fell back to sleep rapidly, to wake at 0530BST. After listening around for a bit I had a QSO with GW4ZPL on 2m and 9A/DL1BI/P on 20m (not a SOTA station though) followed by more success than the previous night - @F4WBN (do you ever sleep

) and SA4BLM. 40m was busier yielding 8 QSOs and then a solitary contact on 60m from G0RQL.
At 0800 BST I made the move to dismantle the equipment, and un-pitch the tent before heading across to Dale Head. Its a lovely walk across Littledale Edge and Hindscarth Edge onto Dale Head, where I setup the flowerpot antenna to call on 2m. I was pleased to hear GM4WHA calling first, and he had a brief talk about the night camping and the odd fellow who ran past the tent at 2am. A total of 11QSO's were made, after which I headed back to Robinson.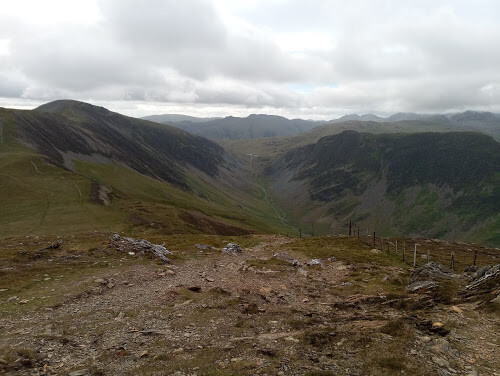 Route from Robinson to Dale Head (showing Dale Head and the Honnister pass road below)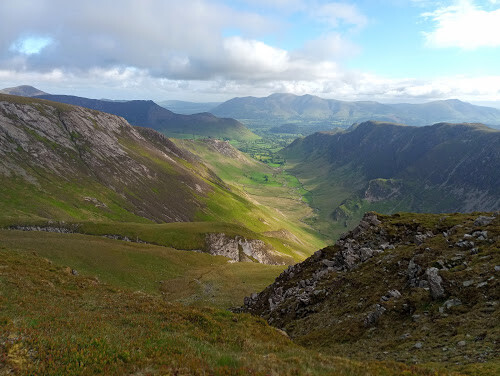 View towards Skiddaw and Blencathra from Dale Head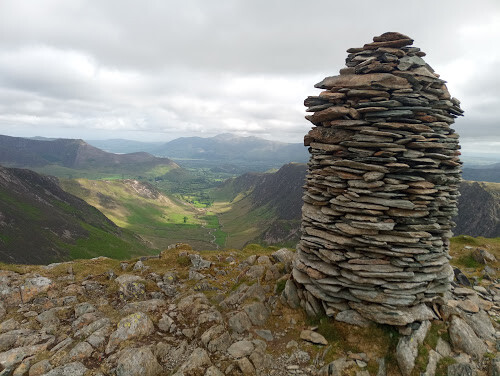 Dale Head summit Cairn
Back on the Summit of Robinson I decided to give the HT a try using a diamond RH770. I immediately heard GM4VFL on GM/SS-181 followed by GM4WHA again. After around 10 QSOs I started looking around for S2S and was pleased to catch MW0TYM/P on GW/NW-003 followed by G6WBS/P on G/LD-004 and GW8NZN/P on GW/NW-004. I then faintly heard 2E0HQS/P on G/SB-001 (The Cheviot) and after a struggle at first we managed a contact - I sent him a report of 22 and I received 51. I was really pleased to have a contact across to Northumberland.
By this time it was after midday, and I needed to think about heading home. I packed away and headed back down to the bike. I was relieved to find her safely locked to the Buttermere sign. It was now about 1300BST. A good gauge of tourist trade in the Lakes is the car parking on the Newlands Hause rod. The first arrivals in the morning park close to the bottom of the pass, and each subsequent arrival takes the next slot up the hill. The number of tourists in the Lakes on any given day can be correlated with the contour reached on the Newlands Road.
Smug that I had no need to extract a parked car from the mayhem that was the Buttermere road, I headed back along Crumnock water and Loweswater - planning my next outing as a cycled along.
Thanks to everyone who chased me.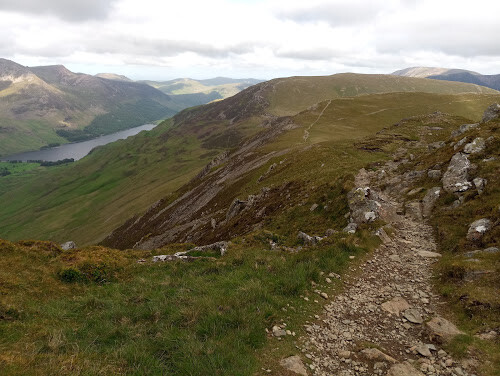 Heading back - Butteremere lake below