Mid-Summer means the Friedrichshafen Rally in Germany near the Swiss/Austrian borders. It's not the easiest place to get to from near Edinburgh and over the last 28 years I've driven in cars and camped, driven in motorhomes and camped, been on a coach and flown. It's 30+ hrs drive from here so flying means you don't need to waste 3 days traveling. For the last few years I've been flying Basel on the Swiss/French border and hiring a car. Basel puts you into a convenient place for French, German or Swiss summits. My other easy flight is to Munich but there are few summits there.
I wanted a good length of time at the rally considering the cost/effort needed so I decided I'd wrap some extra holiday onto the trip. It turned out easiest to spend time before and after in France and having seen some pictures of the Vosges mountains, they selected themselves. On top of that, Victor GI4ONL gave me 2 sets of 7 summits which are feasible to be done in a day if you have the weather and don't hang about. Do them all and you'd get 140pts with the longest being a 35min walk.
I had a slight issue with my hire car that delayed me 20mins and in the end downgraded to a car best described as "La petite voiture du Noddy" a Renault Twingo III. It didn't really accelerate and I had to shout "Allez! Allez! Allez!" to Big Ears who was in the back somewhere peddling furiously. Well it seemed that way. In the end I can tell you I became quite attached to Noddy's car because it could do 135km/h when pushed, got me up and down mountains. In fact it achieved 51mpg and I drove everywhere with my right foot planted to the floor. Best was the roadholding… you should have seen the surprise on a BMW 3 series driver's face when I overtook him (going down a hill) on a hairpin bend with all four tyres squealing away like banshees. Funnier still he couldn't catch me till we dropped out of the winding hill descent into the Munster Valley where there are long straight roads.
Final score: 3 cylinder sub 1L city car from Renault 1 : 0 2L small luxury saloon from BMW

La Petite Voiture du Noddy. Well it should be red really. Big Ears is hiding in the back! Mrs. FMF said incredulously "How did you get your big lardy bulk in that?"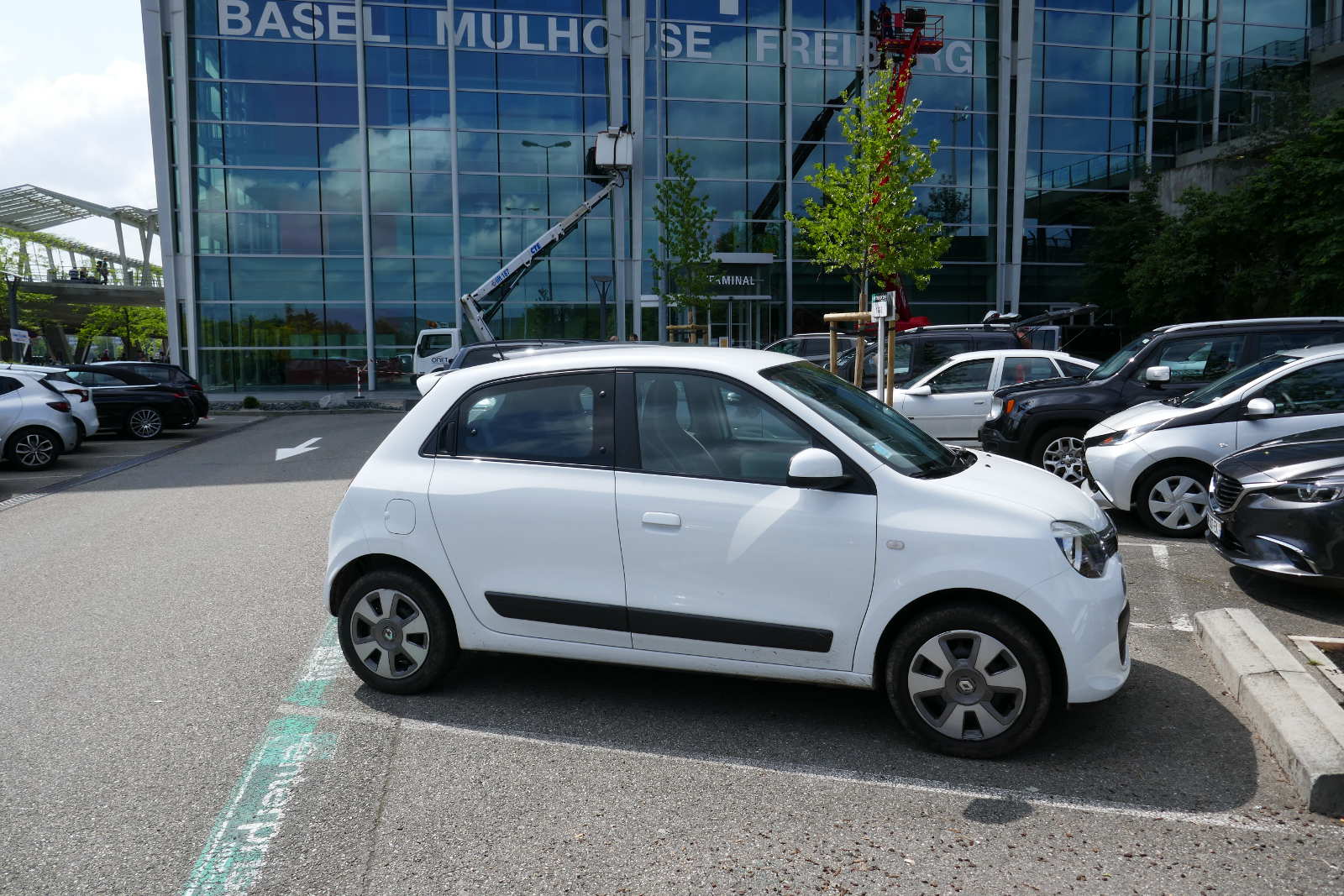 I stopped off at a small supermarket in Cernay for supplies for the next few days, a baguette and some cheese for lunch, nuts, fruit and 8L of Volvic water. From there it was into the hills and onto the first summit. Many hire cars cost more if you want the GPS. I spent some time un-bricking an old Nexus 7 Android tablet. It now runs a custom Android 7.1 image (wont work on the Play Store) but it runs OruxMaps. With it's built in GPS and a 7in screen, it was ideal for navigating the roads and back lanes. The battery is huge and it was down to 55% left after 2 days of continuous use. Well worth a morning swearing at a PC and the re-flashing instructions.
Le Molkenrain FL/VO-017
I flew past the turning for this and had to turn back. You can drive to an Auberge with a big car park. Here I was able to change from ordinary clothes to shorts and walking T-Shirt. I had to unpack a lot of radio gear from my checked luggage to my back pack and it took 25mins to get ready. I still forgot some stuff! The walk is easy on good tracks and path from the Auberge to the summit and takes about 15-20mins. Not difficult but this is where you spot the difference to Scotland, after 20mins walk in the heat, I was hot and sweaty. Set up was done using the wall to support a 5m travel pole and I used my Buddistick clone on 30/20m. I did have a verticlal antenna with me, designed by GM3VLB that he has used on many hundreds of activations of islands which has an adjustable centre loading coil. I had checked in the garden and it tuned up easily onto 30 and 40m. I was going to fall back to 40m on this antenna if conditions were poor on 30/20. It's fascinating operating away from where I normally activate as normally I am far enough away from a lot of European chasers that 30 or 20 is always viable. But now in NE France I am amongst some of the chasers.
On the air the first problem was no phone signal. I sat on the wall looking at the phone mast across on the next hill. But, always prepared, I had my satellite spotter with me. Well it was in the car still packed damn! I just needed to leave my phone for 10mins to decide to roam to a new network before spotting service was possible. Spot away and I worked 5 on 30m and 4 on 20m. Conditions were poor so I was unhappy with such a low count but happy to have activated. I called CQ for a while before deciding to move to the next summit. Back to the car took 10-15mins.
First of many activated, the small cairn in the wall is the top.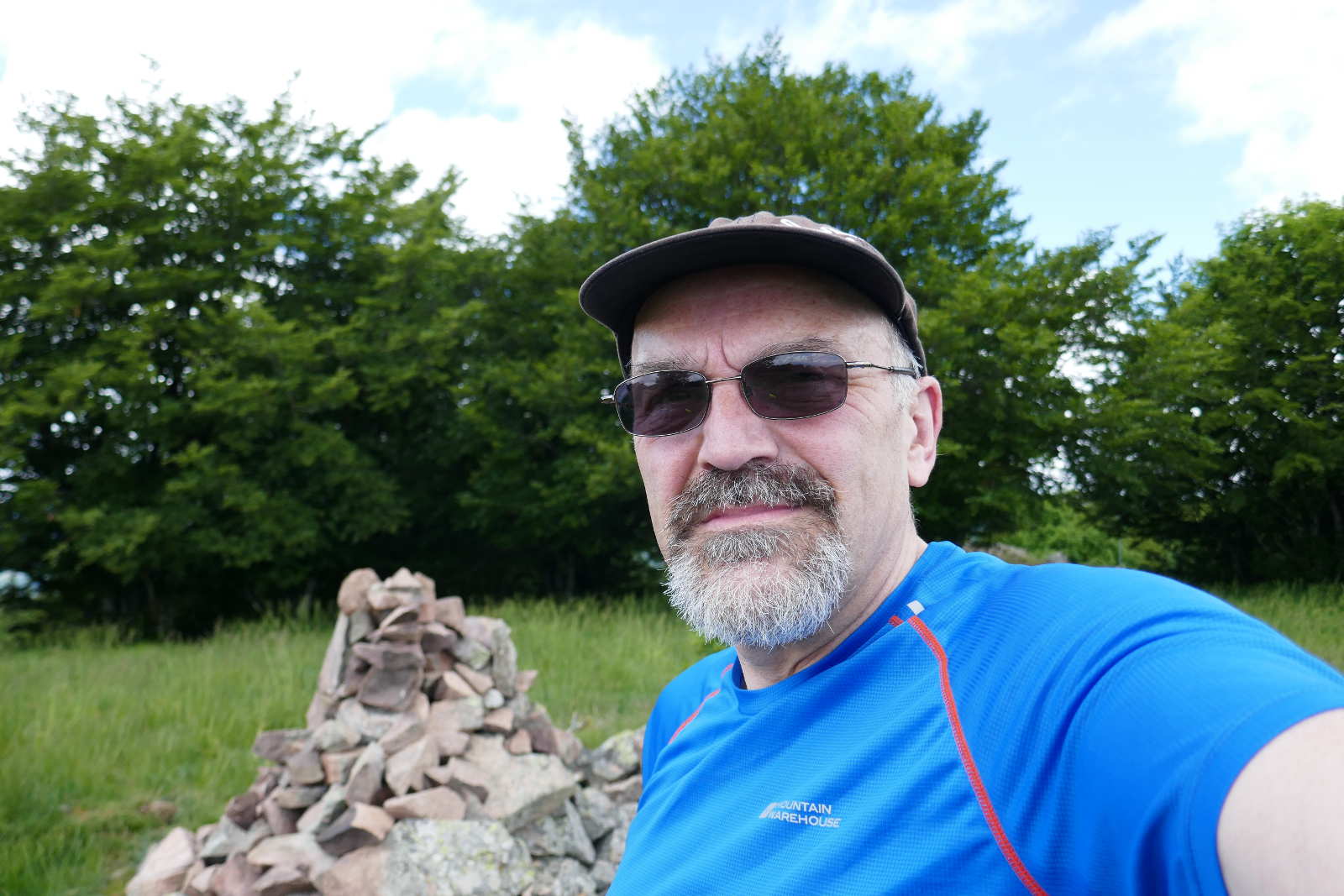 Premium quality 'pole-in-the-wall' setup. I had to dismantle the wall to retrieve the bottom bung of the pole. Then rebuild the wall. Camera was on some semi-manual mode hence the dark picture.