This week was the first time I had returned to the English Lake District for many, many years. I had worked there for a time, instructing in outdoor centres and then teaching in a school. But I moved on and, after five years teaching in Newcastle-upn-Tyne and three years teaching in Edinburgh, I ended up in Poole (on the south coast of England), where I have now lived for more than 20 years.
My aim was to introduce my 19-year old son to the Lake District mountains: a four-day blitz, hiking up Blencathra last Sunday (my favourite Lake District peak), followed by Skiddaw, Scafell Pike and finally Helvellyn (England's three 3,000 footers), during the following three days. I had passed all three of my amateur radio exams in 2014/2015 but, for various reasons, I had hardly wielded a radio since. This trip was a good time to re-acquaint myself with the hobby, with SOTA providing the necessary impetus. I bought a 2m handie (an Icom IC-V80, which seems fairly bombproof) and cleaned the dust off a 2m half-wave dipole antenna, which I had bought from SOTAbeams way back, before Richard stopped making them.
A fine ascent of Hall's Fell Ridge on Blencathra more than made up for the lack of contacts made on Sunday … I blame it being lunchtime when we reached the top! On Monday we walked up Longside Edge to reach Skiddaw's summit, gale-force winds on the top rewarding our efforts. Nevertheless, four contacts were made. We approached Scafell Pike from Borrowdale, via Styhead Tarn and the Corridor route, which has always been a favourite route of mine … drizzle and a stiff breeze made for cold conditions on top, but another four contacts were duly logged while we huddled in the shelter of a circle of stones. Then we descended via Esk Hause and Grains Gill, concluding a fine round trip. Striding Edge and Swirral Edge provided the entertaining Helvellyn ascent/descent that I had described to my son while we drove north. Our time sheltering just below the summit (in the lee of a north-east-south-west cross of stone walls) yielded eight contacts in quick succession … my first mini pile-up!
On the one hand this was a welcome nostalgia trip. However, on the other, it was both a chance to spend a precious four days in the mountains with my son, and also an opportunity to have my eyes opened to the pleasure provided by SOTA. In that regard, special thanks to Reg (2E0LDF) in Cockermouth, John (G0TDM) in Penrith, Brian (G4ZRP) in The Wirral, and Colin (GW4ZPL/P) in Bangor, all of whom I worked at least twice during the trip (yes, Bangor portable … from both Scafell Pike and Helvellyn). Brian, thanks for the mic gain prompt … it made all the difference on Helvellyn! Thanks to those other Chasers who made contact as well.
My son and I had a great time … he thinks the Lake District is fantastic and looks forward to his next visit. For my part, I'm already thinking about my next excursion into the hills with a radio … plus I acquired an LNR Mountain Topper a short time ago, and I'm up to 32 characters of Morse learnt at the time of writing, so CW on HF beckons as well … there's no turning back now

Windy on Skiddaw summit: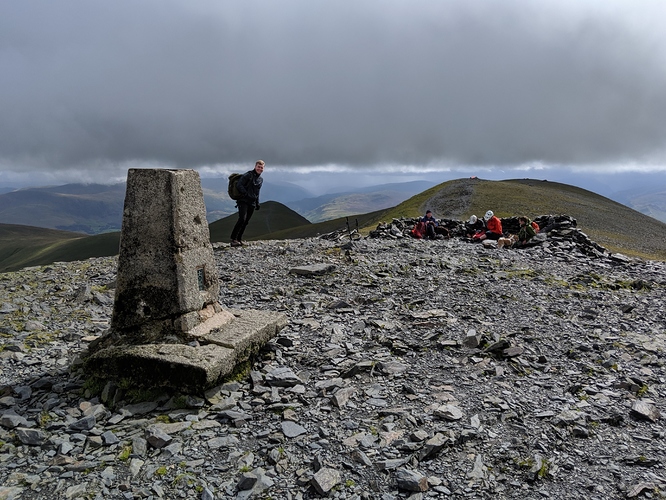 The author on Scafell Pike (great view, eh?):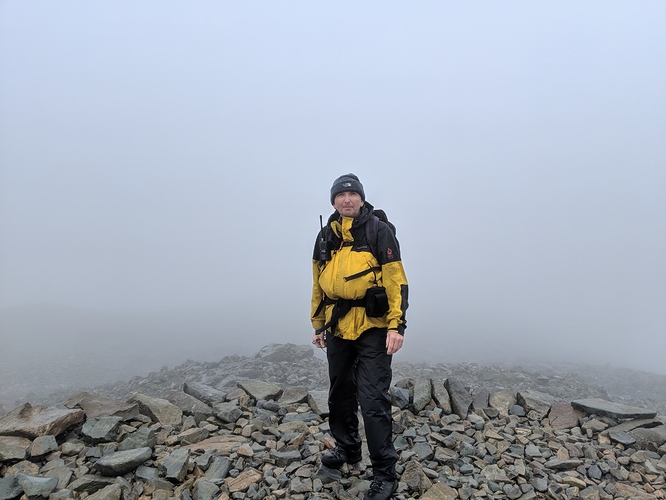 Striding Edge from near Helvellyn summit: