Yesterday I activated GW/SE-023 ( Allt yr Esgair) and had a number of firsts!
First No. 1; I used my KX2 for the first time yesterday, and loved it! Still learning the neuancies and subtlies of this rig, but the IC-705 is going to be resigned to the RV. The KX2 is so much lighter and works perfectly. I'm going to Hamzilla (Dover Rally) next weekend and going to look for a cheap 2m/70cm handheld to round out my kit with the KX2 for proper hike-outs. Will still be lighter than trekking with the IC-705 and ATU and external battery (to allow the 705 to run 10W).
First No. 2; I learnt that I should use 'W' in my callsign when operating from within Wales as the regional secondary locator, even though my main station is in England (or the necessary RSL in other parts if the UK, when appropriate). I must admit that my operating procedures about this sort of thing must be pretty rusty, and I should brush up on this stuff!
First No. 3; This activation was a bit more than a gentle stroll from the car. I'm an experienced hill walker, but been loath to hike up a big hill to find my equipment not working, or some other technical challenge. I'm glad I did my first few activations at summits with nearby parking, but after doing a real walk, I'm looking forward to some more serious activations. Scafell Pike at Easter is the plan, but I'm looking forward to some more practice runs in before then

First No. 4; I had my dog for company activating a summit, and he was well behaved! I was worried he'd be a pain, but he just chilled out!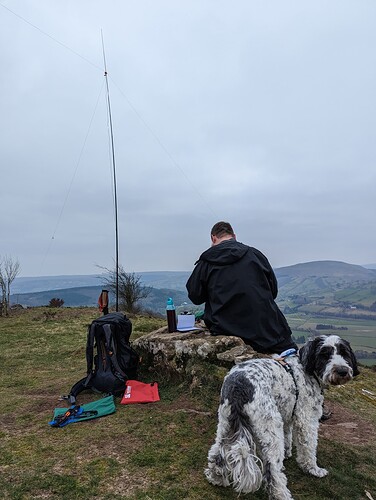 Thanks to all the people I worked on the summit yesterday! Looking forward to the next one